Best free 5 audio editors
As we know, no one is expert in anything. So by having multiple options, we may have best solution for the problem we are facing. When we talk about audio editors, many are available on internet, markets with cost and free of cost.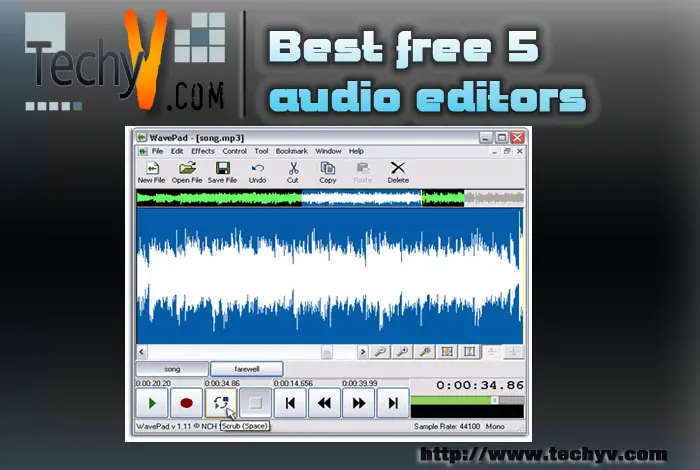 But here are best "5 free audio editors", these all have different technical functions, tools and performance. Let's have a look one by one with their best characteristics. These are listed below in top to bottom ranked according to their characteristics:
WavePad
Magix music maker
Dexter audio editor
Audacity
Goldwave digital audio editor
WavePad:
WavePad is the extreme level best audio editing software which is used for windows environment. It is not only used for specific and common file formats i.e. MP3 or WAV but is being used for other popular formats like GSN, AU, RA, WMA, FLAC, real audio and much more. This tool is a rich featured audio editor and has lot of functions in it. It has many editing tools like channel mixer, cue point, effect preview, equalizer, frequency tuner, mixer, signal analysis tools, track splitter, edit multiple tracks, and batch processing. WordPad has the best quality in audio editing. We see it has everything in it; therefore it is the best one.
Magix music maker:
Magix music maker is very popular audio editing software which allows us to produce multi-dimensional sound tracks and surrounding effects in music. It is very best audio editing software for beginners because of its user friendly interface. It is very easy to use and to understand. Its features and performance is not much good as its interface. It supports all kind of audio file formats.
Dexter audio editor:
For music production, Dexter audio editor is the best audio editor. It can process audio files in bulk. However, it has almost same features as WavePad audio editor has but some features differ from WavePad. Dexter audio editor has multiple tools and functions in it. Major functions of Dexter audio editor are: play an audio file in all popular formats, mix stereo channels, insert noise in audio file, insert silence in audio file, combining two audio files. And when it comes to customer satisfaction, it provides excellent support to all kind of audio file formats.
Audacity:
Audacity is audio editing software. It is an open source audio editor and is available for all platforms, Windows, Linux, and Mac. It is compatible with almost all audio file formats i.e. MP3, WAV, AIFF and much more. It has excellent set of tools; therefore it is being popular among the users.
Goldwave digital audio editor:
Goldwave digital audio editor is used for basic audio editing. It is has user friendly interface with best tools and functions embedded in it. It has mixing, batch processing, information editing, equalizer, and effect chain editor. It is compatible with variety of audio files format like, MP4, WAV, WMA, and AIFF. It provides very fast processing with quick results.