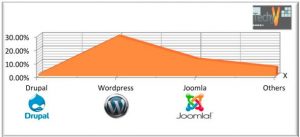 Best CMS (Content Management System) in the Web.
A Content Management System (CMS) is one of the most important elements of the internet. It can help make web development, web design and web maintenance very easy. The two CMSs that are becoming popular these days are:
1. WordPress
2. Joomla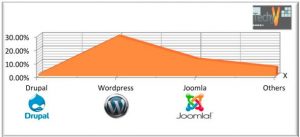 Although WordPress is a blog posting script, it can be used as an excellent CMS with the help of a few plug-ins and customization.
Joomla is a very good and popular CMS, but I think it has some problems with security. I created Joomla site more than 3 times, but it has been accessed by intruders. In this case, I think WordPress is much better than Joomla; however, it also depends on who is using it.
Joomla is more powerful and has more preinstalled features than WP. However, WP is easier to use than Joomla. Another thing is that, almost all the themes and plug-ins of WP are available for free, though there is also a lot of purchasable plug-ins available. In this case, I think WP is better than Joomla. Nevertheless, one can make more professional websites with Joomla.
I think both of them have their own specialties. Utilizing their specialties can help one in understanding their main features.