Effective social media marketing is key to small business success. A small business is a privately owned company in the legal form of a corporation, partnership or sole proprietorship. In the US alone there are well over 28 million SMBs, according to reports.
Worldwide, hundreds of millions of businesses are spending billions of dollars targeting billions of potential customers via the world wide web, especially social media. This complex interaction breeds social commerce and a lot of competition for customer attention.
Effective communication, therefore, becomes a must if you must succeed as a small business in this digital era. Most small business owners lack the time and resources to heavily invest in social media marketing. Hiring social media specialists to help may also hurt their finance and cash flow. As a result, most SMBs resort to self-help.
simplygram helps you get followers
Some of these hit the ground running with a well planned and executed social marketing strategy which helps to announce, promote and position their brands as leaders in social media marketing, gaining them an audience, fans, and customers in the long run.
Others, however, crash and make a trainwreck of their social media marketing. Some are too scared to try or implement any strategy. For these, I'll be sharing seven social media marketing success tips that you can apply starting today, but before that, there are important social media stats worth checking out, some of which include:
Over 3.2 billion people use social media daily, up from 0.97 in 2010,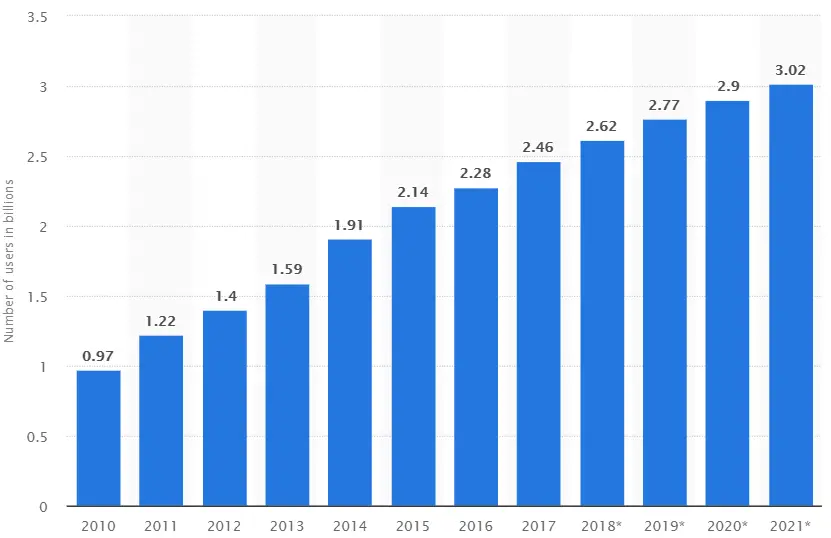 Facebook has over 2 billion monthly active users
Over 80 million businesses have a Facebook page
6 million of these businesses actively advertise on Facebook
Instagram has over 1 billion monthly active users
51% of US adult social media users access Facebook several times daily
88% of US companies use social media, etc.
10 Benefits of Social Media Marketing for Small Businesses Like Yours
Developing and implementing a strategic social media marketing for your business will help:
You stay relevant
Increase brand awareness
Boost lead generation
Increase traffic
Improve B2C communication
Increase customer involvement
Raise audience engagement
Boost customer satisfaction
Push customer retention
Generate positive customer reviews
Social marketing your small business doesn't have to be expensive or complicated. Following are
7 Simple Ways to Ace Social Media Marketing for Small Businesses Like Yours
1. Plan
Every good business strategy hinges on proper planning. Social media marketing for small businesses is no different. In planning it is essential to identify the following:
Your social media goals and objectives (ensure these goals are specific, measurable, attainable, relevant and timely)
Base these goals on metrics that have an impact on your kind of business
Research competitors social media strategy, know what they're up to, what their shortcomings are and work to improve on your marketing strategy with information gained.
Research social media platforms best suited for marketing your kind of business and decide on which you intend using actively. In doing this, you need to identify who your target audience is and determine how best to reach them online.
 2. Build Relationships
Social media can help small businesses bridge the B2C communication gap. Build relationships with your customers, followers, other brands, entrepreneurs and influencers in your niche. In nurturing these social media relationships, you need to understand your target audience [(millennials (24-38), generation X (39-53 yrs) or generation Z (3-23 yrs)] and their preferred communication style.
As your social media clout grows, opportunities to interact with your customers directly will be presented to you, ensure to take the chance to delight your customers. Personalization,  attentiveness, and responsiveness will endear you to your customers.
Going forward, also endeavor to get feedback from your audience & customers about your brand and product, plus ask them to share their experience publicly to help build your reviews either on google reviews or directly on your website. The goal is to get customers to relate with your brand as though it were an individual.
 3. Engage with and Expand your Audience
 Socializing for the sake of it will not benefit your business long term. It's cool to have your followers,
Read and like your posts
Check and like your page
Check your comments out
Reply to your comments, etc
But it's better to have them take it further by say,
Sharing your posts
@mentioning you
Tagging their friends
Placing an order, etc
To do this you have to:
More actively engage your audience
Show personal interest in their welfare
Appreciate them often
Make them feel comfortable interacting on your platform
Promptly respond to all kinds of messages (positive or negative) in a friendly and calm manner.
It takes time and effort to build real engagement with followers on social media.
4. Focus on Quality over Quantity
Rich, quality engagement is better than shallow, unfocused attention. And you bet customers can smell it 10, 000 social media miles away.
There are several social networks out there that you have little or no business joining. Entrepreneurs that fail to recognize this get spread too thin trying every social network available. Unfortunately, they are left with pockets of attention deprived customers here and there, who waste no time in jumping ship.
Instead, focus on a few social networks that work for you, optimize them and expand to more platforms later. Create quality content in places where you are actively connecting with your audience and customers on a deep level.
5. Ensure to Use the Right Marketing Tools
 It is more productive to take advantage of tools that automate and simplify much of the work. There are several tools you can use for,
Content creation
Content scheduling
Content publishing
Content promotion
Content curation
Graphics
Analytics
Engagement and so on.
Some of these tools include:
Hootsuite
Brandwatch
VSCO
Piktochart
Canva
BuzzSumo
Buffer
Pocket and so on.
Always schedule your content and automate interaction to create time for other engagement.
6. Balance Social and Commerce
Facebook Comment Moderation Tool, for instance, helps to power high-quality discussions at scale. If all your followers see is ads, ads, ads that don't add any value to their lives, they'd get pissed off and lose interest in what you have to say (even if and when you eventually have something of value to say)
In "social commerce," social precedes commerce and as such should take precedence over commerce, otherwise the interactions will be unbalanced, top-heavy and will tip over in a matter of time. With social media customers, first, learn to converse before you try to convert.
Be innovative, show personality, encourage followers to engage with you as an individual. Crave an emotional connection more than constant sales promotion or endless calls to actions. Do not put the commerce (cart) before the social (horse).
7. Track and Tweak your Performance
In the course of implementing your social marketing strategy, it is necessary to keep track of what is working and what isn't in order to improve on your efforts, review your approach and improve results in the long run.
Some of the social media analytics tools mentioned above provide a detailed analysis of your social media marketing practices. They help to track the metrics that matter most to you and show you how each is performing.
No matter how small or big your business is, social media tools can help you better connect with your audience, track success and determine ways of improving your strategies in the long run. Seeing steady progress with your social marketing efforts will spur you on to try new and innovative ideas which could yield even more positive results.
Conclusion
Social media marketing isn't rocket science, but there's still a learning curve. Over time you'll learn what works for you and what doesn't. Do more of the former, and you'll see more positive results. Just remember to:
Plan
Build relationships
Expand and engage your audience
Focus on quality over quantity
Use the right marketing tools
Balance social and commerce
Track and tweak your performance