Have you had a fair share of runs with a dead car or a dead battery in winter? Well, you are not alone in suffering. Keeping your car alive and well functioning in the winters is a laborious task. Fretting over salt damage or barely surviving after hair-breadth escapes due to tire skidding will only make the matter worse.
Additionally, being left stranded on a cold chilly night with a dead car battery does not help either. But there are quite a few tips and tricks to have up your sleeves when you are concerned about keeping your car's battery alive and running. So below are a few tips to help you escape from the winter chill and a dead car.
Deep cycle battery
If you frequently have problems dealing with an automotive battery or dead car battery being too drained to start your car, getting a deep cycle battery can help you in more ways than one. Firstly, you will have a deep cycle battery, which will give you a uniform current to keep your car alive and breathing. And secondly, a deep cycle battery provides a larger majority of charge as compared to normal car batteries and keeps you going.
Also, deep cycle batteries can be used anywhere from golf carts to submarines, and that is quite an advancement over automotive batteries. To know more about the deep cycle battery test, you can always refer to the BestForDriver website for detailed reviews!
Charge up your batteries
Though you already know how to upgrade your battery with a deep cycle one, it is also important to know that automotive batteries, when fully charged, are quite salubrious too. A fully charged battery will not freeze at a temperature as low as -76°F.
And remember that a drained battery will freeze even at 32°F! It gets quite obvious from this that you can exceptionally sustain the winters with a healthy car if you have a fully charged battery.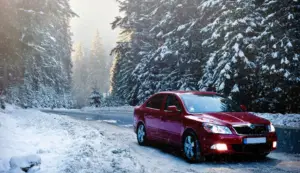 Shield your car from the weather adversaries
The sharp, current like cold weather is difficult to endure even by the machinery, and cars are no exception. A car left unshielded or uncovered in the cold, and snow is most likely to freeze, and the batteries dry.
That is why it is of utmost importance to park your car in the garage or somewhere, where it is safe from the snow and the wind. If finding such a spot is difficult, consider covering your car with a car cover so as to avoid snow dampening the batteries and stealing the life from them.
Never rush to utilize the battery
Your batteries will be quite exhausted when you start your car, and immediately turning the heat on will only make matters worse. What you can do is to wait a few moments, let your batteries catch up and have a smooth ride.
Moreover, also remember to switch everything off that will possibly eat up the charge before you turn your car off. Precaution is better than cure!
Having a lively car is more work than you can think of, but it is quite worth it. So remember following these tips and have a smooth ride all winter long!