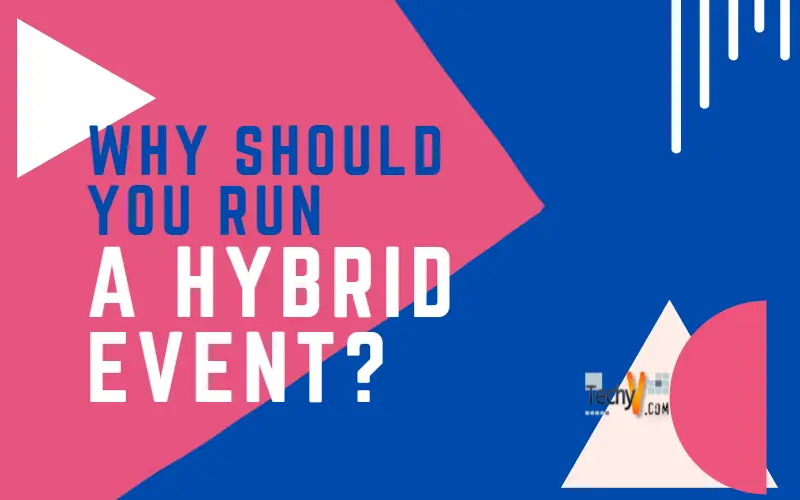 In recent years, we've seen several new forms of events emerge. In particular, there has been a significant increase in the number of hybrid events.
So, what is a hybrid event? A hybrid event combines face-to-face and digital interaction in a single program. This allows audiences to participate in a live program at an event venue while accessing online content from anywhere around the world or engaging with their surroundings using mobile devices or social media networks.
While hybrid events have become more popular, many people don't know what they are or offer. Here's some advice on how you can get started with your hybrid event productions:
Reasons Why You Should Run a Hybrid Event
Create a greater sense of co-presence
Coupling online and offline interaction helps create a greater connection between the event attendees. The presence that greeters feel in a face-to-face setting is often enhanced when they also have access to an online community they can engage with at their leisure.
This is particularly relevant for conferences where multiple simultaneous sessions or events occur in different rooms or venues.
Attendees might not be able to get total value from attending every session due to travel time, childcare responsibilities, or simply scheduling conflicts. So, seeing some content from home gives them the option to catch up on what they've missed while still following along in person.
Attract a more comprehensive audience
Hybrid events enable you to be more flexible about the location of your event, making it easier to find venues that offer cheaper rates or better facilities than you would typically expect. This also gives attendees a better choice over which parts of the program they can attend and how they can get there.
For example, through public transport links (fewer parking issues), shorter travel distances and lower carbon dioxide emissions if they drive.
Gain data from both channels
Enabling audiences to access aspects of your program from multiple touchpoints encourages them to interact with each other in new ways, thus helping you to collect additional insights into their behavior patterns.
In addition, collecting actionable feedback from attendees allows you to understand better what your audience is valued and whether they are getting the most out of their experience.
Steps on Implementing a Successful Hybrid Event
Identify your objectives for each channel
How do you want audiences to use each channel? What sort of content will best serve their needs? How will you measure success based on feedback from both channels? Knowing exactly what outcome you want can help you decide how much content should be presented on each channel.
Certain features must be present (meeting room reservations), or specific fixed timings must be followed (online 'labs').
Choose technologies that work for your purpose
Decide on which hybrid event technologies, applications, and social networks you want your audiences to use and how you will provide them with access. You might, for example, decide to use a smartphone app or dedicated website as the primary platform so that people can access information on the go.
If you also want people to share insights and ask questions of each other on social media networks such as Twitter, then the main event app must be integrated with those channels.
Plan how attendees can connect
You'll need an online 'hub' for all of your channels to connect. Your attendees may not necessarily be familiar with how technology works, so choose a program or platform that they will find easy and intuitive to navigate (such as using smartphones).
Determine whether there is an advantage in having the same person carry out two roles
Is it helpful to have one individual act as your event host and your social media brand ambassador? Will they be able to manage their time efficiently, or will they be stretched too thinly? When you consider what needs to be done, ensure that you provide enough staff so they'll have time to do it all well.
Make content relevant
Content is vital, regardless of if it's for your main event or an online 'channel.' Ensure that the tone is appropriate for your audience, that the language used is accessible, and that any multimedia elements (animation, explanatory video, etc.) are exciting and engaging.
Think about where people might access this information before the event (for example, on their commute) and what specific points you want them to know (such as how to get to your venue).
What is a Hybrid Event?
A hybrid event requires attendees to use more than one channel, such as print and online or physical and virtual events.
An example of a hybrid event that may be used would be an organization hosting an annual conference over three days, with each day split between workshops and plenary sessions at their main office and evening social events off-site, thus requiring event plans for both locations.
Another example could be websites offering downloadable content updates regularly while social media channels are used to communicate with users more quickly.
This is useful for an organization because audiences can access information how and where they want, which increases their satisfaction levels. There's also the opportunity to reach new users who may not have had access to this information before or could not attend the event.
Advantages of Hybrid Events
The content can be tailored according to each channel/audience segment, thus making sure something is catering for everyone who could benefit from it (or at least provide enough information, so they are aware of alternatives) even if they cannot physically attend any part of your event.
Some features may work better in a physical setting, but you still benefit from branding the event across all platforms. For example, using signage at an event or arranging virtual delegates via Skype.
You can build your credibility by having people post photos of your event on social media networks that they attended physically and posting links to any relevant articles written about your organization online.

Disadvantages of Hybrid Events
There is a higher cost involved in setting up more channels, coordinating staff, and ensuring that content is appropriate for each platform.
Each channel needs to have its purpose, so you'll need to ensure that it's not being used as an afterthought / just because it's something you can do "just because."
Additional staff is required, which means training them and paying them. This training requires its budget, and you'll need to ensure that staff is aware of what they're representing (both online and offline), which could be challenging if they haven't had an opportunity to familiarize themselves with your organization's key details.
Conclusion
If you weren't already aware, hybrid events are becoming more and more common as an effective way to communicate your message. We live in a society where access to information is never-ending, thanks to the internet, social media networks, and an increasing number of devices that we have at our disposal.
If you haven't considered having a hybrid approach for your next event, then it's probably about time you did so.