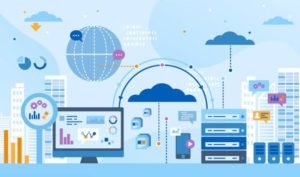 Advances in technology naturally lead to new acronyms and buzz words. Some seem to hang around for a long time and others depart as quickly as they arrive. In 2019 two of the biggest buzzwords that are dominating the industry are artificial intelligence and big data. Both are shaping up to be particularly significant and to have major roles to play in the future of digital space. And while most people have a passable knowledge of what is involved with artificial intelligence, what exactly is data? What can be done with it and who uses it? Here are some answers to these questions and more.
Everything is tracked
One of the key things about the internet is that everything is tracked. From the locations and devices that you use to access the net to the times of day you are online or the websites that you browse. The things you type onto social media or even (dare we say it), the conversations that you have. Everything is tracked! It is kept in what is popularly known as a data lake where big data companies look to make sense of it and turn it into commercially beneficial products. Before the paranoia sets in, it is probably good to say here that you are not personally. You are viewed as an anonymous user or number. Nobody is interested in you specifically, but they are interested in the type of person you are and the type of profile that fits you. That means that your profile can be developed and understood, and you can then be targeted for advertising.
Making it useful
There are companies and platforms that specialises in collecting large amounts of user data. Platforms like IBM's Watson or Oracle's Blue Kai are two examples of these. But while they collect the data the next step is finding one of the top data analytics companies in Australia to help you turn the accumulated data in something that makes sense. The key with data is that there is lots of it and that it can be fashioned and modelled to provide you with whatever it is that you are looking for. On a simple level, a publisher will want to know what pages are being read on their website. What are the arrival points on the site and what are the pages that people are exiting from? Brands will want demographic information and purchasing information. Or even specific interests. Companies will create audience groups based on profiles and then use these groups as private market places to sell advertising at a higher CPM rate to potential brands looking to target these specific audiences.
Powering decisions
We mentioned artificial intelligence earlier, but what is interesting is that a lot of the modelling and algorithms that power AI bots are driven by large data. Large amounts of data manipulated correctly will allow for patterns to emerge and anomalies to be seen. It is these patterns that power AI behaviours – be it bot responses, programmatic yield management tools or social media plays. Big data is what underpins it all.