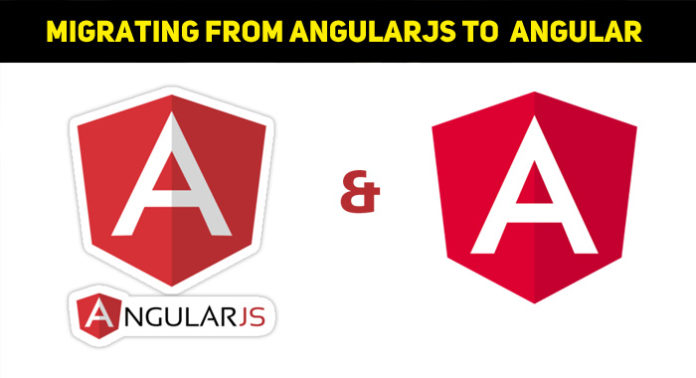 Nowadays, developers create progressively incredible, entertaining, useful and interesting apps that attract an enormous audience of users. And it's definitely obvious that if you are eager to attract more attention, it is essential to be the number one on the range of the developers, that's why you should all the time get acquainted with something new, always fall in with the latest news in the sphere of developing and try to operate with the exceptionally latest categories of computer programs. It is considered that the sphere of IT has been progressing over the years, so to stay in that range, you have to do something.
If you are longing to find out constructive and interesting details and want to be aware of beneficial information about migrating an AngularJS App to Angular, this article is obviously for you.
Which are the major reasons that made you think about migration?
There are some answers to this question:
Why? An excellent example may be related to the working process. During the work, you can face the problem with prolonged request processing. Moreover, errors in the codes occur often.
Who is responsible for the migration?
It all depends on the factor of how complicated your apps are. You can perform that process on your own or hire a professional developer who definitely knows what to do. You may consult with him to get some recommendations or pay him for the work he will be going to do.
In case you have finally decided to update your program, bring it to a better level, improve its functioning, interface and tools. If you want to feel the speed of quick features, the next step should be to choose the program to which you want to make the transition. There are some versions of Angular; let's move on to them:
AngularJS
It is a useful framework for developing apps. It allows you to utilize HTML as your sample language and enlarge the syntax and put your application's elements briefly and shortly.
Angular2
It has provided huge changes to the preliminary framework because it was designed in Typescript. Its advantages are:
 It has a Typescript that improves the codes.
It holds up mobile apps.
Availability of different languages.
Talking about the drawbacks, they are:
It is tough to customize in comparison to AngularJS.
Little and straightforward web apps.
Angular 4
as for its pros:
By giving samples, it ameliorates fast application creation.
It fits during the designing of the onepage app.
You can easily write and check codes.
As for disadvantages, it is only that in the case of using big data, it can sometimes be slow.
Talking about Angular 5, we can combine it with the sixth version because they are slightly connected. They both are aimed at the developing CLI. With the help of CLI, you are allowed to generate an app quickly and much effortlessly and be calm that it will respond to all requirements.
There are a lot of advantages to exploring CLI. Firstly, you can use it as a tool for adding new parts, services, or modules to a created app. The main fact is that you save your precious time by not typing the texts just using Angular coding guidelines.
In Angular 7, the advancement of CLI has continued to improve so that you can explore the framework even on an intuitional level. Moreover, due to the improvements, the code-shortage has significantly increased in its size.
Furthermore, we can examine great changes in Angular 8. It stands out because only in the eighth version it just starts its 2 new functions such as ivy renderer and bazel for building interfaces—it handholds outdated browsers that are manifested in quick uploading of the browser's content and files.
And the last but not the least version, Angular 9, was introduced in 2020. Taking into consideration the previous advancements, it also has its own changes. Like in the eight, it has significantly developed ivy; huge changes came with the platform, appearance, framework and CLI. Also, it has designed a new way to connect codes with the help of new methods.
So once you've determined which version you'd like to measure up to, you can decide which tools to use to migrate from AngularJS to Angular successfully and easily.
Overall, there are 4 ways how can you proceed to the migration from AngularJS to Angular:
It is obvious by its name that you have to rewrite the whole code. It is very obligatory for the old ads and the outmoded program files. So, the rewriting will bring them back to life. Establishing from the very beginning, you will be able to overthink all features of your program and start creating something fresh and new.
On the other hand, a huge disadvantage is also here. If you rewrite the whole app, it takes a lot of time. The major problem lies in that you have to work with the programs simultaneously. It is really hard, and it may be challenging if you want to do it on your own.
It is a program for analyzing and is very convenient to use. It explores the package which you have definitely downloaded is the Angular Command Line Interface. This ng Migration Assistant examines AngularJS and proceeds to offer appropriate advice relating to migration. So, ngAssistant finds a proper way for moving. The major goal of it is to give instructions related to the migration of your app. It also can be utilized for any shape of the app. To download the migration is not so complicated. After downloading the program, you can examine the app and give out instructions on migrating.
The ngMigration Forum is responsible for giving professional advice on the special site. Thanks to that, you are eager to guess the latest interesting and functional information about Angular operations. Due to many developers' experiences, you can conclude and decide which way is the most appropriate for you.
Thanks to that tool, you can easily maintain the working process of two programs. While combining AngularJS and Angular apps to handle them simultaneously, the ngUpgrade is the greatest program appropriate for it. It lets you produce the moving in bits since the various frameworks work jointly. ngUpgrade has a module that assists you to launch and optimize your app. It provides you with a slow migration from one to another. Besides, such kind of migration can duarate a great period of time; it all depends on your preferences and requirements. Also, ngUpgrade lets Angular and AngularJS coexist and run together without interrupting the application.
They are packed in Angular that permits you to modify and convert Angular Elements into self-elements, obviously understandable for browsers. Angular Elements get rid of the importance of ngUpgrade; nevertheless, they are useful only for vast and complicated applications.
Conclusion:
All in all, you can decide that if you really decide to migrate from AngularJS to Angular, you should precede all problems that appear on your way. After that, you have to decide which version will be the most appropriate and meet your demands. And the last is to decide in which way you will perform the migration. To my mind, if you are a professional, you can ever try to rewrite the program. But if you are a beginner or not confident in your actions, you can choose easier ways. Altogether, it is exciting and useful because in any case, you can gain new experience and enlarge your knowledge!