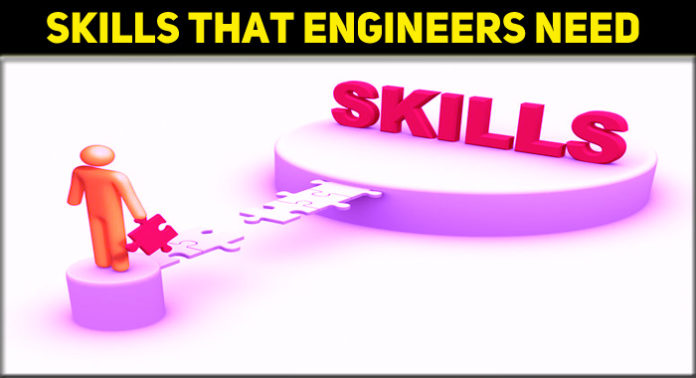 It's no secret that engineering is a challenging field to enter and a tough profession in general. Wherever you are, you will play an essential role in development; you will be responsible for turning drafts and ideas into reality. Engineers also have to work in teams and within a structure. They should be able to work within specific deadlines and concisely report their findings. These are all things that demand a particular skill set, and one that not everyone has or can develop.
Let's look into some of the skills, traits, and aptitudes engineers need to have to be successful in their careers.
Math and Computer Skills
Firstly, you need to have a certain degree of mathematical and computer skills to become an engineer. You should be familiar with geometry, algebra, and trigonometry. You will also need to master calculus and statistics. For instance, statistics help predict which part of a design needs more reinforcement or is more likely to fail. 
Computer skills will be essential for design purposes. Most of your works need computers and computer-aided machines, so if you're struggling with setting rules in Excel, you might struggle in this field. 
Emotional Intelligence
Emotional intelligence is one of many soft skills that you will need as an engineer, but it's one that many overlook. If you like to learn more about different soft skills required to be a successful engineer, click here. It would give you a better idea of some of the most crucial interpersonal skills needed for engineers and engineering managers.
Emotional intelligence is vital in engineering because you will find working in collaboration with others, most of the time. In some cases, it might be people who are part of your team. You might disagree on certain things and you have to be ready to listen to arguments from others even if it goes against your preconceived ideas.
You also have to speak in a respectful way to people who may not have the same knowledge and expertise as you. You need to be patient and understand that not everybody will understand at the same speed. Some may never understand, but you can't demean them for that, as you're the engineer. Remember that there are things they know that you don't and that a rift between teams can cause delays and failures.
Emotional intelligence is one of the most essential traits to have if you have a long career in engineering and want to be recognized as a valuable member of any team. It is also a crucial trait if you intend to work in a managerial role at some point in your career.
Leadership Skills
Leadership skills are also essential if you want to work as a manager, but they're necessary at every level. Leadership is what will push you to take the initiative and make discoveries. Engineers often have to work in interdisciplinary teams and foster collaboration. An engineer will need to deal with people from all sorts of professional backgrounds and other engineers with varying degrees of experience. An engineer with the proper disposition will learn from those above them and be a guide to those coming in. 
Communication Skills
It is another crucial soft skill to have, but unfortunately, many people lack in the profession. To be a good engineer, you need to show the ability to communicate clearly through text and orally. This goes from the problem definition phase to proposing solutions to the design and production stage. Everything has to be presented to upper management, stakeholders, and people on the floor. Also, engineers need to provide, receive, and listen to feedback to modify and satisfy new conditions and requirements.
Curiosity and Creativity
Engineering is an art, and those who have artistic traits and technical skills are the ones who truly stand apart. Curiosity is what will push you to expand your knowledge and be able to find new solutions to old problems. Creativity is what will allow you to think in ways that others don't. It will enable you to develop unusual ways of solving issues. 
People might call you to reach specific objectives, like reducing production costs, for instance. Engineers who can reduce costs while maintaining the quality of their design will always find work. Being curious and creative is also what will push you to always find ways to make a product or design better, which is another trait that employers will highly appreciate.
Critical Thinking
Engineers also need to be critical thinkers. It's also essential for them to set their biases aside and come to conclusions only after examining the data. They'll need to process information from different sources and look at other variables when coming with solutions. They may have to solve open-ended problems that don't have a simple solution and may have to deal with time and money constraints or limited manufacturing capabilities, among other things.
Intuition
When an engineer comes up with a solution that hasn't been tested yet, they need to have the confidence to stand behind them. They'll need to rely on their experience and expertise to propose ideas even with insufficient proof and data. As an employee, it is a fundamental trait to convince your employers of your value.
These are just some of the skills and traits you'll need to survive and succeed as an engineer. If you don't have some of these traits, see whether or not you can refine them. However, you have to know that some of these skills are deal-breakers, so if you severely lack in some areas, you might want to reconsider your career choice.