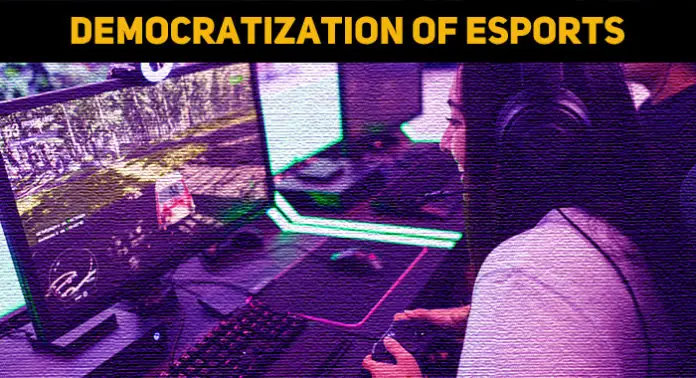 The way people play is constantly changing because games and the way they play continue to develop. Every time it seems there is some precedent set in gaming, and another developer comes along and flips the industry on its head. This has been seen recently in the increase of mobile gaming and the overall democratization of eSports.
Is It Good That Gaming Is Constantly Evolving?
As technology advances, like any other industry in the modern era, the gaming industry also has a different way it operates. The benefit of the technical advancement in gaming is that the foundations remain in place even as things change. This means that just because there is a shift towards mobile gaming doesn't mean that people have to go in the same direction. If gamers wish to continue playing old consoles, then they can. As the technology in gaming evolves, it leaves behind virtual footprints, and people can enjoy games any way they wish due to the improved options.
What is the Democratization of eSports?
eSports has become a multi-million-dollar industry, where most eSports are currently played on the PC and other consoles. Just because the PC is a popular medium for such sports, neither it nor the high complexity games played on it, such as League of Legends, StarCraft, and Overwatch, form the definition of eSports. The fact is that the thrill people get with eSports is the thrill rather than the console the games are played.
Mobile platforms have opened gaming up to people who may not have played games before. This can be seen firstly because more people are aware of mobile gaming. Thanks to traditional games that are digitized on sites like Genesis mobile casino. Here people have found the ability to play recognizable slot and table games like Book of the Dead, roulette, and Baccarat on a device that most people have; the humble smartphone. This has made gaming more accessible than ever before.
Further, it doesn't stop at solo gaming; people can enjoy competitive gaming on their phones. As a result, there has been a massive rise in the number of people who play using their phones, facilitated by the gaming and mobile developers working in tandem to create the best experience possible. Gaming is also being incorporated into the physical design of phones as devices such as the Nubia Red Magic 5G have shoulder triggers built-in.
What Does This Mean for Gaming?
For a while, people have said that gaming will likely become a lot more popular on a mobile platform, but recently we have been able to see it happening. For instance, Netflix recently expanded its library even further and has begun producing mobile games. This platform is being rolled out across Spain and Italy. It is also predicted that mobile games will top popular and established eSports such as Fortnite.
The democratization of eSports is a good thing because it means gaming will now be available to everyone. People will no longer need an expensive PC or console to participate and instead will need a mobile phone and internet connection.