Introduction
For years, IT decision makers and corporate officials had been unsure about shifting their workload to public cloud services, fearing that the confidentiality of the organization data and information will be compromised. On the other hand, private cloud computing has always been a costly alternative, lacking scalability.
To solve this problem, developments have been made in the cloud computing, transforming the way organizations handle their data system. Hybrid cloud computing has enabled the IT officials to maintain the privacy of sensitive data (provided by private cloud services), and also to have a cost efficient system (like the public cloud).
Public Cloud
The public cloud is the platform, which can be operated by any third party – anyone outside the organization, which include other companies or individuals who are not involved with the organization. It is a set of hardware, storage, services, applications, and networking, which are capable of managing straightforward workloads. However, the public clouds are more cost efficient and scalable than the private clouds.
Few names of the public clouds are Amazon Web Services, Joyent Compute or Google Cloud.
Private Cloud
Private cloud is a confidential and organization-controlled platform, hidden behind a firewall, which is not mean for open consumption. It is a set of hardware, storage, services, applications, and networking, which is accessible only to the employees of an organization and their partners or customers. The private cloud is developed strictly for use within a particular organization.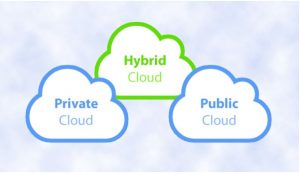 Hybrid cloud:
As the name indicates, Hybrid cloud lies somewhere in between the public and the private cloud computing. The hybrid cloud is a grouping of two or more cloud platforms (public, community or private), where the different platforms maintain their unique entities but are bound together, and offering different access points to its users.
Hybrid clouds do not necessarily form by combining a private and a public cloud; it may form by combining two different public clouds from different providers.
The hybrid cloud computing is beneficial for organizations that have to deal with highly changeable and dynamic workloads.
For example, any organization that experiences significant spikes in demands during holidays can use hybrid cloud computing. The private cloud can be used to run the application, while public cloud can be used to access additional resources when demand arises. And to connect the two platforms, a common, intermediate hybrid cloud system becomes necessary.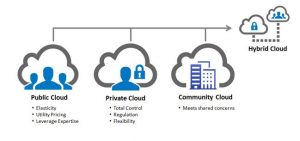 Some features of the hybrid clouds are discussed below:
• Scalability: The public cloud offers scalability with fewer boundaries than private cloud. Thus the organization can benefit itself by moving the non-sensitive data and functions to the public cloud. The Hybrid cloud allows an organization to leverage resources or data from a larger public cloud infrastructure and also reduces the demands on private clouds.
• Cost efficiencies: Public clouds are more cost efficient than private clouds. So, the organization can keep confidential functions secure by using a private cloud when required, and can shift to public cloud when dealing with non-sensitive functions, leading to an economic way to deal with costs and expenses of the organization.
• Security: The hybrid cloud retains confidentiality of information by allowing the organization to store all the important and valuable data in the private cloud, and rest of the data in the public platform.
• Flexibility: The hybrid cloud has the cost effectiveness, scalability of the public cloud platform and the privacy and security of a private cloud platform. The access to both the clouds, according to requirement, helps in the progress and development of the organization and exploration of new opportunities.
Limitations:
Any new development runs into some challenges and limitations. Hybrid cloud computing has also faced some limitations which requires further planning and re-designing.
• It is important to consider the bandwidth, networks, firewalls, routing, latency, reliability and other factors while designing a hybrid cloud computing system. Continuous network connectivity is required for the proper functioning of such a platform.
• Most of the organizations have to deal with a number of independently functioning public cloud platforms. It is a huge challenge to manage different cloud services. Sometimes, an orchestration layer, which provides a single layer for various cloud- related task, is used while interacting with different clouds.