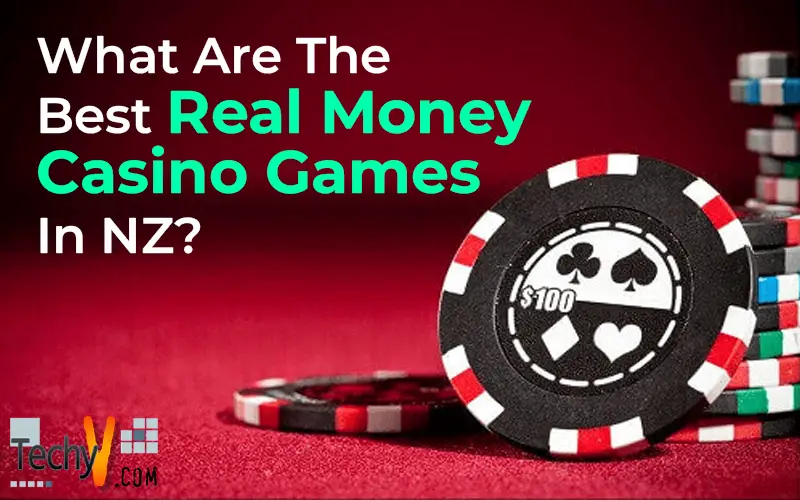 As online gambling continues to gain popularity in New Zealand, players are always looking for exciting games to play for real money. The good news is that casinos never run out of exciting games to offer players. These games come with different odds and gameplay. Choosing the suitable game to play for real money may prove a daunting task, especially for someone new to online gambling. This article will make you learn about real money casino games that you can play in New Zealand.
Blackjack
Blackjack is one of the best online casino games in New Zealand. It is one of the most popular games among Kiwis. Blackjack has been played for centuries. However, it has evolved tremendously over the past decade since it was introduced at online casinos. The concept of winning in a blackjack game is that a player needs a hand closer to 21 than the dealer's hand. Once you have placed your bet and the round begins, the dealer deals two cards for the house and two for the player. The sum of a punter's cards is taken to show the starting total. The house hand has a card facing up and another facing down. You can learn crucial clues from the upward-facing card. As a player, you have to decide whether you will stand or hit. The former means that you are satisfied with the total and wish to have the house reveal its hand, while the latter means you ask for another card. Once the dealer calls the stand, he reveals the house's hand, and you get paid if your hand is closer to 21. Also, some other rules apply in exceptional cases. For example, if you get a pair of similar cards, such as two aces, an option opens up to split the cards into two hands. This gives you the opportunity of doubling your winnings. However, you have to place an extra bet on your second hand. The online blackjack house edge is 1:1 except for three exceptions. A blackjack pays 3:2 if you have insurance; the bet pays 2:1, meaning that if you buy $1 worth of insurance and the dealer has a blackjack, you win $3 for your insurance. The third exception is a tie, which occurs if you and the dealer have the exact total. In such a case, you get back your initial bet.
Roulette
Roulette is another one of the popular casino games in NZ. It is played using a wheel, divided into 37 numbered fields. The fields are further divided into 18 Red, 18 Black, and a single Green field that is numbered 0. You place your bets on the table as you guess the next number to appear. If you are extra cautious, you don't have to guess the specific numbers since there are several gambling options. You can choose to bet that the number will be Black or Red. Also, you could say that the number will be one of the thirds of the table. If you guess the exact number, the casino pays you out 36/1. Many punters prefer betting a cluster of numbers and choosing their favorites among them. Once the ball starts spinning, everyone holds their breath wishing for the best as anything can happen. Roulette comes with a 2.5% house edge, and the probability of an event happening determines the odds of winning. Betting on a single number wins you 36/1, a red or black or even or odd result in a 2/1 win. Betting on the top third of the table gives a 3/1 win. The number 0 isn't calculated into the wins since that is where the casino draws its house edge.
Video Poker
Video poker is also among real money casino games. It combines standard video pokies and the standard table poker game. It offers players a watered-down type of poker where the inter-player competitive feature is replaced with a more slots-oriented environment. New Zealand plays 30% of all online video poker. You will be dealt with a five-card draw hand facing up. You choose which cards to hold and which to discard. Each discarded card is replaced with a new one. Once you have the final five-card hand, you get paid out according to a fixed table of payouts. A premade table rates your hand, and you are paid as per the fixed payouts. Video poker comes with over 99% RTP.
Keno
Keno is a straightforward game similar to a lottery. In an online keno game, you are presented with a board with numbers 1-80. You choose a set of these numbers hoping that they will be drawn to make matches that will produce wins. If you make enough amount of hits based on the amount of number you chose, you get paid according to a preset paytable. Keno is considered low risk since you can make a low bet of $1 and win big jackpots if you match a maximum amount of the numbers. It is therefore listed among the best casino games online for real money.
Scratch Cards
Scratch cards fall in between slots and lottery. Scratching is more interactive and intense, with less effort while playing online. You can keep scratching off endless cards as long as you have money. To do this, you only need to click a button on your mouse to reveal matching symbols. You click every field in the scratch card and if you don't win the jackpot, move on to the next card. The experience is even more interactive with mobile scratch cards since swiping the card is similar to scratching an actual one. The animations bring everything to life, making the whole experience more fun.
Live Casino
Live casino games NZ are a sensation. Whether you play them on the casino app or through your desktop, they are the closest you will get to experience what a person in a land-based casino does. You get to interact with real people who deal with your card if you are playing live card games. They offer you a chance to play casino games online for real money in a different environment. Compared to other casino games that don't give you any human interaction, live casino offers you a great way to switch things up.
Conclusion
If you wish to play casino games for real money, these are some of the best online casinos in NZ to start with. They give you some of the best odds to help you win big if you use the best strategies. Head to a reputable site and play casino games online for real money today. May the odds be in your favor.