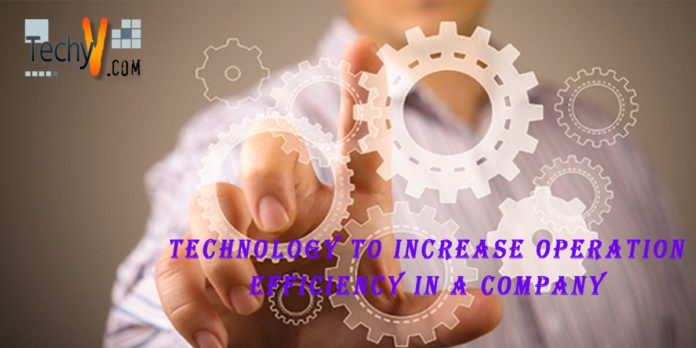 To remain competitive and relevant in business, company owners and other shareholders must come up with ways to boost operational efficiency. This is particularly crucial for small and medium businesses as they have limited resources as compared to large enterprises.
Failure to boost the efficiency of their operations, a company risks losing valuable clientele or worse, going out of business.
In this article, I am going to share with you tips on how business owners could make use of technology to increase operational efficiency as well as reduce operational costs and improve customer satisfaction.
● System upgrades
Naturally, due to the massive amounts of workload, large companies have, small enterprises have the competitive advantage of reacting more quickly to situations. However, having a sluggish network and slow systems will not do the company any justice.
As such, a strong and efficient system provides the company with maximum agility which results in reliable and secure service delivery to its customers.
Besides, a company that is serious about expansion knows that system upgrades are a must. Not necessarily a few months after the start of operations but even 10 years after establishment.
For instance, investing in an employee benefits administration software will allow a company to streamline benefits and make sure they comply with government regulations. This not only improves the services rendered to employees but also saves the company precious time and money.
● Ensure effective business processes with its partners
Some partners require that the companies they work with have efficient and secure business processes.
This can be achieved by having a secure and reliable network infrastructure.
● Provide unlimited access to mobile employees
Some businesses will hire mobile employees. In such a case, company efficiency and productivity will only be enhanced if the employees have ubiquitous access to company information. When the need arises, they should be able to get assistance and any relevant information immediately.
Investing in technologies like virtual private networks (VPNs), will enable mobile employees to remain connected to the company's network while on the go.
● Enable employees to have unlimited access to their phones
Nothing derails productivity and efficiency than missed calls. They bring about several challenges to the business, some of which include operational inefficiencies. Trying to reach absent employees can be a headache. So are project delays and missed opportunities.
To counter this, a company can make use of an IP communication solution so that you could have one phone number that rings simultaneously across multiple devices. This significantly increases the chances of reaching an employee on the first try.
Also, employees will have the ability to check e-mails, voice messages as well as fax wherever they go.
● Do not forget your customers
Customers are very important in business. As such, a business should ensure there is seamless interaction between them and the customer.
One of the best ways a company could use technology to ensure customers are given the service they deserve is by linking an IP communications system to a customer relationship management (CRM) system.
How this works is, within the first ring of a customer's call, the system does a background check and displays all information of the caller. By the time the phone rings a second time, the employee picks up the phone, knowing all the relevant customer information such as pending orders.
● Encourage company cooperation
Another thing that will instantly increase the operation efficiency of a company is a proper collaboration between employees, management, company suppliers, partners, and customers.
With the technological advancements cropping up every day, there are various devices the company can make use of to ensure seamless and easy collaboration between the above parties. From video conferencing to IP communications, the list of technologies you could use are endless.
● Outsourcing
Believe it or not, there are certain tasks in a company that will require outsourcing. For example, IT tasks such as network monitoring.
Especially if your company does not specialize in IT, it is clever to let a managed service provider handle the job. This will enable your employees to better focus on their jobs, be more competent thus increasing productivity.
Additionally, outsourcing will reduce your employees' workload. This, in turn, will ensure your employees are energized and in the right mood to interact with customers.