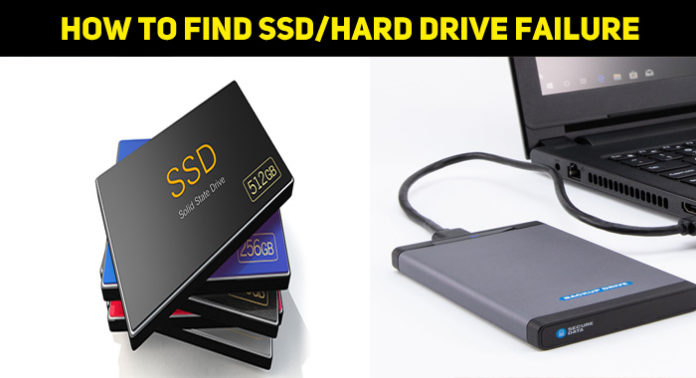 SSD and hard drive failures are a common problem today. There are diverse reasons why such a problem occurs. However, the most common problem is physical damage. There are many other underlying reasons for this to happen. Some of the symptoms may include corrupted data and strange noises as well.
If you are afraid that your SSD or hard drive may be facing similar problems, read this blog until the end to know more.
Symptoms of SSD/Hard drive failure 
Many hard drives offer different symptoms that act as warning signs in need. If you are afraid you might be facing similar problems, these are the symptoms of SSD and hard drive failure that you need to look out for.
Weird noises- Hard drive failure can be daunting to detect. However, weird noises are one of the most common problems that can help you recognize this issue. If you hear constant sounds from your hard drive like clicking and clattering, then you know what it is. Such a thing can help you to understand your drive health immediately. At this point, seeking help from a hard drive expert can take you a long way. It can also help prevent any data loss for future use.
Corrupted data- You can figure out the deadline of your hard drive, you can find out if the files open. If your files have gone missing suddenly or they fail to open, you know it is corrupted. If your hard drive is facing similar problems, please make sure to get expert help right away. It may assist you in many ways to recover your data before it's too late.
Slowed data transfer- Data transfer may begin to slow down once you figure out that your hard drive is failing to work well. Such is an indicator of a problem with your hard drive. If you feel that this problem is arising in your hard drive, then it is wise to start backing up files.
Increase in the bad sector- Many times, the card may stop reading files. When you see a rise in bad sectors, realize that your hard drive will fail to work soon. However, this is one of the beginning symptoms of your hard drive failure. Thus, you can easily back up your files without much hindrance. You can also try to fix it in windows for the best results. However, we will always recommend you to seek expert assistance since they can instantly help you map out the problem and fix it before it is too late.
The takeaway
Yes, hard drive failure is a common problem today. We all face this problem on a regular note. But what is most important is to realize how to fix it. In case you observe these issues consistently. Make sure to opt for an expert who can help with angel bird data recovery right away. So, try it out now. See how it works for you!