It's been more than a month since the government of India banned 500 rupee notes and 1000 rupee notes. Prime Minister Narendra Modi came up with the surprise 'demonetization' movement to curb the corruption in India. Indian GDP consists of two verticals: first are the people who transact majorly in cash to avoid paying the taxes, payment in cash leaves no paper-trail. When one transacts in cash either legally or illegally, he/she has a choice to not reveal their entire income to the government; the divulged amount is called 'White money' while the Black money refers to the amount procured through illegal means without telling the government to avoid paying taxes. The second vertical consists of people who honestly declare their income and suffer from a substantial taxation from the government.
After banning the currency, citizens would visit banks to exchange bygone notes for the newer ones. People with black money would find it difficult to swap the amount due to non-declaration of the said amount. Eventually, they would have to meet half-way in surrendering their money; this increases government revenue, which is utilized for the development of the nation. In the face of the newly enforced law, citizens are dismay about the unavailability of new currency notes at the ATM's; this has caused people to stand in long queues for hours at an end, at times without any cash; also, the surprise law did not give its citizens any time to get rid of the old notes; this in totality has caused reduction of cash in the hands of the people; this has truly shaken the daily routine of the common-man, causing disruption in shopping, transport, etc. However, do not worry, for I am going to compare different platforms that allow its users to convert cash into virtual-money, thus allowing its users to pay at various spots using nothing more than your handheld mobile device.
1. Paytm
Founded by Vijay Shekhar Sharma of 'One97Communications' at Noida, Uttar Pradesh in 2010, Paytm is an e-commerce website and mobile application, which started by offering mobile recharge and bill payments, the platform has expanded to provide products like Flipkart and Amazon and provide online movie tickets and money payment option to another Paytm-registered vendor. Paytm has introduced 'Paytm Wallet', wherein users can hoard cash from their bank accounts for future use using credit/ debit card. With a simple and user-friendly user-interface, Paytm cash can be availed at a range places as follows:
– Post-paid, Gas, Electricity, Telephone, Internet, Water bill payments.
– Data-card, Prepaid recharge.
– Bus, Train, Flight, Hotel booking.
– Shopping for products ranging from clothing to electronics to household appliances.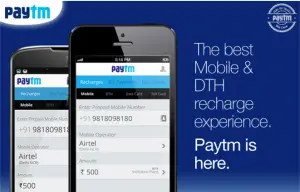 Paytm is a fusion of the words 'Payment' and 'ATM.'The most attractive thing about Paytm is the zillion offers to choose from during each transaction. The offers include food coupons, discounts, and cashback. Paytm has a tie-up with IRCTC, thus, providing seamless booking of train tickets.
Paytm payment route
Though Paytm is one of the best platforms out there for money transactions; it is not immune to some drawbacks. Due to extensive use and rather average underlying code, Paytm suffers from delay which causes transaction errors and cancellation of bookings. Also, the website takes time to load. Also, duringthe error, the amount is not instantly refunded to the account of the user; this has become the biggest enemy of Paytm, wherein the cashback or discounted amount does not appear in the Paytm Wallet. Lag combined with the loss of money discourages Indians from using this application. Maybe, in the future, Paytm would address this issue.

2. Freecharge

First Logo of the platform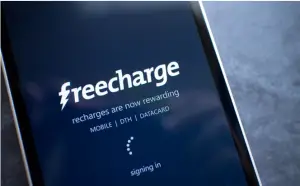 Revamped Logo of the platform
Headquartered at Mumbai, Freecharge was established in the same year as Paytm by Kunal Shah and Sandeep Tandon. The user-interface and website-layout for Freechargewere horrible in its early stages, due to which the former could not achieve the same popularity as compared to the latter. However, Freecharge turned the tables by using a better UI and intelligent marketing tricks: for example, after the revamp, Freecharge started providing free recharge on the purchase of soft-drink bottles like Mirinda, Pepsi, etc.; this caused the discount-hungry Indian crowd to run towards Freecharge. Also, tie-ups with Bollywood production houses like YRF helped Freecharge compete with Paytm. Paytm gives cashback of about 5% per transaction, whereas Freecharge provides the user with a coupon of a near-equal value as that of the recharge amount, the coupon can be used at popular joints such Dominos and Barista, making the platform worthy of its name: 'free-recharging.' Freecharge has an elegant UI; this makes recharge faster on the platform, with recorded speeds as low as 3-15 seconds per transaction.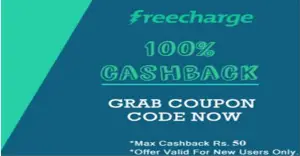 Just like Paytm, users can transfer money from one's account into the Freecharge Wallet for future use. Though Freecharge does not cater to online shopping or ticket booking, the former can be purely used to make payments at petrol pumps, restaurants, etc. However, this issue would soon be resolved due to liquidation of Freecharge by the e-commerce giant 'Snapdeal' for 2800 crore rupees, making it the second largest take-over in the e-commerce sector. Freecharge is convenient, since, it displays the favoured recharge options for your area and stores previous transaction details; this makes the payment faster and easier, especially for our non-techie Indians. With INR 6 million worth of transactions per day, Freecharge has announced an update to their platform on 19th May 2016, i.e. WhatsApp can be used to transfer money between contacts; this exploits the integration of the latter in the lives of the people.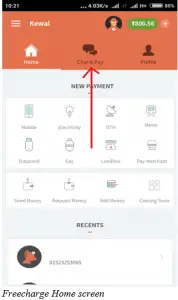 Freecharge Home screen
3. Mobikwik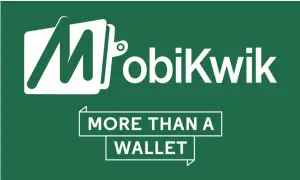 The under-average home screen is simple to use but is unappealing
This platform boasts an impressive 15 million users since its foundation seven years ago, by Upasana Taku and Bipin Preet Singh at Gurgaon, India. Mobikwik works on the same lines as Paytm and Freecharge, one can store money from their bank account directly into a virtual wallet, this reduces the risk of using debit/ credit card in public. Unlike Paytm and Freecharge, Mobikwik is purely a payment portal, allowing the user to recharge phones, pay the bills: water, electricity, gas. To attract the crowd, Mobikwik provides coupons in exchange for transactions.But, what really makes Mobikwik stand out of the crowd is its 'offline' feature, which allows the person to make offline payments to establishments like Café Coffee Day, Big Bazaar via an OTP (One Time Password) exchange. Also, Mobikwik is much faster when compared to Paytm and Freecharge, it recently launched 'Mobikwik Lite,' allowing one to use the platform efficiently at weak internet reception zones. Hence, Mobikwik is simple and is designed while thinking about the fluctuating internet speeds in different parts of India.
In conclusion, I would say that all the three platforms have their pros and cons. Though we do not endorse any of the platforms, it is clear that Paytm is winning the race by a slight margin at the moment due to its 256-bit highly secure coding allowing secure transactions and mind-boggling offers. Online Wallet reduces the tension of carrying cash or swiping the card, making payments safer. Only time will tell if the platforms can help in fulfilling Modi's wish of a cashless society in Digital India.
Battle of the Wallets