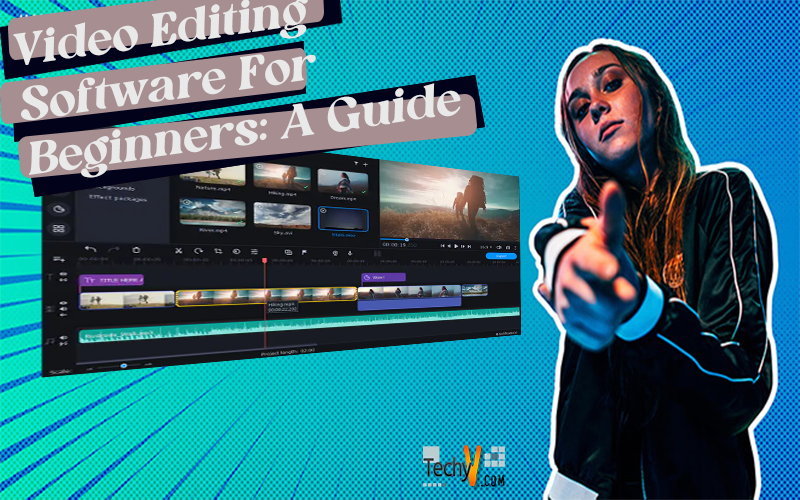 Editing your footage is a key step in producing polished, professional-looking video content, whether you're shooting videos with a DSLR camera, your smartphone, a GoPro, or something else.
Luckily, there are more options than ever for video editing software that can help you achieve professional results.
There are all types of programs for pro video editors for doing each specific part of the editing process. However, if you're a beginner, you're probably looking for an easy-to-use, all-in-one video editing software program.
This article will go over some of the best video editing tools for beginners.
7 of the Best Video Editing Software Programs for Beginners:
1. Adobe Premiere Pro
Despite having "pro" in its name, Adobe Premiere Pro is something even the beginning video editors can learn to use with some practice. If you're already familiar with any of Adobe's other software programs, you'll be right at home using the user-friendly interface of Adobe Premiere Pro.
Adobe Premiere Pro consistently tops lists of the best overall video editing software with its powerful video editing tools. However, there is no free version (but a monthly subscription fee).
So, if you are looking to start learning how to edit videos and don't want to pay a monthly fee yet, you can always start with one of the cheaper or free options below. Then, you can move up to Adobe Premiere Pro when you're more confident in your video editing skills!
2. Adobe Premiere Elements
Adobe Premiere Elements is a scaled-down version of Adobe Premiere Pro designed more for novices. It features fewer video editing tools and options than Adobe Premiere Pro but is still an excellent choice for learning how to edit videos with Adobe software. Moving on up to Premiere Pro should be a breeze if you get comfortable in Elements.
Like Adobe Premiere Pro, there is no free version of Adobe Premiere Elements. However, you pay a one-time payment to purchase the program rather than a monthly subscription fee. Plus, there's a 30-day free trial you can take advantage of to try it out!
3. CyberLink PowerDirector 365
CyberLink PowerDirector 365 is an excellent alternative to Adobe Premiere Pro for Windows users (there's a Mac version, but it's less polished). It has tons of powerful video editing tools, and there's even a well-reviewed mobile version that lets you edit videos right from your smartphone.
As for purchase options, CyberLink PowerDirector 365 is available for a one-time fee or a monthly subscription fee. In addition to the video editing software, you also get access to the Shutterstock library with your purchase.
4. Apple Final Cut Pro
Apple's Final Cut Pro was the go-to video editing software for Mac users before Adobe's video editing programs rose to prominence, and many video editors still swear by it. It's also very easy to use, so it's favored by video editing novices and students worldwide, who love its wide range of versatile tools and editing options.
Unfortunately, there's no Windows version of Final Cut Pro. But, Mac users will appreciate the software's ease of use on their Mac devices. Apple Final Cut Pro is available for purchase with a one-time fee and offers a generous 90-day free trial.
5. Windows Video Editor
Windows Video Editor is Microsoft's built-in video editing software, so it's free and already on your device if you're a Windows user. It's very easy to use and is best suited to making quick edits to your video clips.
Windows Video Editor doesn't have all the complex tools and editing options that the above options have, but it does let you take care of the basics very well. With this software, you can add music, titles, credits, and even simple 3D graphics to your videos.
If you want to dip your toes into the water with video editing, go ahead and start playing around with Windows Video Editor!
6. iMovie
iMovie is Apple's free video editing software that comes pre-installed on all Mac devices. Like Windows Video Editor, iMovie is simple to learn and easy to use. It features an intuitive drag and drop functionality and lets you handle all of the basic video editing needs.
Notable built-in features of iMovie include studio-quality animations for adding stylish titles and credits to your videos, video filters to give your movies unique looks, music, sound effects, voice-over recording, and speed controls. Another plus for Mac users is that all your work is stored in iCloud, and you can access and work on it from any of your Apple devices.
7. Vimeo Create
Vimeo Create is free video editing software from Vimeo that is favored by small businesses. It's ideal for making eCommerce advertising videos because it connects right to Shopify. It's also great for creating quick marketing videos to upload to a business YouTube channel.
If you're getting into video editing to make creative content, Vimeo Create isn't going to give you all the freedom you're looking for. But, if you need to make quick, professional-looking videos to promote a business or sell products, Vimeo Create can help you.