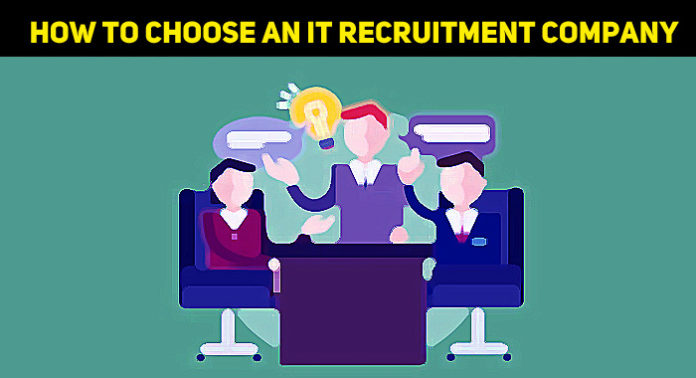 For any IT business to succeed, having employees with the right attitude and skills is necessary. Unless all your employees are carefully selected, your performance will not be up to the mark. However, finding the right candidate for an IT position is not an easy task. That is why an overwhelming number of companies are now turning towards recruitment agencies to get the best candidates for their team.
But again, even among IT recruitment company, there are so many different choices available. So how does one make a pick among them? If you hasten your decision without weighing the various factors, chances are you'll end up with the wrong candidates.
To help you choose the right recruitment company, here are a few factors that you must consider:
Specialization
If you look for recruitment agencies on the internet, you will likely come across several hundred names for your city alone. But are all these companies well equipped to make recruitment for the IT sector? Not at all! That is why looking into the specialization of the recruitment company is of the highest importance.
The companies that specialize in IT recruitment have prior knowledge of the kind of aptitude and skills required from the candidates. Thus they can find you better talents than a general recruitment platform.
Your Own Recruitment Needs
Once you have narrowed down the companies based on their specialization, the next vital task is to look into your own needs. No two businesses have the same recruitment needs. So it would help if you had a clear idea regarding what your needs are. Ask yourself whether you are looking for permanent or temporary staff? Is it for executive or general posts? Are there some additional parameters that you would like to check in your ideal candidate?
Note down all the important points, and you can touch on them when you have a meeting with the potential recruitment company. When you present your needs clearly to the recruitment company, they can find you the best match accordingly.
Experience of the Company
Since there is a huge demand for candidates in the IT sector, new recruitment companies keep coming up in the market. But handing down the most important decision of your company on inexperienced hands may not be wise. That is why looking into the kind of experience that the company holds is also vital.
Experienced companies also have access to a wider talent pool and can fulfill your needs faster than the recently established ones. They also have a more efficient testing system for candidates.
Affordability
While it is important to make a good hiring decision for the company, you cannot let that overturn your balance sheet. That is why looking into the recruitment agency's affordability is quite crucial before making the final selection.
A common misnomer among people is that only an expensive company can make a good hiring decision. But that is actually not right. Look into your finances and decide on your budget. This will enable you to make a better decision.
Keeping these points in mind, you can make the right choice of a recruitment company in no time.