Contract management software automates contract creation, tracking, and monitoring. Professionals involved in contract negotiation, such as salespeople or account representatives, are tasked with defining terms and service level agreements, amending agreements, and executing contracts. Both sides of a deal's legal departments participate in the contracting process to ensure compliance with laws, regulations, and internal company rules. One crucial feature of contract management software is storing all of a company's contracts in a digital repository. It eliminates the need for businesses and legal entities to keep track of paper contracts stored in file cabinets. We have curated a list of the top ten contract management software.
1. App4 Legal
Managing and controlling contracts throughout their lifecycle with a comprehensive Contract Lifecycle Management solution. App4Legal enables users to execute the contract creation, drafting, approval, signature, and execution processes to maximize collaboration and efficiency and reduce time spent during the end-to-end process. Create Contracts automatically from your multi-language templates. Configure access roles and permissions, and integrate with digital signatures if necessary.
2. Panda Doc
PandaDoc offers a low-cost contract and document management solution. Founded in 2011, PandaDoc provides simple software to manage your contracts throughout their lifecycle. This low-cost, feature-rich software stands out from the crowd, making it the best overall choice for businesses of any size.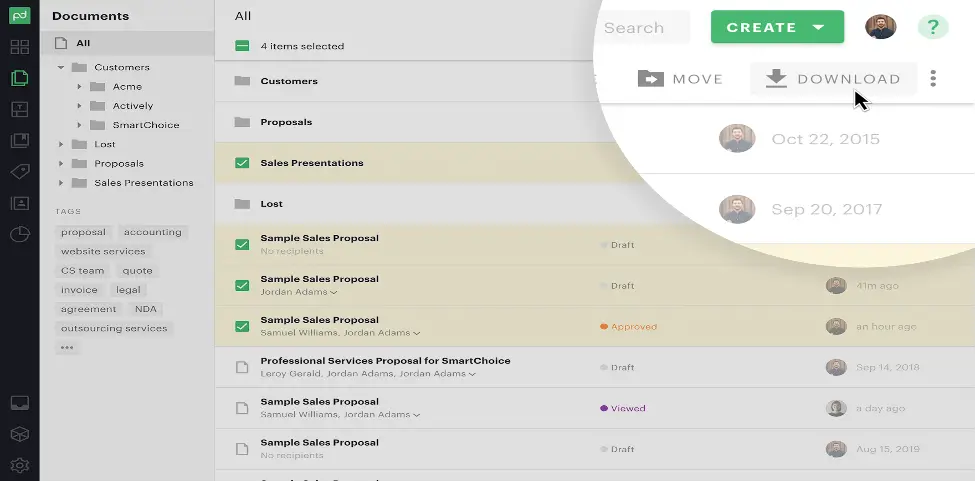 3. Link Square
LinkSquares provides true end-to-end CLM with powerfully intuitive pre-signature, e-signature, and post-signature solutions, all built for today's Legal teams and powered by AI. The LinkSquares e-signature tool features proprietary OCR, full-text search, contract templates, self-service drafting, custom reporting and notifications, version control, integrations, and automatic extraction of 100+ critical contract dates, clauses, and terms.
4. SignNow
SignNow is an electronic signature solution designed to grow along with your workflow. SignNow, according to the vendor, is lightweight, user-friendly, and affordable for small and mid-sized businesses. Their e-signature solution is also mobile-friendly, as well as secure, and compliant. SignNow uses API integration and an on-premises solution in addition to the desktop and mobile apps (for iOS and Android).
5. Contract Works
Managing contracts with ContractWorks is easy. The software simplifies the process of executing, storing, and tracking them. ContractWorks makes contract management software accessible to businesses of all sizes, with quick implementation, an easy-to-use interface, and low, transparent pricing starting at $700/month for unlimited users. In addition to these benefits, you will receive a dedicated support team to assist your company in making the most of its contract portfolio.
6. DocuSign
DocuSign began in 2003 as an e-signature company, but its 2018 acquisition of SpringCM provided the company with CLM capabilities. Businesses use DocuSign because it is simple to use. E-signature plans from DocuSign work best for small businesses, but end-to-end solutions are also available for contract-heavy workflows. DocuSign provides small businesses with low-cost contract management solutions ranging from e-signatures to CLM systems.
7. DealHub.io
DealHub's award-winning Revenue Platform provides your company with the most comprehensive and integrated revenue workflow. The zero-code platform enables sales teams to close new and subscription businesses from anywhere by moving leads down the funnel. * Configure-Price-Quote (CPQ) * Subscription Management * Contract Management * Digital DealRoom * Real-time Buyer Intent Insights * eSign is all part of the DealHub Platform.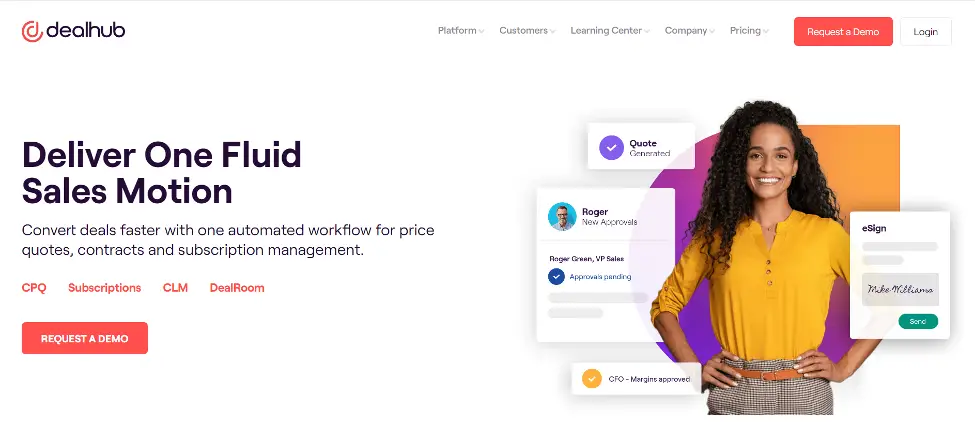 8. ConnectWise Sells
ConnectWise Sell (formerly Quosal) is the ConnectWise Suite's quote and proposal solution. Users can use ConnectWise Sell to create professional technology quotes and proposals in minutes, complete with rich product information, cover letters, and statements of work, and automatically update their sales pipelines. Clients can customize their order and accept their quote with built-in e-signature capabilities using ConnectWise Sell's online, interactive quote delivery system.
9. Legito
Smart Workflows, Approvals, and Document Management; Advanced Electronic Signature; Document Automation and Contract Assembly Legito, your Smart Document Workspace, brings it all together. Out-of-the-box functionality has you ready to automate documents that almost draught themselves in under two hours. Legito is used to manage documents by over 160,000 users in 50 countries, including LexisNexis, Price Waterhouse Coopers, Skoda Auto, and Societe Generale Group.
10. Concord
Founded in 2014, Concord assists enterprises in staying on top of compliance and changes throughout the lifecycle. Concord is the best choice for large businesses due to its unlimited volume and integrations. Its enterprise-grade features and onboarding support make Concord the ideal solution for firms that want to send documents.