Technology has been useful for us in many ways. From making complex things easier to find the right solution for a situation, many gadgets are making our lives simpler. This way, there are a few unique gadgets that are highly useful for every kitchen room.
1. HIKU:
Hiku is a fridge magnet with soft silicone rubber back. Hiku holds tight onto your fridge. It doesn't make any scratches or marks on your fridge. In your kitchen, the device scans and creates a shopping list of products you need to buy. Share your list to save time from multiple trips to the shop. It is a round white and spin-finished aluminum button. The device identifies your voice by speech recognition technology.
2. BOTTLE LOFT:
Bottle Loft saves space in your fridge by a magnetic bottle holder. Peel and stick it on the ceiling of your fridge to leave space for other groceries, vegetables, and fruits at the bottom of your refrigerator. The high-grade neodymium magnet adhesive sticks tightly to hold the bottles. It is also easy to pull from the bottles when required.
3. CONNECTED COFFEE MAKER:
The Alexa compatible smart Connected Coffee Maker is controllable from your phone. Inform Alexa for turning it on or off, depending upon your need. There are many other features from temperature control to altitude monitoring. Black, cream, and red color interchangeable panels are available to suit your kitchen décor.
4. ANOVA PRECISION COOKER:
The compact Anova is an immersion circulator and will clip on to the side of your cooker. It heats the water for the chosen temperature. By sealing the food in an air-tight bag, it will finish the process by slow cooking. As it is s Wi-Fi enabled device, you can control it even while you are away from home.
5. TAYLOR MEASURING CUP:
Taylor Measuring Cup is a must-have gadget for every modular kitchen. The measuring cup combines with a digital scale to automatically convert baking ingredients such as sugar, flour, milk, water, and oil. The device has auto on or off function and a low battery warning. Use warm water and soap for washing Taylor Measuring Cup.
6. AUTOMATIC JAR OPENER:
Now opening a tight jar's lid without struggling is possible using the Automatic Jar Opener. The effortless push buttons adjust the lid, and open it effortlessly. The Jar Opener is durable, compact, and fits on any jar size.
7. PERFECT DRINK SMART SCALE:
Prepare your favorite cocktail using the Perfect Drink Smart Scale without measuring anything. Pour your choice of liquors to the mug and wait for the sound "Ding." Now, your favorite cocktail is ready to serve and drink. The built-in timer will tell you how long you must shake or stir your drink for the perfect dilution.
8. CINNI BIRD:
Cinni Bird is an electric spice pen to make creative messages and drawings using natural spices. With simple and unique designs, you can provide cake frosting styles. You can use Cinni both for solid and liquid foods. It is the world's first and only spice pen. Creative minded children will enjoy Cinni Bird.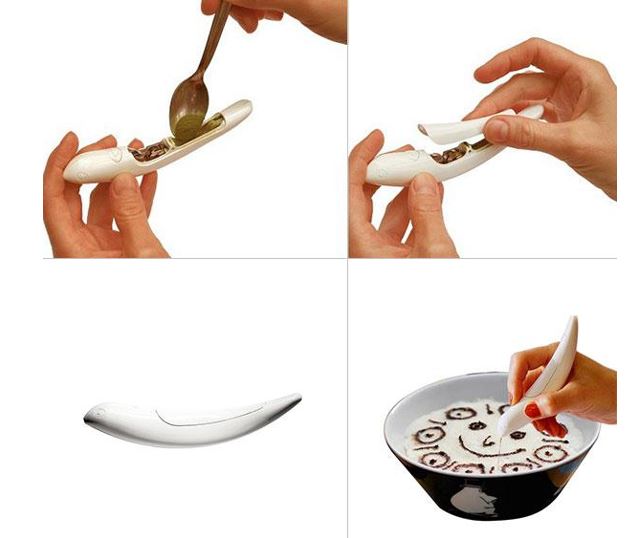 9. HERB SCISSORS:
The five blades Herb Scissors are useful for quickly snipping and mincing herbs into thin slices. The five blades are equal to ten knife's sharpness. When not in use, the cover case protects the knives. The cleaning comb removes clinging herbs. The device comes with two herb bags to store cut herbs for future use.
10. HEAT CONDUCTING KNIFE:
Heat Conducting Knife is an innovative idea to curl up and soften butter easily with a heated edge. You can carve thin portions of butter to spread onto your toast. The knife is ideal for chocolate spread, cream, peanut butter, and much more. The technology works on thermal conduction that transmits heat from your body to the blade. Heat Conducting Knife comes handy and compact as the best kitchen tool.