In today's life, where everything seems to be digital, smartwatches act as an indispensable part of our lives. They don't just tell time but play various significant roles from being fitness guides to lifesavers. If you're confused about which watch is suitable for you, here's a list of the top 10 latest smartwatches in India down below. Have a glance and choose for yourself.
(1) Apple Watch Series 6
Its official tagline is: "The future of health is on your wrist". Apple Watch has many unique features that make it one of the favorable smartwatches available nowadays in 2021. Its unique attributes comprise:
Estimating your blood oxygen level with a revolutionary sensor and app.
Take an ECG anytime, anywhere.
See your fitness metrics at a glimpse with the enhanced always-on retina display.
Apple Watch Series 6 helps you to achieve a healthier, more vibrant, and more connected life.
(2) Samsung Galaxy Watch 3
The Galaxy Watch 3 is the most graceful smartwatch Samsung has delivered thus far. Its unique attributes include:
Regulates your health.
Tracks your fitness.
Adjusts your mood with the Galaxy Watch3 GPS Smartwatch from Samsung.
Emphasizes a rotating bezel that makes it simple and spontaneous to guide you through available apps and manage your music on the full-color 1.2″ display.
Some applications allow you to track your health as you exercise and throughout the day. You can use them to regulate your pulse (ECG), blood pressure, and VO2 Max (blood oxygen) with a SpO2 sensor.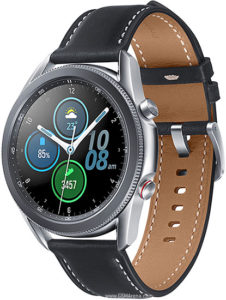 (3) Fitbit Versa 3
Stay active and healthy with this Fitbit Versa 3 smartwatch. It has an in-built GPS that shows your speed and duration. It can also play music and track your heart rate and sleep for your comfort. Its unique features include:
Tracking your pulse rate 24/7.
Monitoring Oxygen Saturation (SPO2).
It keeps a record of Sleep Stages and Sleep Score.
Measures Skin Temperature Variation.
Tracking your All-day Activity with ease.
(4) Realme Watch S Pro
The Realme Watch S Pro, fitted with a Pro Display. It is a large AMOLED touchscreen with high balance and brightness and provides excellent visuals for your understanding. Its unique features include:
Maintains a routine of the exercise and workout data with comfort.
Having a broad and visible three and half cm AMOLED touchscreen display.
It offers an intuitive interface that makes it a pleasure to view your health data.
(5) Amazfit GTS 2e
The Amazfit GTS 2e has an AMOLED screen and curved aluminum-alloy body to deliver a comfortable wearable experience. Its unique features include:
Tracking Heart rate.
Regulating oxygen level (SpO2)
Monitoring sleep quality and stress level.
It is fitted with a PAI health estimation system.
Fourteen days mileage from a single charge.
(6) Huawei Smartwatch GT 2e
 This Huawei Watch GT 2e comes with a remarkable mix of work and operation that maintains you forward of time with its distinctive features. Its unique features include:
Maintenance of data to operate track of your heart rate, steps, weather, and much more.
Meaningful battery life to up to 14 days.
AMOLED display which gives you a comfort viewing experience.
Lightweight and has a robust body made of stainless steel.
(7) Garmin Forerunner 945
Garmin Forerunner 945 smartwatch is specially developed for athletes. It is fitted out with a VO2 max that conveys the measurement of your oxygen consumption rate while exercising. Its unique features include:
Full-color, onboard maps are fitted, which direct you on your run, so you never get forfeited during your workout.
Incident detection (during select activities) and assistance are provided as safety and tracking features, both sending your real-time location to emergency contacts.
Up to 2 weeks of battery power in smartwatch mode, 10 hours in GPS mode with music, or up to 60 hours in UltraTrac mode
Garmin Pay contactless payment solution lets you make helpful payments with your watch so you can put your cash and cards at home.
It also provides other elements like altitude acclimation status, aerobic and anaerobic workout consequences, retrieval time, etc.
(8) Oppo Watch 46mm
OPPO Watch is outfitted to influence, with a dual-curved modifiable AMOLED screen, crisp image condition, and colors. It is accommodated with a 3D curved back design which keeps your watch looking nice from various angles. Its unique features include:
Loads up on time-saving attributes with Wear OS by Google™.
Tracks your health and fitness.
Search the weather.
Keeps yourself up-to-date with quick info management tools.
Up to 21 days battery life.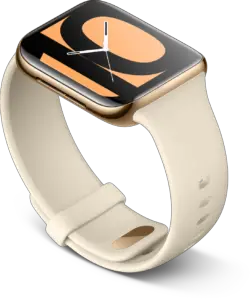 (9) Apple Watch Series 3
Apple Watch Series 3 is a unisex watch offered by Apple that is light in weight and comfortable to wear. The smartwatch is backed with a memory capacity of 8 GB, and the battery can last up to 18 hours on a single charge. Its unique features include:
Monitoring your heart rate.
Getting the exact workout metrics.
Stay in touch with your notifications.
Track your menstrual cycle.
Keeping a check on your sleep pattern.
(10) Honor Watch Magic
The HONOR Watch is one of the slimmest smartwatches on the market, which is fantastically furnished using three hundred and sixteen L stainless steel that is both convenient and comfortable. Its unique features include:
It generates accurate and precise location information with a built-in GPS.
HUAWEI TruSeen™ 3.0 measures your heart rate and is vital to protect your health and fitness levels.
Evaluates a range of outdoor and indoor activities and workouts.
TruSleep gives sleep quality marks based on the operation of your sleeping patterns and breathing quality.