Every individual's resume plays a significant role in their career, and it is the one that quickly captures the attention of employers. According to a Time Magazine article, a recruiter's average time looking at and examining a resume is roughly six seconds. All that is required to determine an applicant's fate is this information. Resume builders are online résumé templates that allow you to bring in information and create a unified resume.
The following are the top ten most popular free resume builders available online. Many of these builders will try to get you to pay for them, but we have discovered ways to utilize them for free.
1. KickResume
KickResume is an online resume builder that comes with a variety of resume templates and unique designs. It is accessible in both free and premium editions. It also has a cover letter builder and a personalization option. This application allows you to customize the resume by adding categories and sections and is excellent for tailoring your resume with various types of content for multiple employers.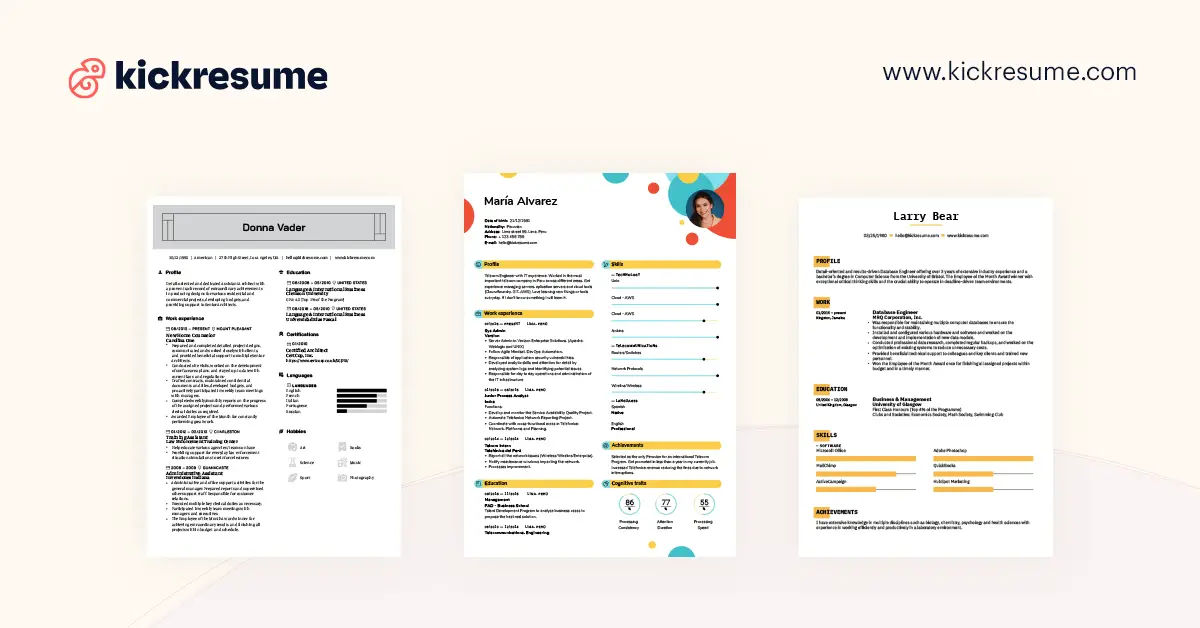 2. Jobscan's Resume Builder
Jobscan's resume creator is simple to use and seamlessly walks job seekers through the process. Our favorite feature is that it is ATS-compliant. The resume templates were built with applicant tracking systems in mind, ensuring that each of your resumes is optimized. The screen in this resume builder is divided into two areas. The first area of the resume asks you to fill in the information you want to include. You can see how the builder formats that input into the second part, which will become your final output as you do so.
3. CakeResume
Using Cake Resume is just like a piece of cake. Edit the sample information by dragging and dropping pre-made sections from the column on the right of the resume generator. If you desire, you can also build a public profile and upload your LinkedIn information, allowing hiring managers who visit the site to see your information.
4. Resume Genius
Resume Genius is, without a doubt, one of the most user-friendly and time-saving resume solutions available. The program guides you through categories such as education, work experience, and references, using a straightforward and easy-to-use interface. It offers different templates varying from 'Taj Mahal' to 'Classic.' Resume Genius offers simple fill-in-the-blank sections so you can quickly create a great, comprehensive resume.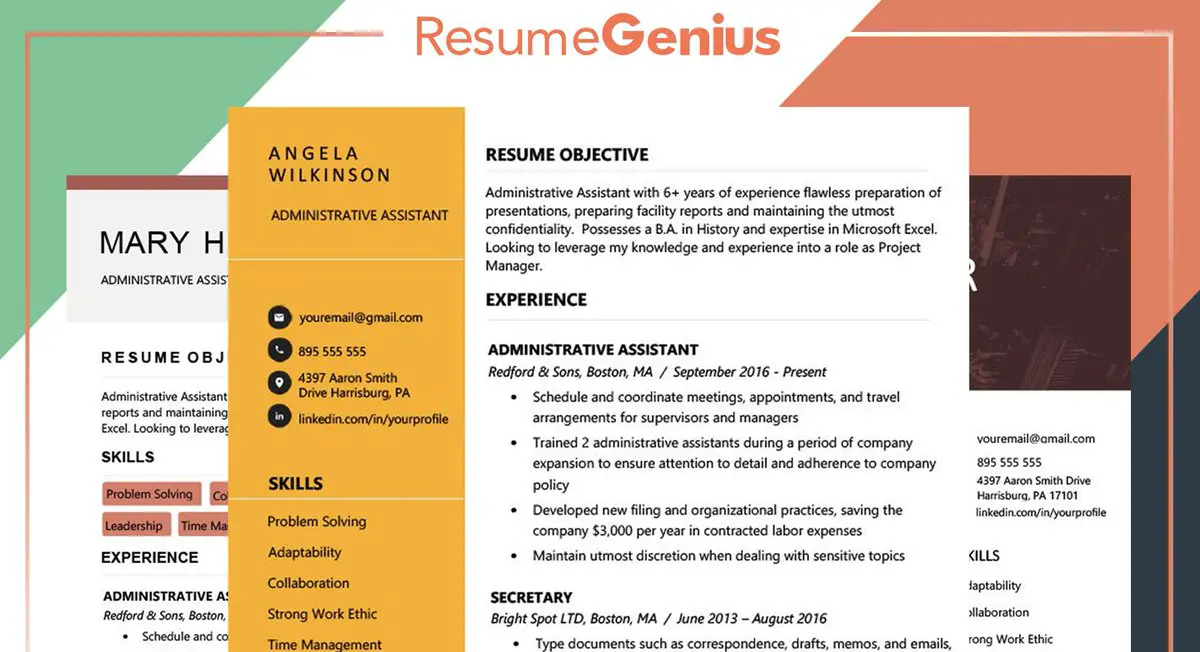 5.  My Perfect Resume
My Perfect Resume gives you the option of starting from scratch and entering information into a blank template or uploading a current resume. Additionally, the application provides you professional tips, such as suggested wording for various roles, as you progress through the process. Optional areas like credentials, accomplishments, and affiliations are also available on My Perfect Resume, proper if you're starting or transferring industries. This tool is especially beneficial if you're applying for a creative position and want to spice up your resume with some color or a distinctive style.
6. Resume.com
Resume.com is the finest free online resume builder for creating an 'aesthetically beautiful' resume. This is primarily because of the templates and customization choices available. Resume.com is a simple online resume builder that allows users to modify all elements of their resume in one window. If you're seeking a free internet tool, I would recommend resume.com without hesitation. This includes well-designed standard templates, simple to share, print, or download resumes in various formats.
7. Indeed
Indeed not only allows you to build a fantastic resume, but it also to share it with potential employers. The more prominent your CV is on the website, the more likely you are to be hired. Indeed's resume generator allows you to submit a current resume and have it reformatted instantly, making it one of the fastest online resume builders available today. While the resume-building procedure with Indeed is rapid, you don't have the same creative alternatives as with the other online solutions.
8. Zety
Zety has the most excellent customization possibilities of any resume builder on the market, and is simple to use. Color, font size, line spacing, date formatting, and more can all be customized. Get advice and samples for crafting a summary statement, as well as links to your social media channels (LinkedIn is ideal for all industries, and Twitter and Facebook can be worth linking for specific roles, such as social media marketing employment). Zety makes it simple to customize your resume. Although it does not provide a free resume download, you can establish a free link to your resume and download it from that location. Here's how: once you've finished building your resume, go to the header and click "Online Resume," then generate a link and open it in your browser.
 9.Canva
Use one of Canva's hundreds of free, designer-made templates if you're applying for a creative position or want a CV that stands out. Canva's templates are diverse and innovative, so you'll almost certainly find one you like, and adding resume sections is as simple as copying and pasting. Furthermore, the templates are divided into categories such as 'Graphic Design,' 'Corporate,' and 'Creative,' making it easier to select a template based on your preferred industry. Canva is ideal for those who want to express themselves via design in their resumes. Despite not being primarily created for resume creation, the application offers many templates, layouts, and a resume builder.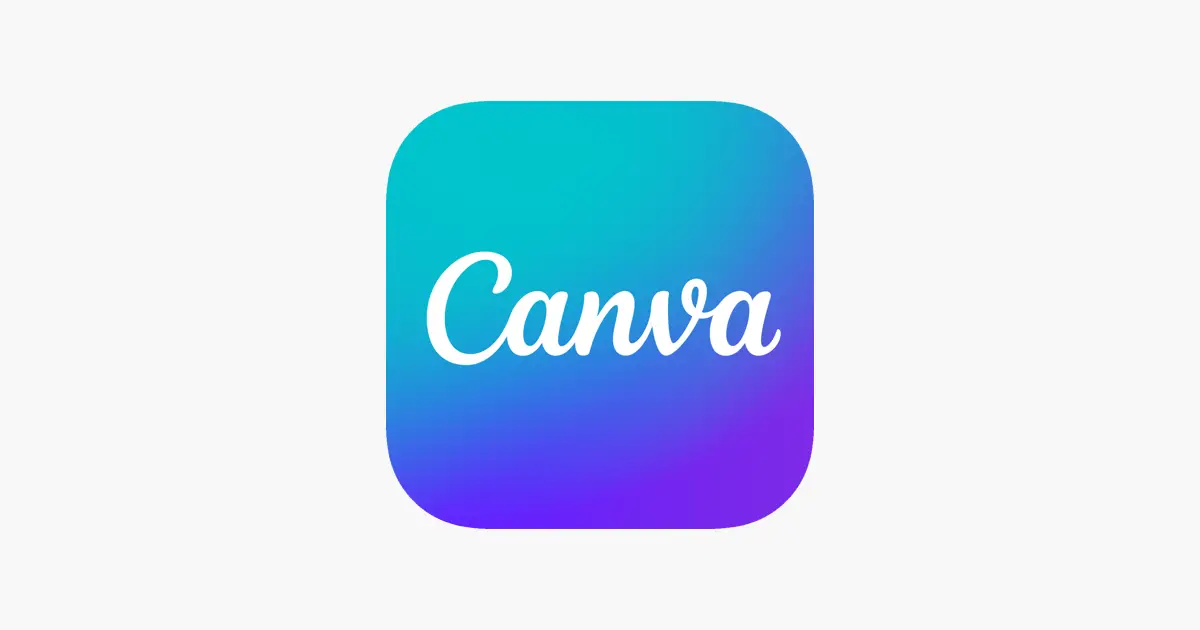 10. TopResume
TopResume is a free online resume evaluation service that allows you to upload your resume and examine it professionally. Furthermore, the website provides a wealth of information to job hunters. TopResume's services include a thorough resume review, objective assessment on abilities and expertise, personalized resume recommendations, and an executive priority resume. However, for some, the cost may be an issue.
All of the resume maker tools/services mentioned above have their own set of advantages and disadvantages. While some offer a lot of features, others have a better price. As a result, selecting one of the 10 Resume Builder Online Tools/Services described above can be challenging. However, we recommend using an online resume builder that includes resume templates and sample/example resumes.
Please share your views on your favorite site to build your resume in the comments section below, and we welcome any recommendations and tips.