Point-of-sale (POS) systems are software platforms that make it easier for establishments to ring up custom orders, process payments, manage tabs and run sales reports, track inventory, and more for a bar or restaurant. These systems are more secured and transparent. As restaurants and bars handle a very large number of customers, the system will help them to track all sales. POS system helps them to check on the food inventory, finances, and sales. It gives smooth processing of credit and card transactions.
1. TouchBistro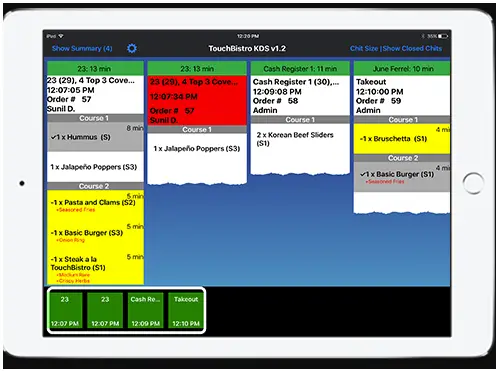 Use this application on an iPad for restaurants. Managing your business is much easier through this POS system as it does not require the internet. Increase your sales through this. Customers can upgrade their meals in a kiosk by ordering themselves. The staff in your restaurant can view suggested offers to tell their customers at the right time using this application. Your staff does not need to work hard now, as everything is made simple for them through this POS system. Place orders easily using the tools available and spend less time training your staff on taking orders. If your customer faces the display, then you can reduce errors in the order taking process.
2. Talech

Access Taltech from anywhere as all your data is stored in the cloud. The clock-in feature allows you to track the working hours of your staff. Pay in multiple ways through this POS system, such as cash or card. Integrate this system with third-party applications like Shopify. View the inventory to edit the cost and quantity information. Customers can set their seating positions while ordering. Split the bill of shared items between friends in your table when it comes to paying. Print multiple receipts across many printers by dispatching receipts. Customers will get notified of discounts. Get help from the support team immediately when needed.
3. AccuPOS

AccuPOS allows flexibility in the POS system. Make stock management easier through this software. Track the ingredients left in your bar to increase the efficiency of your bar. Manage the software from any device like an android phone or computer. Customers can add their comments in this software about the service of the bar. Relationship between customer and management increases. Issue gift cards to customers through this software. Provide your staff with hands-on training and support at any time. Use this software to speed up your sales and eliminate mistakes. Add logos to your receipt to promote your product. AccuPOS provides you with a report on how your business is going.
4. Bar Cop

Bar Cop is a bar inventory management software that is fast and accurate. It will surely give you better revenue for your business. Enter accurate data using voice over command in this software. Optimize the price of your products. Place your orders easily. Analytical reports are available for you to select better options for a drink the next time. The owner of a bar can analyze the data to see if money is missing by comparing the sales amount and profit amount using this application. Exporting data from your POS system is easy. Get help from the support team of Bar Cop at any time. The intuitive design of the software displays data in the form of a spreadsheet for easier analysis.
5. Maitre'D POS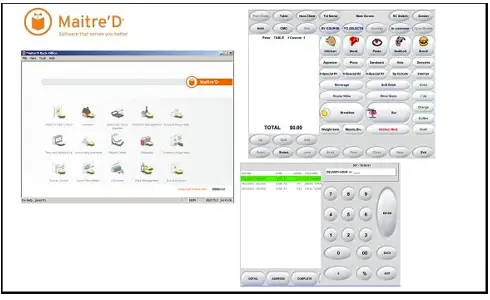 Maitre'D POS offers POS solutions. Use this system on a computer or tablet. Integrate the transaction of the customer and gift card to know how many gift points to allot to them. Inventory, as well as labor management, is possible through this software. The kitchen video display system is integrated with this software to immediately notify the staff on what drink or dish to make. Get live data on sales and promotions through your mobile application. You can monitor many branches of your bars at various locations, all from your mobile.
6. AIMsi

AIMsi offers inventory control management for your bars. Print customized barcodes using this software. Handle gift cards and rebates conveniently. Automatic optimization is available for your inventory to maintain stock in your bar. It allows integrated credit card processing services. Employee management is also easy through this software. Send emails through this application to staff or customers. Use the repair service when you face repairs. Create customized reports using the report wizard. Manage all your event booking and resources. Maintain all data securely, giving a pleasant experience for staff as well as customers.
7. eZee BurrP

eZee BurrP is integrated with online food portals to get all your food available to you at any time. Manage all your inventory and stock to reduce cost and wastage. This software makes sure that all your ingredients are always on stock. Customers can order and track their food all through their mobile phones. Integrate third-party systems like credit card services with this application. If you have a chain of restaurants, then you can surely use this POS system. Receive the summarized reports on your mobile phones. Menu management and table management is much easier now.
8. 2Touch POS

Easily manage multiple tabs at a time. Credit card processing is much easier. Update the price in the menu card easily for all your restaurants. Get the orders listed out in the kitchen display immediately to increase efficiency and save time. The price of food can be adjusted in discount timings automatically. Make orders online and save time. Automatic payroll processing makes work simple for you. Equipment leasing is available to provide financing options for business owners. Get the support of customer care at any time.
9. Bepoz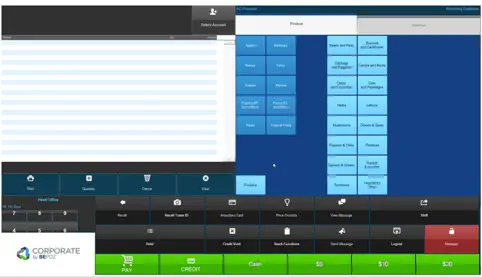 Bepoz provides flexibility to set the menu and pricing. Track tips and get emails regarding your purchase or offers. Customers can place orders from their tables and get the list sent to their mobile phones. Provide customers with rewards. Get to tag tables for VIPs through this software. Get an in-depth report about your bar. Customize the details to be present in your report. Visualize the status of each table using the graphical table layout. Improve your customer service through this application and get your customers satisfied. It will surely be convenient for them to use this software.
10. GoFrugal

To create a digital way to track the status of your business, update yourself to GoFrugal. Empower yourself in this simplest, fastest, and powerful medium. It is a personalized software to get the information that is relevant to you. Take a digital step forward with GoFrugal. Merge multiple bills into one if you are giving your friends a treat. Grow your business with minimal staff, least skills, and best service. Serve your customers on multiple channels like in-store, online, and mobile applications. Extend your retail, restaurant, and distribution business through this POS software.