You might be asked to use your fingerprint to get some identification proof. From airport body scanners to using fingerprint or facial recognition to unlocking gadgets, Biometrics plays a significant role in safety. In large firms, to ensure security, biometrics helps a lot. Accessing their system is only through an authorized person's biometrics. So unnecessary crime is prohibited not only for the protection of big organizations but also for individuals, biometrics are essential. Biometrics is one of the best results of technology. Due to its benefits, it is being accepted around the globe. Let's see the Top 10 Reasons Why Biometrics Are Useful:
1. High Security
The first and foremost use of biometrics – it has high security. In mobile phones, you will use fingerprints and face recognition to unlock them. Thus, you can keep your data safe. Also, in companies, by using biometrics, you can ensure who has access to the system and who shouldn't. This prevents loss due to any illegal entries. Thus, you can keep your company's details safe and save money by investigating the failures.
2. Uniqueness
Biometrics is known for its uniqueness. Yes, no one will ever have the same fingerprint, right? (Expect identical twins). Also, your facial features are unique. And these features will remain the same for an individual till the end. Due to its authentication, it is helpful for security purposes. So, it is used in various places like banks, government organizations, etc.
3. Convenience
Many of us might have trouble remembering passwords or PINs. So, if we forget it, we must reset it often. It's such a nightmare. Don't worry! Biometrics comes to your rescue. When using biometrics as a lock to open your mobile phone or to get any official information, you won't have trouble remembering passwords. You just have to use your fingerprint or facial features to open it. Many companies and organizations are making employees use this. It is very convenient.
4. User Friendly
Now, this biometric technology is installed everywhere. And it gives profitability and security to the institution. It is also user-friendly. Setting up, managing, and analyzing it is also easy. It is used in many large organizations, airports, and companies, where many people come and go daily. So, the data entered has to be analyzed fast. It creates a table for the entry and exit of each person; thus, it's easy to study all the data.
5. Saves Time And Increases Profitability
When you set a password, most of the time, you forget it. You have to squeeze your brain every time to remember the passwords and search where you have written them. Especially when it's urgent to do the work, you will scream! Well, using biometric technology will save you time! In business, it keeps employees' time and increases profitability because they can spend that time on essential matters.
6. Law Enforcement
Many crimes are happening nowadays, like Murders and rape. The crime rate is increasing. Also, it is hard to capture the criminal. Biometric technology is beneficial in criminal investigations. With these, police can quickly identify criminals. By collecting biometrics from the crime scene, it is easy to identify the criminal.
7. Home Assistants
Technology has increased a lot. In ancient times, we didn't have mobile phones to contact people quickly and to know about something, we had to see newspapers, magazines, etc. But nowadays, it's no need. Mobile phones have become a solution for everything; we can contact anyone with them and know any news whenever we want. We also have home assistants like Alexa and Siri, which have voice recognition. When you have home assistants, security is essential. Thus, it recognizes specific voice recognition software which recognizes authorized users only. Therefore, using biometrics is our savior!
8. Building Access
As technology increases, we use cards to open houses and company buildings. Well, it's hazardous because anyone can steal your card and enter your building. Biometric technology is the only way to ensure maximum security. Mainly fingerprints are used. By putting biometric technology to access your building, you can safeguard it because no one can steal your biometrics!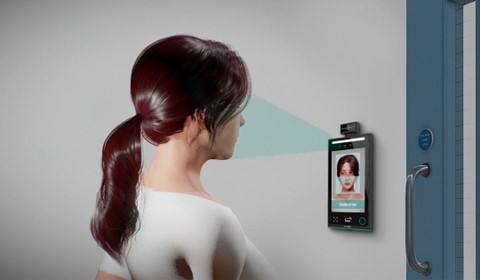 9. Low Maintenance
If you have a company means, it's not easy to handle things. You might have to do tons of work, and spending money is uncountable. Thus, you need to save as much money as possible. Instead of using debit and credit card payments for your clients, you can use biometric technology because card payments may cause errors and inconvenience sometimes. You are also buying, those costs so much. Thus, by having biometric technology, you can save money. So, both you and your client can be happy.
10. Efficiency
Biometrics are so efficient. It is helpful to everyone, especially to the employees. Because they don't have to carry a card to gain access to a system or anything. Also, they can save the trouble of changing the password once in a while to keep it safe and forgetting the password. They can just use their biometrics, like fingerprints and facial recognition, to get access.