1. AFFINITY

Affinity photo is a photo editing software developed for Mac. It was developed by Serif on 9th July 2015. Its operating systems are macOS. Its size is 420 MB (Mac OS). This software is available in nine languages.
Features
• Familiar user interface and modules.
• Retouching corrections and adjustment tools present.
• Compositions and creative editing tools available.
• Brushes are available.
• Macros and Saveable undo history and brush.
• It has a dedicated RAW workspace.
• Cross-platform and mobile.
• PSD import/export and shared resources.
• Non-destructive editing.
It works very well, even for the casual photographer. It is a low-cost image editing program with advanced capabilities and usability. Affinity photo has live brush previews. This software has buttons for automatically applying levels, contrast color, and white balance. Affinity is the next-generation imaging and design suite for creative professionals, built exclusively for Mac. It is wonderful for photo-manipulation and graphic design; it offers a lot of tools to work at the best. Its interactions with Affinity Designer give the user a chance to work on a single file without saving and exiting the program. It has a live preview feature. It runs smoothly, thus giving the users a satisfying experience.
2. LUMINAR 4

Luminar is a universal photo editing software developed by Skylum. It is available for macOS users. It was released on November 18, 2019. In 2019, Luminar won a gold award at the Digital Camera Grand Prix for its innovation in the photo editing space.
Features
• AI skin enhancer
• Portrait enhancer
• AI sky replacement
• Smart contrast
• Significant overall user experience improvements
• Completely redesigned edit module
• Default color styles
Luminar 4's portrait and skin enhancement tools are pretty impressive. They don't go far as some of the face-sculpting techniques seen in other specialized software, but they are very effective at smoothing skin and enhancing features like eyes and lips. The user interface is clean, modern, and easy to use. It can edit both raw and JPEG files. The editing process in Luminar 4 is non-destructive, which means you aren't going to overwrite your original raw files. Therefore, this software is worth its cost. It's well-executed, and the types of tools available for editing will make you want to edit all your photos.
3. ADOBE PHOTOSHOP LIGHTROOM CC
Adobe Photoshop Lightroom CC was developed by Adobe Systems, exclusively for Mac. It was released in 2017. Its headquarter is in San Jose, California.
Features
• Advanced export for Lightroom.
• Guided tutorials and interactive edits.
• GPU-accelerated editing.
• Print to white House custom color.
• Panorama fill edges powered by content-aware fill.
• Migrate from Photoshop Elements.
• Contextual help.
• Multiple export options.
• It includes a cataloging system designed to import and organize photos.
Lightroom's edits are always non-destructive by keeping the original image, and the added applied to it saved separately. It features a new interface that makes it easy to organize and edit from the same streamlined experience. It can be used by professionals as well as a newbie to edit their photographs.
4. PIXELMATOR PRO
It is a graphic editor developed by Lithuanian brothers Saulius and Aidas Dailide. It was released on 13th November 2019.
Features
• Uses technologies like core image and Automator.
• It uses layers based editing.
• Over 40 tools for selecting, cropping, painting, retouching, typing, measuring, and navigation available.
• Quick file conversion can be done with the help of Automator options.
• Drawing tools, text tools, filters, color preset, and many other features available.
Pixelmator Pro is an amazing photo editing software. It's very affordable and provides a nice alternative to subscription-based software. Users will find a smooth photo editing experience because this software is fast and responsive.
5. GIMP
GIMP is a free and open-source graphics editor used for image manipulation and image editing, freeform drawing, trans-coding between different image file formats, and much more specialized tasks. It was developed by the GIMP development team. Its size is 159 MB on Mac OS.
Features
• Noise reduction
• Cropping
• Automatic image enhancement tools
• Color adjustment tools
• Gradients
• Customizable brushes
• Many filters are also available.
It is a free photo editing software considered as the best open-source image editing software. It is suitable for professionals as well as a newbie. GIMP has a very competent user interface. It has an extensive and fascinating set of features. It is used for image retouching and editing, free-form drawing, converting between different image formats, and many other specialized tasks.
6. FOTOR PHOTO EDITOR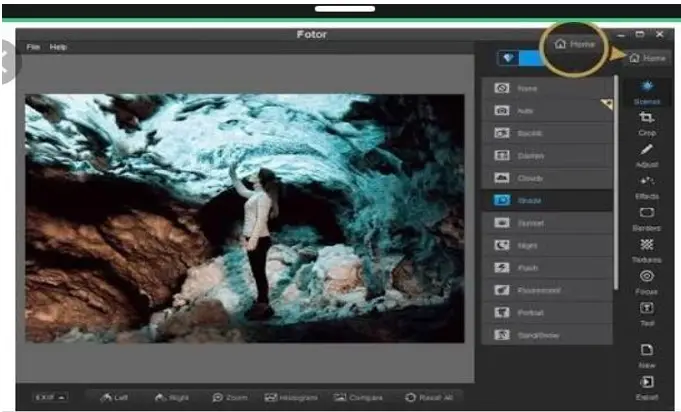 Fotor photo editor was founded by Tony Duan in 2012. Its headquarters is in London, United Kingdom. It is a photo-editing platform, utilizing all exclusive technology to bring an uninterrupted editing experience to everyone.
Features
• Online photo editing.
• Collage maker
• Photo retouching
• Stickers
• Design card
• 100+ photo effects
Fotor photo editor is a simple and fast photo editing software that is ideal for all types of users. This software makes the experience of photo editing fascinating for the users. It can be used to adjust and alter images, both photographic and nonphotographic. Fotor is free, but it has a paid Fotor Pro version, which provides the users with more features, including more editing and full HDR support for really dramatic images.
7. PHOTOLEMUR
Photolemur is a great editing software for beginners or professional photographers. It helps to easily and quickly enhance photos. It was founded in 2016 by Skylum LLC.
Features
• Automatic face enhancement.
• Smart eyes enlarge.
• New styles
• Quick access menu
• Batch processing
• Smugmug export for Mac
• Auto lens correction
• Natural light correction
• JPEG fix
Photolemur 3 has brought high-quality image editing for its users. Editing images with the software has helped many users save time. This software has not made editing a frustrating experience; rather, its simplicity refreshes the user.
8. AURORA-HDR

Aurora HDR is a photo editing software developed by Macphun Software Company. Aurora HDR, where HDR stands for High Dynamic Range, is editing and processing software released in November 2015. This software is designed to overcome difficult lighting situations where highlights and shadows prevalent in the same image.
Features
• Tone mapping technology for single and bracketed images.
• HDR Smart Structure for realistic and artifact-free depth and details.
• LUT Mapping filter for creative color and tone adjustments.
• Total HDR editing experience with the complete set of tools.
• Layers, brushes, and masking available.
• Unique radiance and glow controls.
• Detailed enhancement to increase drama in images.
• Extensive color and toning control available.
• Modern user interface design makes for a comfortable, understandable experience.
Aurora HDR gives a fascinating photo editing experience. It helps you to capture appealing images. It merges images in their unique ways. It provides chromatic aberration features. It is easy to use and gives you a satisfying experience of photo editing.
9. Photoscape X
It is a photo editing software developed by MOOII Tech, Korea. It was developed on 23rd April 2019. It is written in the C++ language. Its size is
356.09 MB. It is available in 33 languages.
Features
• Photo viewer
• Photo editor
• Photo batch editor
• Page creator
• GIF animation
• Featured printer
• Screen capture
• RAW converter
• Color picker
• Face finder
Photoscape is user-friendly and easy for beginners. It's useful for editing photos and has some fun filters and other features that make editing faster and easier. It provides functions like image viewer, built-in screen capture tool, a batch editing function, and a number of filters and effects. It gives the users a captivating experience of editing photos.
10. DxO PHOTOLAB
DxO PhotoLab is an image processing software developed by the French company DxO Labs on 18th March 2020. It is available in two editions, Essential and Elite.
Features
• Clear interface
• Best in class noise reduction
• Excellent auto-correction based on camera and lens characteristics
• Haze remover
• Geometry corrections
• Impressive local adjustments
• Few workflow tools
• Highest noise reduction settings can require long waits.
DxO Optics Pro helps to correct lens distortion and gives sharpness to the image as needed. It also has the feature of RAW processing. It takes out the best of your cameras raw files. This software is easy to use and gives a refreshing experience to its users.