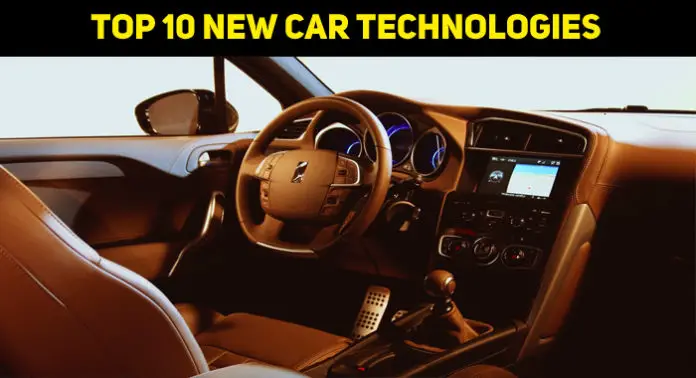 With the time changing like tides in a sea, it's vital for the automotive sector to stay afloat. While the automotive industry stayed floating well on what they sold under the hood earlier, nowadays, if a manufacturer intends to save its boat, it needs to have something to offer electronically.
Electronic technology has quickly become a key to almost everything, be it security to communication and connectivity or safety inside. Since cars like the 2021 Toyota Prius or the 2021 Toyota Sienna have begun to incorporate a lot more electronic equipment within, their connection to humans has changed.
Picking up inspiration from crossovers like the 2021 Toyota Sienna and the 2021 Toyota Prius, we've jotted some of the best automotive technologies that you can look upon before purchasing a new vehicle. Today, safety features are at the top of such a list. And while these safety features are sometimes not useful for you, it's a comfort to know that you have them in the car. Some of these make your parking easier, while some keep you aware of what's around you.
We bring to you a perfect list of the ideal technology features, a tick on which will make your ride comfy and safe without any distractions. Check below the top 10 new car technologies of 2021:
Automatic Emergency Braking 
Automatic Emergency Braking or AEB is a feature that, when it detects a potential collision, activates the vehicle's brakes, thereby leading to minimizing the adversity of an incident or avoiding it completely. The AEB is important because this system will react much faster than you will, and it will begin its work even before you hit the brakes.
If you're applying the brakes, and the AEB senses that your vehicle needs halting right away, the AEB will make your vehicle brake with even more pressure than you must be applying. AEB is a feature that is found under the list of advanced driver-assist systems. And it's absolutely significant to your car. So, you must have it in your car.
As of 1st September 2016, almost 20 auto manufacturers have claimed or even committed to incorporate AEB as a standard feature in their vehicles.
Teen Driver Technology
Currently, only General Motors offers the customers the Teen Driver Technology. But more automotive manufacturers are soon to come forward and embrace this feature. But you'd know that General Motors covers almost all the stalwarts like GMC, Cadillac cars, Chevrolet, Buick, trucks, and SUVs.
So what's Teen Driver? Well, it is a system that safeguards the drivers from all troubles. It's especially great for drivers who are new on the road. This system notifies you when your car is driven at the wrong speed. Besides, it would act as a parent and disable the audio when you aren't using your seatbelts.
It will also filter the explicit content if it detects the SiriusXM Satellite Radio. It may also sometimes set a limit on the volume of the sound system. In fact, if you're a parent handing out your car to your kid, you'd get a report card from Teen Driver on what all alerts your kid triggered.
Advanced Driver-Assist Systems
Most automakers offer you tech features that would react to potential dangers quickly, reduce your fatigue while driving, and make your driving smoother. Some of these systems would even park the car properly for you. Systems bundle up together and form systems like Subaru's EyeSight, Ford's Co-Pilot360, and Toyota Safety Sense. But some of these also come as standalone.
Some key features to look for in a car are:
Lane Departure Warning: It makes you alert when your car has or is drifting towards a different lane.
Adaptive Cruise Control: It keeps your car at a certain speed but would accelerate or slow down so that there's a safe distance between your car and the pedestrian/car/vehicle in front of you.
Blind-Spot Alert: This system makes you aware when there's a blind spot.
Lane Keep Assist: This feature uses the steering wheel to keep your car within the lane.
Reverse Brake Assist: If this system senses something behind your car when you're backing it, it would stop the car and avoid the collision.
Cross-Traffic Alert: If you're coming out of a parking space by backing up, the cross-traffic alert will alert you about the cross-traffic from around. In some cars, it would also show you the direction from where the traffic is coming.
Connected Mobile Applications or Digital Keys
You're always sticking to your cell phones, and so the automotive carmakers have begun taking some advantage of this. The automakers offer lots of mobile-connected applications, but all are different from each other.
Some advanced apps would let you lock or unlock your car, some would enable you to start the car remotely, and some would help you check the status of tire pressure and fuel level. The digital keys would have some additional security measures built in the phone connected to your car. But do ask if your package is monthly or yearly because it varies.
Exit Warnings that Protect Cyclists
Indeed, riding bikes in a city is always a hassle. While the hassle is caused by cars and other big vehicles, it's the carmakers' responsibility to wave off this challenge. So, they've come up with a feature that would reduce the hassle of both the drivers and the riders. The feature is an exit warning alert!
The exit warning alert makes use of the rear-looking sensors to help you detect traffic and approaching bicycles. That would ensure that you don't open your car's door when a cyclist is nearby.
The exit warning system works for some more time even after the engine shuts. If the sensors would detect any approaching car, they alert the passengers using vibrant lights. The advanced systems will lock the door physically to help it prevent it from being open into any other approaching object.
360-Degree Camera
The rear cross-traffic alert assists you in detecting potential collisions and avoiding them, especially when you are backing out of a driveway or a parking space. And a 360-degree camera ensures that your car doesn't hit anything when you're parking. It keeps your car completely scratch-free and dent-free, but it can reduce your insurance spend from low-speed crashes. The 360-degree camera helps more when you're parking a big vehicle.
If there are cameras on every side of the car, they will give you a bird's eye view of your surroundings. It also shows you all corners of the garage or the parking lines of wherever you are. And when you are doing parallel parking, this feature can provide you great assistance.
These camera systems are found on various vehicles that are nicely priced too.
Wireless Smartphone Charging and Connectivity
More and more automakers are including a conglomeration of wireless smartphone charging and connectivity to the vehicles. However, this combination is seen more in luxury vehicles and higher trims.
So, if you often forget to charge your phone at home and like to charge it while driving, and you want a decently-priced car, then you'll have to compromise upon the wireless connectivity system. The wireless charging system will use a charging pad on which you can keep your phone. Its common name is Qi. And it's quite convenient to set up too.
Stolen Vehicle Tracking Software
A lot of vehicles get picked up or rather stolen every year. The numbers are striking, and only 56% of them are recovered, according to sources. The percentage might be slightly more than what you'd expect, but not good. However, this percentage is achieved because of the built-in technology that helps with law enforcement.
The stolen vehicle tracking software is a part of security systems like Hyundai Blue Link, Kia UVO, Subaru Starlink, and GM OnStar. It offers diagnostics, concierge, as well as post-crash notification for calling up rescue services. The services can further find the location of the car.
Video Rearview Mirror
We know that sometimes the car's cargo space isn't enough to accommodate all the baggage that you might be trying to carry from one place to another. In cases like these, you may stuff up as much as you can to save your time. But that would indefinitely block the rear window, making your rearview mirror completely useless.
Well, here comes the use of the video rearview mirror. It uses the rear-mounted camera to keep you aware of what's behind your car. The mirror is mounted right in the place of your usual mirror and is the same size too. And you can toggle between the two, as and when required.
Blind-Spot View Monitor
Do you like to have an easy-to-see screen that would display what's on both sides of the car when you are changing lanes? Well, most drivers say a big yes to that question. And that's where the blind-spot view monitor helps them. The video-based blind-spot view monitor makes use of a small camera that is mounted on either side of the vehicle to display to you the traffic that is there in the next lane to yours.
By giving you warnings like these, this feature helps prevent a collision with another car, motorcycle, pedestrian, or bicycle. You get different versions of this tech. But you'd like the one that displays within the gauge cluster, same as you see in most Hyundai vehicles, Kia vehicles, and Genesis vehicles.