Manage your Network Inventory using Network Inventory tools. It keeps access to your IT records and network assets. Network administrators can maintain a record of network and IT equipment in an organization.
1. Spiceworks Inventory Tool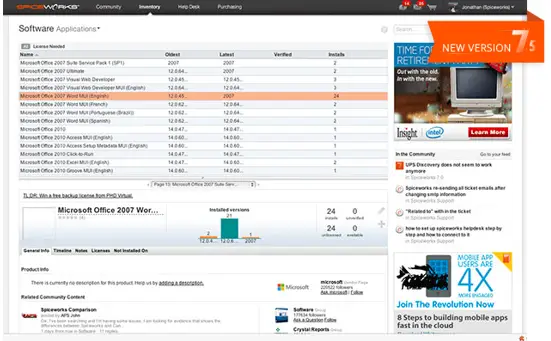 If you are looking for a tool to inventory your software, Spiceworks is the one. This tool helps to file your software and report on your licenses. It helps in auditing software licenses. You can view the software and services on each device. You can add purchase details and location data. You will receive alerts when unauthorized software gets installed in your device. Scan all your software and track your IT services.
2. Network Inventory Advisor

Want to keep track of all the software in an organization? Network Inventory Advisor is there for you. You can manage the software installed and their version using this tool. Scan all peripherals attached to your computer through the hardware Inventory. Scan hundreds of devices securely using this.
3. Open-AudIT

If you want to know what is on your network, then you can use this software. Configuration of your network can be seen. Changes in it will also be notified. You can get information about IP and MAC addresses. You can find out which are the open ports in the network. However, you need to familiarize yourself with Bash or VB script to work in this tool effectively.
4. Total Network Inventory by Softinventive

Scan your barcodes using this software to inventory and label them. View all the information quickly and you can generate a detailed report of your network assets from it. Gather real-time information about users who logged in. Find any changes in hardware or software. Map your networks easily.
5. Lansweeper

The engine in Lansweeper scans for devices in your corporate network. Choose from built-in reports or make your customizable reports. It increases the visibility of all your assets. It boosts your productivity. You can improve your security by identifying risks and reduce your cost by eliminating extra expenses. Visualization is made easy by using graphs.
6. EMCO Network Inventory

Want to get details about your hardware and software audit information without any effort? EMCO network inventory is what you need to use. It collects statistics from all remote PCs in your network and creates a database. Using this overall information, you can plan on what upgrades to make. EMCO Network Inventory will give you the best technical support.
7. ManageEngine System Inventory Tool

Manage your inventory purchases and contracts in this. It provides service pack, Licensing, and metering facilities. You can easily do your auditing through this. Loan assets to users, and keep track of the loans. Keep track of assets value over time. Incident, Project, and Asset management is possible through this. You will get an alert when prohibited software is detected in your network.
8. Network Asset Tracker Pro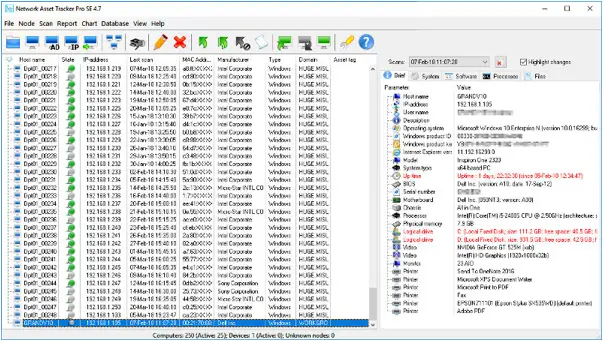 Track hardware inventory and their license availability. You don't need to perform auditing manually as it can be done by the software. You can take a look at the history of scans made. Represent Network inventory reports in the form of pie charts. Click screenshots of Remote desktop.
9. IT Asset Tool

You can fully monitor Active Directory integration and peripheral devices through this. Get to know about software installation and deletion from the client. Get alerts immediately through this system. The security can be analyzed easily. You can get scheduled reports and information about the processes running. Users logged onto the network server can be monitored.
10. Alchemy lab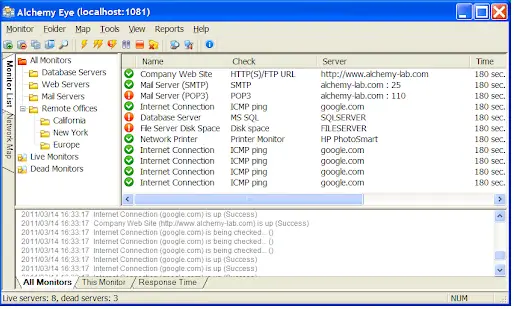 This Network Management software is an asset tracker. Network Administrator will get comprehensive details about the PC and equipment installed. It includes a network monitor. It will alert the administrator through mobile when the problem is about to happen.