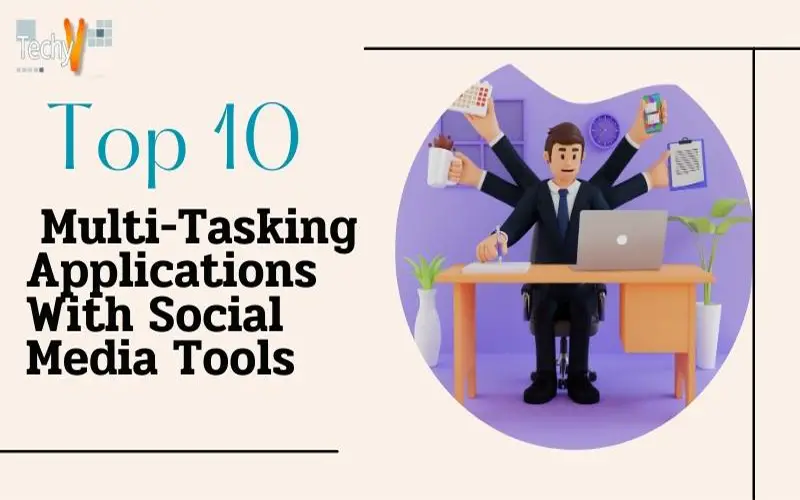 To make a brand successful; we market the brand through social media as all the information is available on the internet. Why look somewhere else? For maintaining the brands' pages, we need a tool which can schedule posts and help in analyzing those posts. Hence, we can connect and understand the audience and their preferences and dislikes. So here are handy tools for you to do multi-task your posts.
1. Qwaya
Qwaya is a robust self-service tool for any trade who wants to save time and execute their Facebook campaigns rapidly. Qwaya has some features like; creating, publishing, developing, tracking and organizing Facebook ad forms. This tool offers high quality work and better than other tools. It is a paid tool which provides various plans, according to the user needs.
Features:
• Auto Splitting Targeting helps you segregate your target audience based on your targeting criteria.
• Ads A/B testing helps you in the regulating combination of images and tests to differentiate how your ads can look the best.
• When you publish your ads, the tool automatically creates set folders to make your work organized when you're planning campaigns on a large scale.
• Scheduling your campaign aids in the increase of ROI where your target customers are online.
2. AdEspresso's Facebook Ads Compass Report
AdEspresso's Facebook Ads Compass Report is like a detailed Facebook Ads report card. This advertising tool saves your time and makes your performance better on social media.
Features:
• This tool tracks down your ads and sends a complete report on how your campaigns are performing. It makes reports one at a time so that you don't mess up with other information.
• Based on campaign performance, AdEspresso gives you suggestions on improvement and returns on ads.
• You can compare your campaigns and simultaneously shows you the pros and cons of it.
3. Hootsuite Ads
Hootesuite Ads Tool is different from other tools because of its unique qualities. The tool is easy to understand as it is helping your business to grow and makes your work much simple and easier by few clicks.
Features:
• Ad Manager focuses on your page and simultaneously arranges your next campaign.
• It sets your customized business goals to achieve the best results possible.
• It aids you in controlling your expenditure on ads by graphs and statistics.
4. Sprout Social
The best use of this tool is that you can use this tool for all the leading social media networks. Sprout Queue guides you to strategize your publishing time of tweets and engage audience's eagerness on your content.
Features:
Monitoring brand keywords – It is an effective way to keep track of vital brand keywords and using them in the tweets without tagging them.
Sprout Social allows the user the access to a complete history about another Twitter account.
Sprout Queue is a powerful element where you can line up your tweets for the day(s) and find out which time of the day your or others post go viral.
Another cool yet important feature of this tool is that all information can get exported for free in PDF or raw CSV format.
5. Fanpage Karma
This tool lets you observe your competitors page and plan how to outsmart them by keeping track of their market development. It aids in studying an unlimited number of pages and trends and grasps the market tactics.
Features:
Evaluate every single detail and facts of your posts and get to know your followers more closely by observing them with this tool.
Review yourself and your competitor's page on all leading social networking sites.
Find out your page performance and quality by using the Fanpage Karma analytical tool.
You can download your analytical graphs and use it in your presentations, blog posts and reports.
6. Social Report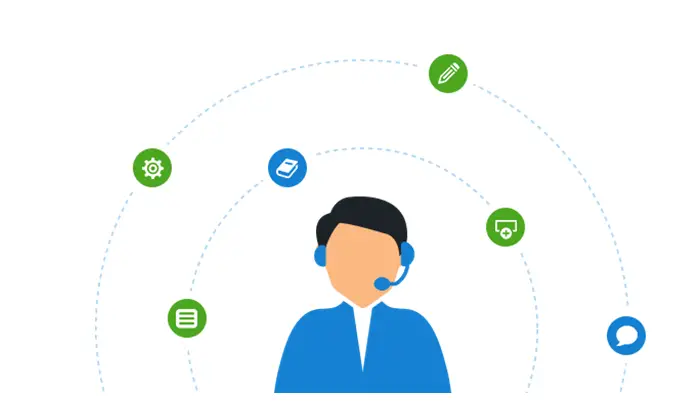 Social Report tool gives you the liberty to export your reports and charts in any format you wish for it. You can chat with the Social Report experts 24/7 or Skype them because questions can arise any time any place.
Features:
By sharing snippets on your website, it will track down your return on investment (ROI) with a built-in ROI calculator to monitor your social media business.
Supervise your interests or topics from all social media by using infinite keywords and improve your content accordingly.
Schedule all your posts under one roof and publish to any social media in a fraction of seconds.
Intelligent Social Automation feature makes you tension-free by retweeting to your followers automatically.
7. Brand24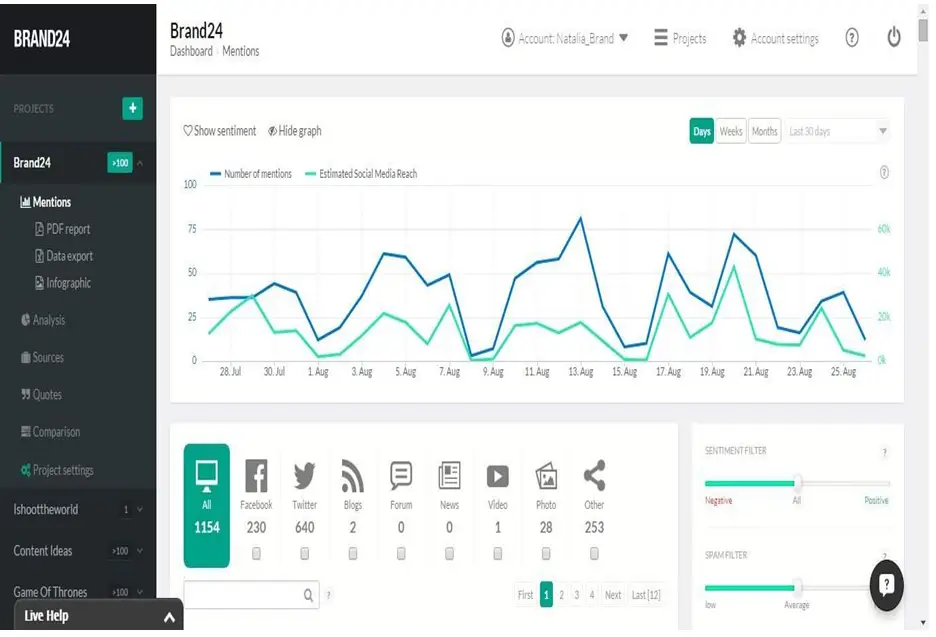 Brand24 is one of the most compelling processes for monitoring your brand, products on the internet. This engine gathers the buzz about your brand, product or SEO. It gives you the insights about your audience and competitor's thoughts over social media forums where you can interact with them.
Features:
Reach out to your audience and customers when they are highly active to increase your marketing and giving them high-quality customer satisfaction.
Find top influencers in your industry for building social media relationships to calculate campaign effectiveness.
Interact with audiences' who are certainly interested in your product for thriving sales in social media forums.
Scrutinize your brand's effort perfectly for making brilliant decision to stay at the peak every time.
8. EveryPost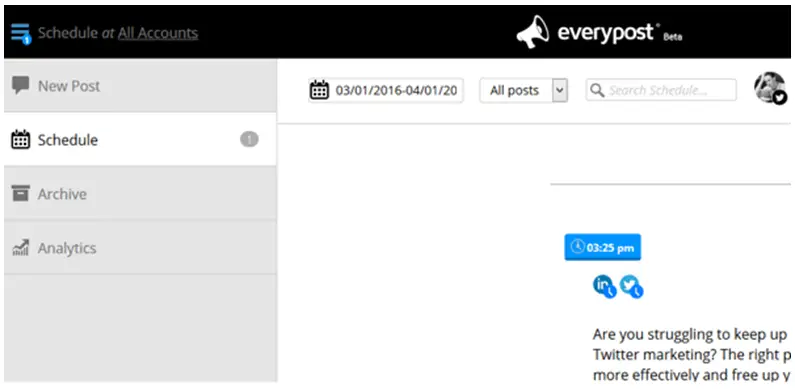 EveryPost makes your life sorted by giving a personal touch to single post which you post on the social media. It takes care of everything – from visual content to group security.
Features:
EveryPost features let you deal with your pages for multiple branding engagements.
You can control group permission from user accounts to brand group/ team membership.
You can download the app and instantly populate your social media list to your contacts.
9. Crowd Booster
It is a social media analytics tool to help you upgrade your marketing judgments. Rather doing the analytics manually, get it automatically optimized on a daily routine. These reports can be useful for clients.
Features:
Tailor-made dashboard makes your posts go live easily and gives you an option of exporting this into Excel.
Track the interest of the audiences' in your campaign which allows your community to grow.
Crowd Booster keeps you informed about when to post your content, who to engage and how to make it better.
10. Buffer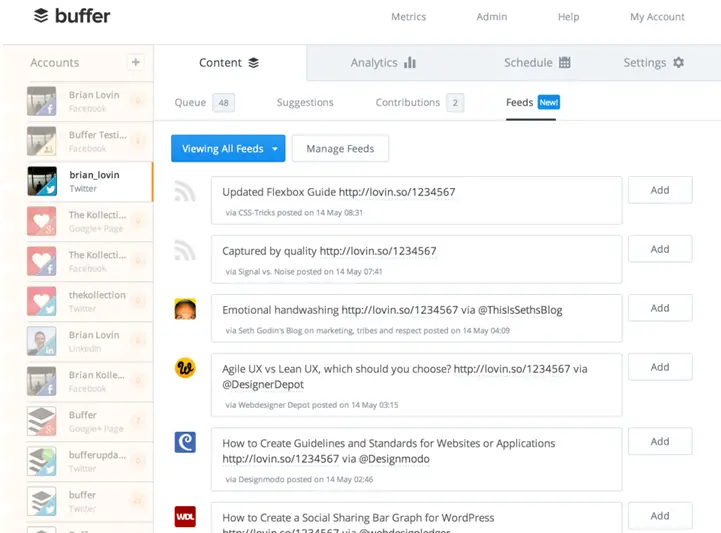 Buffer lets you manage your social media accounts by providing the means for a user to schedule posts to Twitter, Facebook, and LinkedIn. The tool enables you to share the pages you're reading easily to your friends and any social platforms connected to it.
Features:
Add variety to your Buffer account by sharing others tweets as well as your own.
Effortlessly find your followers and influencers availability and set schedule accordingly.
With these friendly and simple tools, you can juggle your work and social media management too, with few clicks. These tools will never let you miss a moment on the new media.