Keyboards are one of the most essential peripherals used for input. It is broadly classified based on wiring. There is one more special attribute i.e., backlighting. These types of keyboards are specifically used by gamers, programmers, and writers for clear and crip sight of keys. Here, are the top 10 most reliable keyboards that feature backlighting.
1. Razer Cynosa Chroma
Brand- Cynosa
Razer Cynosa Chroma offers color palette of 16.8 million customizable options. it also features 104 individually customizable backlit keys, fully programmable keys, on-the-fly macro recording, spill-resistant & durable design, anti-ghosting, gaming-grade keys, razer synapse 3, and soft cushioned keys.
2. Logitech G213 Prodigy
Brand- Logitech
Logitech G213 Prodigy is specifically made to provide a gaming graded experience. it features a brilliant color spectrum, individual lighting zones, 16.8 million colors, slim body, adjustable feet, integrated palm rest, multi-key input, 4 times faster speed, dedicated media controls, game mode & macro custom programming, and Logitech g hub software support.
3. Corsair K55 RGB Gaming Keyboard
Brand- Corsair
Corsair K55 RGB Gaming Keyboard is renowned for RGB backlighting. it features tri-zone dynamic RGB backlighting, vivid RGB lighting, responsive keys, satisfying feel, multi-key anti-ghosting, accurate simultaneous key presses, direct audio control, and 6 programmable macro keys.
4. SteelSeries Apex 3 RGB Gaming Keyboard
Brand- SteelSeries
SteelSeries Apex 3 RGB Gaming Keyboard is a feature-rich backlit keyboard. it features water-resistant properties against accidental damage, low-friction & quiet gaming switches, magnetic wrist rest, dedicated multimedia controls, 10-zone RGB illumination, and full palm support & comfort.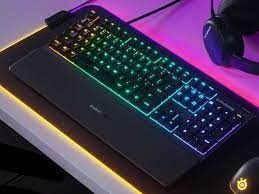 5. Logitech K740
Brand- Logitech
Logitech K740 is a brilliant illuminating keyboard that features a trio of sharp, bright and easy to read keys. It features perfect a stroke key system, comfortable typing, soft-touch palm rest, rubber coating, elegant design, transparent strip borders, full-size layout, ultra-thin profile, and USB connectivity.
6. Redragon S101
Brand- Redragon
Redragon S101 constitutes a pure gaming look. It features 104 standard keys, 12 multimedia keys, laser-engraved keys, a high-speed USB cable, long-lasting Teflon feet pads, anti-slip textured surface, comfortable ergonomic design, and high-strength braided fibre cable.
7. KLIM Chroma Wireless Keyboard 
Brand- KLIM
KLIM Chroma Wireless Keyboard is a decent looking colorful device. it features high performance, convenience, rechargeable batteries, durability, ergonomic design, waterproof finishing, silent keys, extended battery life, and a pleasant typing experience.
8. HP K500F Wired Gaming Keyboard 
Brand- HP
HP K500F Wired Gaming Keyboard is renowned for mixed color lighting. it also features a metal panel, logo lighting, 26 anti-ghosting keys, windows lock key, led indicators, mixed color light options, accurate game responses, double injection keycaps, a slim frame, and more.
9. Velocifire TKL02WS Wireless Mechanical Keyboard 
Brand- Velocifire
Velocifire TKL02WS Wireless Mechanical Keyboard has marked by white LED-backlit. it features tenkeyless keys, durable brown stitches, optimal productivity, stable signal covers over 26 feet, long-lasting battery, quickness, and accuracy.
10. Mafiti RK100 Keyboard 
Brand- Mafiti
Mafiti RK100 Keyboard is an incredible device with dual-usage both at gaming and office. It features an LED Backlit Keyboard, a trilogy of red, yellow, & green colors, a wired interface, rechargeable batteries, flip-down legs, rubber pads, and more.
Do mention your thoughts in the box below.