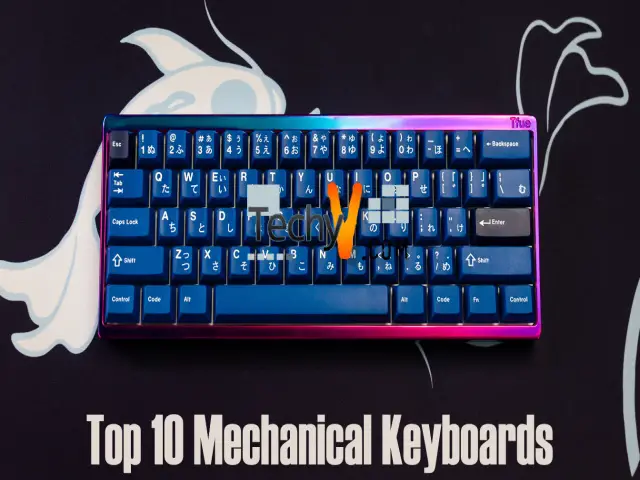 Keyboards have come a long way. From being viewed as a necessary accessory to a computer to the center of all attention in computer setups, it has been a wild ride filled with rapid development. The mechanical keyboard continues to be the darling of today's elite gamers. With a variety of keys, from tactile to silent, mechanical keys come in all shapes, sizes, and features.
The myriad of keyboards available today spark a whole lot of confusion. Which one is better for me? Which one will suit me the best? Don't worry; we got you covered. Our Top 10 Mechanical Keyboards Guide will help you decide your favorite. Enjoy!
10. Corsair K63 Wireless
With the design being precisely related to its previous Corsair K63 wired keyboard, the Corsair K63 wireless throws away the cable with minimal consequences for the user. Even though the keyboard is wireless, it does come with a cord to give users the option of a wired setup as well. With a 1ms low latency wireless mode combined with a 15 to 20-hour battery life, Corsair has genuinely smashed expectations with the K63 Wireless mechanical keyboard.
9. HyperX Alloy FPS RGB
The HyperX Alloy FPS RGB is a high-end mechanical keyboard. It is a full-size keyboard. It can store up to three custom keyboard profiles, so you won't have to change your preferences after someone has used your keyboard. It has customizable lighting effects and five levels of brightness. It has a fully detachable cable as well as a pass-through USB 2.0 slot. One of the drawbacks is that this keyboard lacks dedicated media and macro keys. The USB pass-through is for mobile charging only.
8.Corsair K70 Mk 2

A very well made keyboard, the Corsair K70 Mk2 comes with 8MB worth of storage to store your keyboard profiles. Every key in the K70 Mk2 can be personally customized. It has Cherry MX Speed Mechanical Keys, which have a 1.2mm actuation. It has all the gaming necessities such as anti-ghosting and key rollover. It has a USB pass-through as a convenient way to connect extra peripherals such as a mouse or a headphone. The Corsair iCUE software makes additional customization very easy, along with providing lighting sync with other Corsair products. It comes with a wrist rest that's is moderately comfortable. It also has dedicated volume and media controls.
7.Cooler Master SK630


The Cooler Master SK630 is kind of an anomaly. It's the middle ground, a version that's smack in between the full size and 60% keyboards.
It lacks a Numpad but does contain the arrow keys. Its profile is low due to which typing is very comfortable. The square keys give it a dense look, which is aesthetically pleasing.
All in all, it is a very high quality, light weight, and durable keyboard.
6. Roccat Vulcan 120 AIMO
The Vulcan 120 AIMO is a full-size keyboard. A semi-comfortable magnetic wrist comes with the board. Though its size may be intimidating, it is surprisingly light weight. Unique looking keys coupled with a low profile add to the mystery of the keyboard. Full RGB backlighting along with easy control for the brightness settings on the board coupled with transparent keycaps allows light to leak out, giving a unique look to the keyboard. Media Control keys are on hotkeys, while functions like muting sound have dedicated keys. Game mode is also available with a hotkey.
5. Razer Ornata Chroma
"Good" would be an understatement to the ergonomics of this keyboard. With low profile keycaps to smoothen the typing, the keycaps make it a sort of a fusion between a chiclet and a mechanical keyboard. The wrist rest is comfortable and magnetic as well. The Ornata Chroma allows you to customize the RGB lighting on a per-key basis on the board. Even though it is a full-size keyboard, it lacks dedicated media controls. It does have a Windows Lock. The typing quality of the keyboard is satisfactory.
4. Logitech G513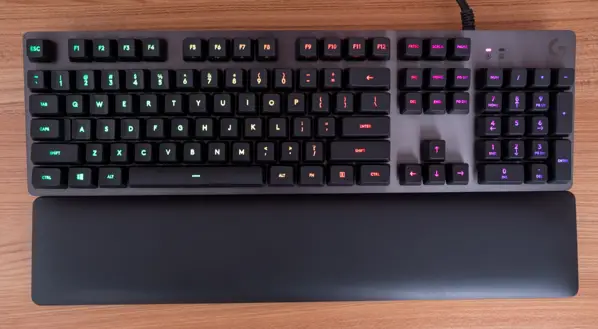 The Logitech G513 is a simple keyboard. It is a full-size keyboard that uses Romer-G mechanical switches, along with the Logitech Gaming Software. Its design is similar to the Logitech G810 Orion Spectrum. While the G513 does excel at keeping things simple, the drawback of keeping simple is that it lacks dedicated media keys. It comes with all the needs and wants of a gaming keyboard enthusiast. You can't reprogram every key on the keyboard, though other than that, it's a fantastic pick.
3. Razer Huntsman Elite
Razer's Huntsman Elite is probably the fastest and most responsive keyboard on this list. It comes with Razor's own proprietary mechanical switch technology. Each switch contains an optical light sensor underneath it. When you press a key, activation of a receiver takes place through the light signal actuating the key instantly. Though the focus of the keyboard is on gaming, it also provides an above-average typing experience. Don't worry; the clicky sound is ever-present with this board.
As the optical actuation requires less physical contact, the durability of the Huntsman Elite is significantly more than it's competitors. The company claims a 100 million keystroke durability. It comes with dedicated media controls as well as a volume slider. The one drawback is that it requires 2 USB ports for power. Other than that, it's one of the best in the business.
2. Logitech G815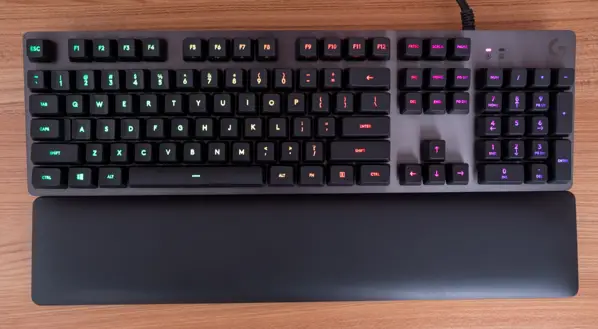 Logitech is a company that, let's just say, doesn't know how to make a bad keyboard. With the G815, they strayed away from the Romer-G mechanical switches that defined Logitech to a lower profile GL switch. The most fragile design components on the G815 are the dedicated media keys and the volume wheel. Though they fulfill their function, the rubbery nature of the media buttons coupled with the plastic of the volume wheel draw a sharp contrast with the exquisite quality and aesthetic of the rest of the build.
The G815 goes hand in hand with Logitech's G HUB software. Beautiful pre-programmed animations such as sun rays originating from the G logo, a sine wave, to name a few.
1.Anne Pro 2
A keyboard that is, in my opinion, the best keyboard for gaming, typing and, editing, by far. With extensive customization available for its RGB lighting to the facility to reprogram each key, this keyboard has it all. The build quality is excellent and feels extremely durable. There are no complaints about actuation force and pre-travel as well.
As is the case with most 60% keyboards, the Anne Pro 2 looks sleek. The only drawback is that there is an onset of fatigue after extended typing sessions. Even though the frame is completely plastic, it feels very firm and extremely well-built. The PBT keycaps are well-made with a matte finish.
The ergonomics are a little off due to the lack of a wrist rest and the inability to change the slope of the keyboard. The Anne Pro 2 has individual backlighting for each key along with every customization option under the sun. The best feature of the keyboard is its wireless flexibility. It does not come with a proprietary receiver, thus saving you that precious slot on your setup. Instead, it comes with Bluetooth connectivity, though you do require your PC/laptop to be Bluetooth enabled to take advantage of this feature. It can be paired with four devices, along with being able to smoothly shift between the devices.