A laptop with an Intel Core i7 processor provides exceptional performance in every way. There is a good chance that you will always find a laptop with an Intel Core i7 processor, whether it is a high-end gaming laptop or a thin and light ultrabook. The Core i7 processor has undergone some significant changes over time. The Core i7 laptop currently available has 8 cores and 16 threads.
1. Lenovo Legion 5
The Lenovo Legion 5 seamlessly combines functionality, accuracy, and power. The laptop performs incredibly quickly thanks to its 10th Gen Intel Core i7 processor, 16 GB of RAM, and ultra-fast 512 GB SSD storage. The laptop can easily handle any graphically demanding game thanks to its NVIDIA GeForce GTX 1650 graphics and 120 Hz refresh rate. Additionally, it improves your gaming experience with a 15.6-inch Full-HD, IPS, anti-glare screen and incredibly thin 4-sided bezels.
2. ASUS ZenBook 14
The ASUS ZenBook 14 has the most recent 11th Gen Intel Core i7 processor, providing smooth performance that is unmatched even under the most taxing circumstances. With 512GB SSD and 16GB LPDDR4X onboard RAM, you could switch between tasks quickly and without experiencing any lag. The device has a NanoEdge screen for the display, which has a screen-to-body ratio of up to 90% and radiates brightness of 300 nits.
3. Mi Notebook Ultra
The Mi Notebook Ultra's high 3200x2000p resolution allows you to enjoy detailed and sharp visuals with three times as many pixels as a Full HD display. With a screen-to-body ratio of 89.1% and a 16:10 aspect ratio, you would be able to enjoy more screen real estate. You can be sure that the device will effectively assist you in multitasking because it uses the newest 11th Gen Intel Core i7 processor.
4. HP Pavilion Gaming Laptop
An Intel Core i7 processor from the 10th generation and NVIDIA GeForce GTX 1650Ti graphics power the HP Pavilion Gaming Laptop. This creates the foundation for improved gaming! The laptop has an upgraded thermal mechanism so you can play more intensely for longer periods of time.
5. Lenovo Yoga Slim 7
Yoga Slim 7 is designed for people who are constantly on the go. It weighs 1.5 kilogrammes and has a thin (14.9 mm) profile. This incredibly sleek laptop has an all-metal design and is built to last. Its 14-inch Full-HD, IPS display, which is edged with four razor-thin bezels, provides breathtaking clarity, colour, and detail. You can now enjoy a more detailed and accelerated experience while watching programmes, editing videos, or playing demanding video games thanks to Nvidia MX350 2GB discrete graphics.
6. MSI GF75
The MSI GF75 has up to 7 heat pipes and dedicated thermal solutions for the CPU and GPU. When all of the heat pipes function in unison, airflow is maximised and heat is dissipated as effectively as possible. The laptop's 10th Gen Intel Core i7 processor can clock high processing rates, ensuring that your gaming sessions run smoothly. Hi-Resolution Audio enables you to fully immerse yourself in the music and hear every last detail.
7. Fujitsu UH-X
The lightest consumer notebook in India in the 13.3-inch category is the Fujitsu UH-X, a small laptop with a screen size of 13.3 inches and a weight of just 997 grammes. You could easily take notes on the go without any hassle because it is stylus compatible. You can boost your performance with the laptop, allowing you to complete tasks quickly. Its 11th Gen Intel Core i7 processor, which has a base speed of 2.8 GHz and a top speed of 4.7 GHz, is what gives it such fluid performance.
8. Acer Swift 5
Thanks to its most recent 11th Gen Intel Core i7 processor, Intel Iris Xe graphics, and 1TB of quick SSD storage, the Acer Swift 5 lets you maximise every task. The laptop utilises dual D6 heat pipes and a hinge that allows for lifting of the device to allow for maximum airflow in order to aid in optimal heat dissipation. It has a touchscreen with a 14-inch Full-HD IPS display that is also antimicrobial Corning Gorilla glass. The laptop's colours are impressively vivid and have a 100% sRGB gamut at 340 nits of brightness.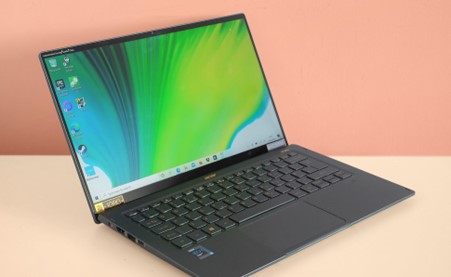 9. ASUS TUF Gaming F15
The 11th Gen Intel Core i7 processor in the ASUS TUF Gaming F15 has a base processing speed of up to 2.3 GHz. However, it could reach a staggering 4.6 GHz when combined with Turbo Boost! You can multitask with ease because it has 8GB SO-DIMM DDR4 RAMs, a 1 TB SSD storage capacity, and an additional empty SSD slot. High-end games run smoothly on the laptop's dedicated NVIDIA GeForce RTX 3050 graphics without any problems.
10. Microsoft Surface Pro 7
The 12.3-inch touchscreen display on the Microsoft Surface Pro 7 can automatically adjust to the surrounding lighting, ensuring the laptop has the ideal brightness that won't strain your eyes. The device's 10th Gen Intel Core i7 processor gives you access to limitless processing power, allowing you to carry out numerous tasks at once! Its 16 GB RAM and 256 GB SSD boost its multitasking by a level.