In the old days, business assets were manually managed with registers. But now these assets are supervised by special software. Asset management software is used for managing all the business assets for the company. It helps in keeping a record of all the physical and digital assets and keeps track of them and prepare an efficient plan for effective utilization of company assets. Asset management software is used not only for managing digital and physical assets but also for whom these are assets are issued, life cycle management of the assets, information about the assets, efficient utilization, license management, etc.
Let's check some Asset management software for efficiently utilizing business assets.
1. Monday.com

Mondays.com is a web-based application for managing workflow within the company. It provides features that will help you to track workflow remotely and has templates with which you can track the progress of different departments. It can be used by departments like project management, software development, Human Resources, marketing, media and production, IT, and sales. You can start with the boards, which are entirely customizable for your project and everyday tasks. You can effectively manage the workload of your employees by checking their availability for extra work. There are many more features that can be helpful for overall management like dashboards, integrations, forms, calendars, automation, timeline view, and many more.
2. ServiceNow

ServiceNow is an asset management software that helps you easily manage the IT workflow and make it more efficient. IT operations and IT services can be done successfully and without any problems. You can set priorities to your workflow and give time to important things and tasks. ServiceNow also provides features like IT business management, IT asset management, DevOps, Security operations, etc. You can also monitor your workflow in real-time and check for potential business risks and prevent them from happening with prioritization and automation. With performance analytics, you can predict trends by analyzing the results, improve your services according to the analysis, and prioritize resources for improvement.
3. BMC Helix

BMC helix a service and operations management autonomous business platform. It said to be the first and only end to end operations and service SaaS platform with 360-degree intelligence. BMC helix has a bunch of different products for asset management. The BMC Helix ITSM is a SaaS ITSM platform for all the modern needs of an enterprise. IT provides features like cognitive automation capabilities, data-driven insights, modern UX, optimized for ITIL 4, and many more. It has products like BMC Helix Discovery for automatic discovery of data center and multi-cloud inventory, configuration and relationship data, BMC Helix Digital Workplace, BMC Helix Monitor, Helix cloud cost, cloud security, capacity optimization, and helix platform. BMC Helix provides intelligent, modern service management. It helps in rapidly delivering the required business outcomes, low business risks, modernized UX, etc.
4. Sys Aid

Sys Aid provides solutions for automatic IT tasks and workflows. It offers features like IT service management, IT asset management, automation, IT analytics, IT service management, and Sys Aid Marketplace. IT service management software delivers 360-degree support to your team. You can easily manage all your assets with built-in asset management solution. You can also supervise your inventory; you can also monitor your CPU, network equipment, memory usage in real-time. You can track your CI's and get a bird's eye view for all the tools in your IT network. Sys Aid provides features like Worksafe App, SSO connector, TeamViewer embedded service, google apps, skype for business, CAS, Trello, Slack, and many more.
5. Manage Engine Desktop Central

Manage engine desktop central is an asset management software developed by Zoho Corp. It provides a unified endpoint management solution for managing desktops, laptops, servers, etc. You can easily automate endpoint management like sending out images, software, OS, patches, etc. With desktop control, you can manage software licenses, monitor usage, USB device usage, remote desktops, configure devices for Wi-Fi, VPN, email accounts, and many more. Windows OS, Linux, and macOS support desktop central. It provides features like Patch management, Software deployment, Remote desktop sharing, Active directory reports, User administration, mobile device management for device enrollment, app management, profile management, security management, etc.
6. Microfocus Asset Management

Microfocus asset management software lets you manage all your business assets with full efficiency. Microfocus provides hybrid IT solutions for enterprises. It provides services like Service Management to reduce the resistance of IT facility consumption, service fulfillment to meet cloud and on-premises service demand, service assurance, service governance, analytics, and automation. Microfocus has different products for asset management such as Datacenter automation, data protector, universal discovery and UCMBD, Hybrid cloud management, network operations management, operations bridge, operation orchestration, robotic process automation, and service management automation.
7. Fresh Service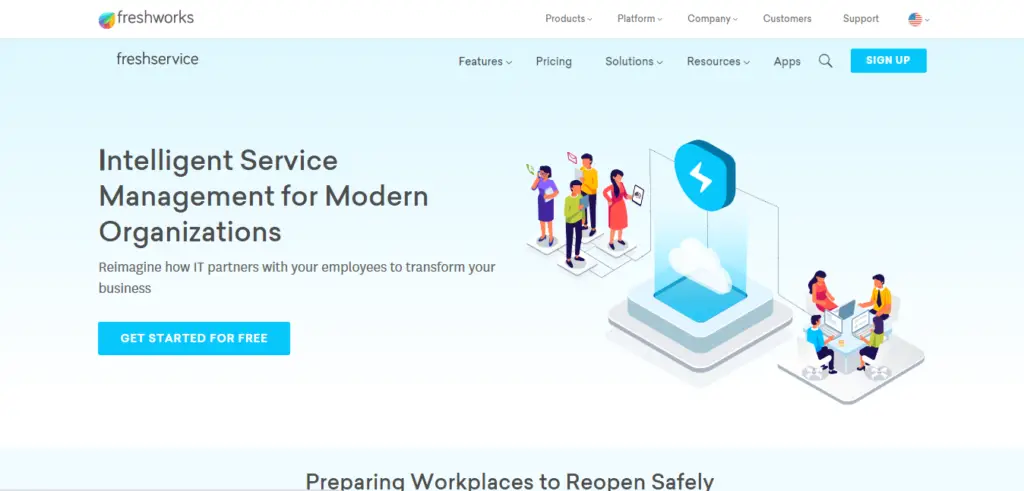 'Fresh service' is an intelligent ITSM for modern enterprises developed by Fresh works Inc. More than 40,000 customers are using 'Fresh service' for managing their assets and workflow. You can integrate service management across different roles and departments, improve agent productivity with powerful workflow automation and augmented support and AI-powered chatbots. It provides services such as incident management, SLA management, Knowledge management, service catalog, automation. Self-service portal, team huddle, problem management, change management, release management, integrated ITSM platform, real-time project dashboard, CMBD/configuration management, asset lifecycle management, and many more.
8. Lansweeper

Lansweeper is another IT asset management software for businesses. Lansweeper has a Deepscan engine that can search for any asset in your corporate network without installing any kind of software on that device. You can manage your inventory of assets like hardware, software, and users. Lansweeper has different products such as cross-platform IT asset discovery, one centralized IT inventory, and analytics. It provides features such as passive network discovery, active network discovery, SCCM discovery, cloud server discovery, virtual machine discovery, switches port mapping, performance counter monitoring, automated warranty check, SNMP MIB Browser, Built-in network reports, IT dashboards, software license compliance, patch Tuesday audit report, etc.
9. Oracle Utilities And Asset Management

Oracle utilities and asset management, helps you to manage and optimize the maintenance of your utilities, restructure your efficiency and services, etc. It provides features like origination and optimize your utility's assets, prioritize work management, field services, co-ordinate, and guides the maintenance work, schedule, and manage work, plans, and track compliance.
10. MM Soft Pulseway

Pulseway is RMM (Remote monitoring and management) platform that helps IT professionals and MSPs to manage technological needs for businesses from anywhere easily and efficiently. You can monitor the health of your computer devices, which run Windows, Mac, SNMP, and applications from any remote location on any device. You can automate IT tasks automatically solve issues to save time and increase efficiency. Create a schedule for deploying patches for windows, and 3rd party applications to keep everything secured. You can effortlessly connect to a remote computer without opening any ports to create any firewall. Pulseway also provides features like simplified backup, endpoint protection, NOC, and business management.