iPad Pro is one of the best electronic inventions in recent times and has proven to increase productivity among students. However, you can trick your iPad Pro with these accessories for a complete experience.
Accessories include a wide range of keyboards and stylus to convert it into your workstation, cases to keep your iPad safe and clean. Here are our top 10 favorites, let's dig in!
10. USB cable – Apple-certified lightning to USB charge cable is a precautionary measure when your charger breaks. It connects to your iPad Pro with Lightning Connector and charges/syncs by connecting the USB connector into your wall charger or computer. To improve durability and reduce fraying, an additional layer of protection has been added to the Lightning and USB ends. Most important point: These are cables which are bent 95-degrees 10,000 times.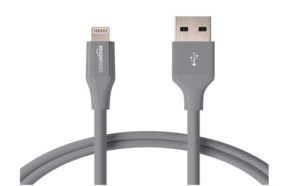 9. Anker PowerCore Power Bank – This is a top choice for iPad Pro in the category of portable charges. In this era, when we are always on the go and do not have the time to charge our electronics, this is a must when you do not want to be stranded with an iPad, which has a low battery. It has PowerIQ and VoltageBoost combine to deliver the fastest possible charge. Anker's MultiProtect safety system ensures complete protection foryour devices. Your get Anker PowerCore 20100 Portable Charger, Micro USB cable, travel pouch, welcome guide, everyone's favorite 18-month warranty.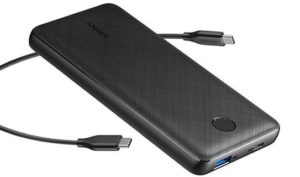 8. Apple smart cover – This is a magnetic cover, that wakes up your iPad when opened and puts it to sleep when the case is closed. Made up of a single piece of polyurethane, it protects the front of your iPad. The best part about this case is that it can be folded into various directions according to the use like reading, typing, watching videos. It is easier to remove and attach the iPad from and to the case, for students. To make it more interesting, it comes in different colors like charcoal grey, midnight blue, and pink sand. Pick your choice!
7. 8 in 1 Type-C hub – TOTU USB C hub includes 1 Ethernet/RJ-45 Port, 1 USB Type-C Female PD charging port, 1 HDMI port, 1 TF SD card slot, 1 SD card slot, 1 USB 2. 0 Type-A port, 2 USB 3. 0 Type-A ports. It is perfect when you have classmates who might not use the same device as you, and you want easy data access and transfer. This is for your older devices, which are not obsolete yet. It is a pocket-friendly device and a must-have.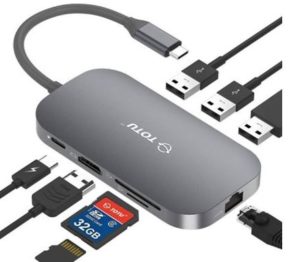 6. Apple Smart Keyboard Folio – Made by Apple, this will protect and optimize the use of your iPad. The best quality about this keyboard is it does not require any charging or pairing. It is user-friendly as you just have to attach to your iPad and type away. It is light-weight, and it gives the most comfortable typing experience. When you don't want to use your in-built keyboard, this will give the feel of a mini-laptop.
5. SanDisk iXpand Flash Drive – As a student, you know how useful it is to have a flash drive. It is designed with a flexible connector to fit through most device cases. It automatically backs up your photos and videos when connected. It supports .WMV,.AVI,.MKV,.MP4,.MOV video formats. The iXpand Drive app will make it even easier to manage your photos and videos. The lightning connector is a blessing. It would be a smart choice to buy this as it also allows you to password protect your files!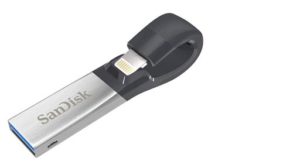 4. Adonit Jot Pro stylus – This is one of the best replacements for your Apple pencil. It is as stylish and much affordable than Apple's pencil. It has a precision disc which creates a precise contact point and also gives added stability. It has a clip to carry so that you can keep track of it on the go. When you are in a lecture or want to note down your homework for the day, the stylus is used as a pen and your iPad as a paper. Modern students require modern technology.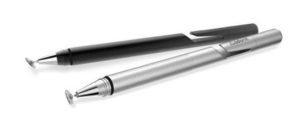 3. Apple Airpods with charging case – When you are listening to podcasts or music on your iPad, you don't want to tell the whole world, here Airpods is the best purchase. It cancels the noise when you are on call or talking to Siri and gives you the best wireless earphones experience. 'Hey Siri' command will enable you to change the song, get directions or change the volume. Airpods give you 5 hours of listening time and 3 hours of talk time on a single charge when you keep it in the case. Airpods are one of the most beautiful Apple products and a good investment.
2. ESR screen protector – It would be a big hole in your pocket if you break the glass of your iPad Pro, screen protector to the rescue! Screen-protector is an unsaid accessory for every Apple product, so here it goes. The ESR screen protector has a large cutout for the front camera and microphone and does not disrupt face recognition. It maintains Apple's high touch sensitivity and preserves HD quality while protecting the screen from dust and particles. It is scratch-resistant, and it is easy to install.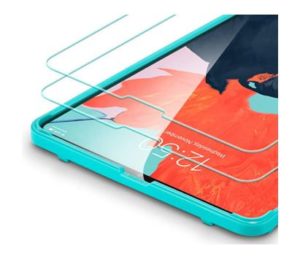 1. Portfolio case – This is all-in-one protection for your iPad as well as its accessories, undoubtedly the best purchase for your iPad. It is spacious and has eight elastic-band slots to organize charger, adapter, Apple Pencil, USB stick, cables, earphones, and more small accessories. 2 Card slots for credit cards, bank cards, or other identities. A large mesh bag for various gadgets with a hidden notebook slot underneath. It is a built-in handle for easy carriage. It is a steal, and you should not miss this one if you want to minimize your efforts to keep your electronics in one place and not waste time looking for them.
There are many more accessories you could buy according to your requirements like a stand, Apple's pencil to keep it more authentic, and as compatible as possible. These are our best picks considering affordable prices, aesthetics, security, among many more properties.