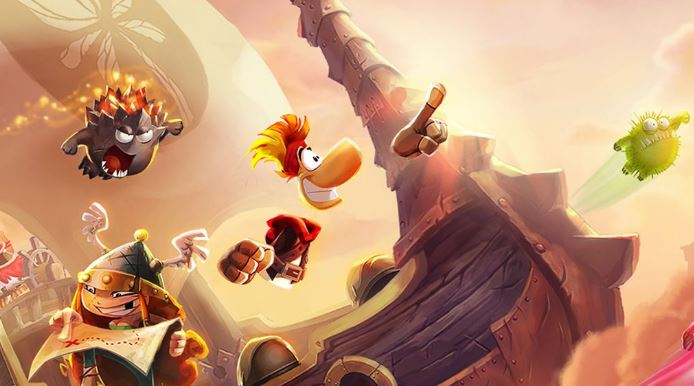 Subway Surfers
Kiloo and Sybo
Subway Surfer is well-known game for kids in which the main characters Jake, Tricky and Fresh have to avoid the sulky Inspector and also dodge the incoming trains. We can use Jetpacks and Hoverboards to increase and multiply our score. There are also some in-app purchases for coins which allow you to buy various items like keys, coin boost,jetpacks, hover boards, and the mystery box.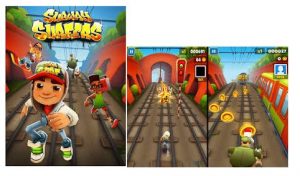 Cut the Rope
ZeptoLab
Cut the Rope series has been immensely popular among kids as it is a simple physics based game. In Cut the Rope the main character Om Nom has to collect gold stars by applying basic logic. There are also many hidden secrets in the game which we have to find and unlock. There are in-app purchases to skip levels, get more gold stars and increase our score.
Jetpack Joyride
Halfbrick Studios
Jetpack Joyride is another famous game among all ages in which you can ride jetpacks, mechanical birds and have to dodge lasers, missiles and zappers and storm into labs to earn achievements. There are in-app purchases for boosts and jetpacks. In-app purchases can be turned off in the settings menu.

Fruit Ninja
Halfbrick Studios
Fruit Ninja is a very popular game for kids in which you have to slice fruits, avoid bombs and try to get multi combos. Multi combos get you more points. You have three lives which keep on decreasing as you miss slicing fruits. There are many modes like Zen Mode, Arcade Mode, and Classic Mode.

Asphalt 8: Airborne
Gameloft
Asphalt is one of the most prominent racing games of all time. With over 200 million downloads it is one of the best racing games on mobile. It consists of over 140 different cars with over 400 events and tracks. It also has over 1500 car mystery challenges.There are in-app purchases if you want to gain a competitive edge.
FIFA Mobile
Electronic Arts
FIFA Mobile is a game by EA in place of FIFA 17. This game is very different from its previous titles like FIFA 16, 15. FIFA Mobile includes
Attack Mode, which is a brand new mode in FIFA in which a player has to play his turn and then wait for the other player to take his turn and can earn coins, fans, and XP.
Live events which update every 24 hours and gives thrilling rewards and brings new and fresh content.
Seasons in which you get to play the full match against all teams in a particular league.
Plans in which you are allowed to unlock unusual items by exchanging some trophies and ordinary items.
The Market, where you can purchase players, trophies and some special unlockables by spending coins.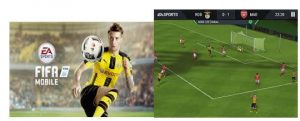 Clash of Clans
Supercell
Clash of Clans is a Player versus Playerfavouredstrategy multiplayer game and is often said to be the kid's favorite game. In Clash of Clans,the principal objective is to raid villages by using troops which are created by spending resources and thus protecting the village by putting the defenses in place. Clan mates can donate troops and even provoke a clan war between the two.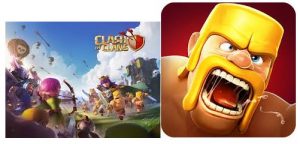 Real Racing 3
Electronic Arts
Real Racing 3 is another driving game very popular among kids. Real Racing 3 comprises of over 140 high detailed cars and with over 39 circuits and 17 real-world locations. It also includes Real-time and Multi-Shifted Multiplayer modes which allow you to race with anyone, anywhere. This game is free but includes in-app purchases to buy in-game items.

 Plant VS. Zombies Heroes
Electronic Arts
Plants Vs Zombies turned to be a huge success in the battle of the doom and the bloom. In Plants Vs. Zombies Heroes we have to collect and choose heroes who have super powers from over 20 unique heroes. For the first time in this series, you can play as plants as well as zombies. You can also play against friends in real time matches. It contains in-app purchases if you want to buy heroes and other different items.

Where's my Water
Disney
Games by Disney are very popular among kids. Where's my water, like Cut my Rope is another physics based game where we have to guide fresh and clean water to Swampy the Alligator's broken shower. The free version includes only about 15 puzzles. The Full version which you have to purchase will include about 500 puzzles and a story mode, collectibles and fresh content every week