Image compression software is a method that you can use to compress images. Cut down on storage size by compressing an image. It makes transmission of the image easy and saves the time it takes to load an image. Various tools are available to compress images. Image compression is of two types that are lossy and lossless.
1. JPEG Optimizer

JPEG Optimizer helps to compress and resize images. It is possible to compress and resize multiple photos at one time using this software. Tune the quality of compressed images using the software. Share images easily and save them in a separate JPEG file. Share many JPEG images in a ZIP file. The unique feature of this application is the ISO Noise Optimization algorithm, which helps to reduce file size with enhancement in quality.
2. Optimizilla

Optimizilla is an image compressor software that has a strong interface. Users can use up to twenty images at a time to optimize them. Set the quality level of images using this software. Preview the compressed image and compare it with the original image using this software. Optimize JPG images up to 23% and PNG images up to 64%.
3. Kraken.io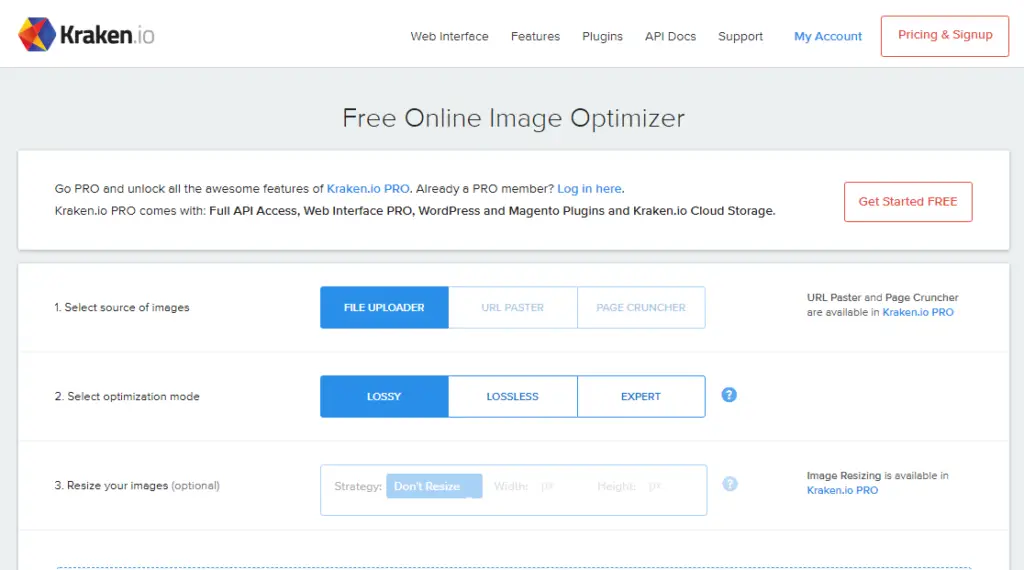 Kraken is an image optimizer software that contains algorithms to save you bandwidth and storage space. Optimizing an image will save the loading time of a website. Designers can use this software by running their page through this software. Developers can optimize images in their applications using this software. Get plugins to speed up the process of optimizing in WordPress and Magneto.
4. ImageRecycle

ImageRecycle is an image compression software that you can use for your websites. Obtain a free analysis and report of the website so that you can compress the image you desire. Drag-and-drop PDF images to optimize them. View the video demo available if you need help in using this software. These software stores are backup of original images for one month. You can find the original and optimized image in history. Pay to get membership in this software to use all the tools they offer for image optimization.
5. CompressNow

Drag and drop original images into CompressNow and choose the compression level to get your compressed image. Choose up to ten images from your desktop to use in this software. Download the images one at a time or all together as a ZIP file. Upload images up to 9mb and get a compressed image in any format like JPG, GIF, PNG, or JPEG. This software deletes images every 30 minutes.
6. Trimage

Trimage is an image compressor software that performs lossless image optimization of PDF and JPG files. Drag and drop images into this software to compress them. You can recompress images using this software. The optimizer displays the old size and new size of images and shows the percentage compressed. Various command-line options are available to use this software.
7. Tiny PNG

Tiny PNG uses a lossy compression technique to reduce file size. This software helps to decrease the number of colors in an image to reduce the storage space that it occupies. The technique used to combine similar colors in your images is quantization. This software uses less bandwidth and can load quickly. You can drag and drop 20 images at a time into this software. Display compressed images anywhere, even on mobile phones.
8. GiftOfSpeed

GiftOfSpeed is a compressor that can compress many types of files. This software performs an image optimization test to see how you can improve the image delivery of your website. PNG compressor is available to reduce the file size and maintain the quality of the image. JPEG compressor helps to compress JPEG images and play with its quality.
9. Compressor.io

Compresssor.io is a fast and efficient image compressor. It helps to optimize images of JPEG, PNG, and GIF formats. You can choose between lossy and lossless compression to get the quality of the image you prefer. Get the file size you require and balance compression accordingly. Compress your images to get better results in search engine optimization. Get a compressed image with high quality to use this software.
10. JPEGmini

JPEGmini is an image compression software that reduces file size without reducing the quality of the image. Upload and download images faster using this software. Websites with optimized images will load more quickly and improve the experience of the user. Cut down on image storage and costs of delivery using this software. Store photos in a cloud storage account easily.