Hindi is essential and one of the official languages in India. In this era of computers, as there is an importance of learning the English language and typing in the same way, Hindi also has the precisely same & equal significance. Sometimes, on many events, we feel the need to enter text in the Hindi language. So,it is necessary that you should type in Hindi as well on your system. Operating Systems such as Windows 10 come with in-built Hindi input tools as the pre-mangal font is already installed on the systems. Still, it is pretty difficult to type with it, but if you want to type effectively, then the Hindi Typing Software will be the best option for you. But you need to find out the best software for you helps you to type in Hindi without any inconvenience. Here you will know about the top 10 Hindi typing software.
1. Indic Input 3
Indic Input 3 was created by Microsoft. It is a free program that offers users with a helpful approach to entering text in the Hindi-Indian language utilizing the English QWERTY keyboard; this means users can type on an English keyboard, and the letters or words that are shown on the screen are in Hindi. It also provides various keyboard layouts and toggles between languages.

2. Hindi Indic IME
This software allows its users to type Hindi words on an English keyboard. Hindi Indic IME has numerous features such as Auto-Text, Customized word list, on-the-fly Help, various keyboards, bilingual composing of text, and much more, which facilitate the users to write in Hindi more conveniently.
3. India Typing Software
India Typing Software is free to use software that provides an online typing facility in all Indian languages. With India Typing Software, you can type in Hindi and other different languages of India like Punjabi, Tamil, Telugu, Gujarati, Oriya, Bengali, Marathi, Kannada, and Malayalam from English keyboard. It offers a speech typing feature as well.
4. Baraha Hindi Typing Software
It is one of the most excellent typing software available for Indian languages. Baraha Hindi typing software provides a phonetic keyboard, which makes it convenient for both beginners and expert users. With Baraha Hindi Typing Software, you can easily import and export documents from numerous formats such as TXT, RTF, HTML (Unicode files), etc.
5. Google Input Tools
It is one of the best tools to learn Hindi typing, which is designed with an easy-to-use interface to serve Startups, SMBs, SMEs, and Agencies. It provides you the end-to-end solutions for Windows, Android, macOS operating systems and compatible with Desktop, Mobile. This tool is also compatible with various English keyboards.
6. Lipikaar
It is simple and easy-to-use Hindi typing software. It allows you to type in Hindi using a regular English keyboard. With Lipikaar, you can create word documents, presentations, excel sheets, or write e-mails in the Hindi language. Lipikaar allows you to type even the most complicated words effortlessly in seconds. Lipikaarhas designed for professional use.
7. Aasaan
It is one of the great and ideal Hindi typing software for beginners. Aasaan allows transliteration of English, Hindi, and bilingual text quickly regardless of whether you have any Hindi language background or not; you can use it effortlessly. It will properly guide you through your Hindi typing learning process. So, it is your personal Hindi typing tutor.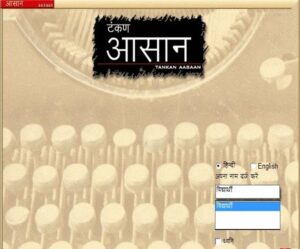 8. HindiWriter
HindiWriter is a user-friendly, compact, and efficient Hindi typing software. It permits you to type in Hindi without remembering a new keyboard layout and works in all apps that support Unicode, such as Internet Explorer, Firefox, MS Office, Notepad, Outlook, etc. It also provides a Hindi spell checker so that you can correct your mistakes.
9. Inscript
Inscript is frequently troublesome and tedious to figure out how to utilize Inscript because of its high difficulty level. This software would be an excellent choice for someone studying to work for a government in a typing job as government prefer inscript over others. It already comes with Microsoft Windows 10.
10. Soni Typing Software
It is one of the most notable & user-friendly Hindi typing software available. Users of this software type in Hindi utilizing the Mangal font. When users type through the English keyboard, the Soni Typing Software will handle the rest & accomplish the work for them. You can use this software to enhance your typing skills in Hindi, specifically using mangal font.