So, you finally decided to buy a video game console but cannot choose what is best for you? If you have done your preliminary research, you must have noticed that all of them seem cool and have ambiguous model names, making it hard to tell the difference between them.
What is the difference between the Xbox One X and the Xbox One S? And what about the PS4 Pro and the PS 5 in general? Are there any specific games that only work on certain consoles and not on others? If you wanted to buy the best gaming console, which would it be?
After such stiff competition it may be hard to choose one, but we will try our best to help you select the right one for you.
1. PlayStation 4 Pro
Get ready to blur the lines of reality if you are interested in purchasing a PlayStation®4 Pro console. It is faster, more powerful and with 4K TV gaming1 and incredible immersion. You will love playing action games with your friends through Wi-Fi on this as it's faster, smoother, and more explosive, with support for faster, and more stable frame rates. It has been released in November 2016.
Its key features are as follows:
CPU: 8 Jaguar Cores, 2.1GHz
GPU: 36 CUs at 911 Mhz, 4.2 TFLOPS
Memory: 8GB GDDR5
Internal storage: 1TB HDD
External storage: 2.5-inch HDD, USB HDD
Optical drive: Blu-ray
USB: 3 USB 3.1 ports
2. Nintendo Switch
Take a look at the Nintendo Switch, and you will notice that it trying to do many things simultaneously. It can transform from a home console to a portable system in a snap.
It has three modes which are as follows:
TV mode- you can enjoy HD gaming on your TV.
Tabletop Mode- you can flip the stand to share the screen, then share the fun with a multiplayer game.
Handheld Mode- you can play with the Joy‑Con™ controllers attached. The controllers will give you total gameplay flexibility.
You can choose your control style, one controller or two, vertical or sideways, attached to the console or separate.
It has a local wireless setup. You can link up to 8 Nintendo Switch and Nintendo Switch Lite systems together to play multiplayer games anywhere.
3. Microsoft Xbox One X
This console is all about power. It has an 8-core CPU clocked at 2.3GHz with a 12GB GDDR5 RAM chip. It also contains six teraflops of GPU power via a 1172MHz (clocked speed) GPU.
If you want some serious computing power for a gaming console, this is the right choice since it enables native 4K HDR gaming. It delivers an impressive performance even at 1080p resolution. It also has a 4K Blu-ray DVD player built in.
The only failure in the hardware department is the HDD, which has 1TB of storage space. The 4K games are large and quickly fill up 1TB HDD.
The Xbox One X performs very well because of this immense power. Even the best consoles struggle to hit 60fps and often drop down to 55 or lower, but Xbox One X offers a more consistent frame rate overall.
4. Xbox One S
It is the best gaming console for Multimedia.
Its key features are as follows:
CPU: Eight-core 1.75GHz Jaguar
GPU: 1.23 teraflops at 914MHz
RAM: 8 GB GDDR3
Framerate: Up to 60 fps
Resolution: 1080p
Optical: 4K HD Blu-Ray Drive
Storage: 1 TB HDD
It is small compared to its predecessor but has great HDR with 4K streaming. Although, there are few drawbacks, like 4K gaming capability is limited, and it cannot connect to Kinect without an adapter.
The Xbox One S controller supports Bluetooth so that you can use it not only on your console but on your PC as well. It also has a textured grip, which makes it more comfortable to hold for long stretches. It has an impressive wireless antenna so you can sit farther away and play comfortably. Older Xbox One controllers will also connect on this console, which is good for those who are using them.
5. PlayStation 5
In comparison to the PS4 era, the PlayStation 5 has better graphics and a more consistent performance. Then there is the ray tracing, which equals true-to-life lighting, dynamic environments, and accurate reflections. Its resolution is 4K at 60fps up to 120fps. It also features a 4K UHD Blu-ray DVD player inbuilt. The CPU is 8-core, 16 thread, up to 3.5Ghz, while GPU is 36 CUs at 2.23GHz, 10.3 TFLOPs (variable frequency). Its memory is 16 GB GDDR6. You will not see a loading screen in games on PS5 because of storage with 825 GB PCIe Gen 4 NVMe SSD.
6. HTC Vive
Get yourself fully immersed in the world of virtual reality with movements that make you feel like you are in action. With the 360-degree controller, directional audio, headset tracking, and HD haptic feedback, VR has never felt so real.
It is up to 15m 2 (An area of approximately 3.5m x 3.5m). Want to teleport around boundless virtual worlds sitting at your desk, or create a dedicated room-scale play area where you can physically walk around? SteamVR™ Tracking has the best experience possible, so play the way that works for you – seated, standing or room-scale.
It helps in playing safer. The Chaperone system will warn you about the boundaries of your play area, so you will stay immersed in VR without worrying about the real world.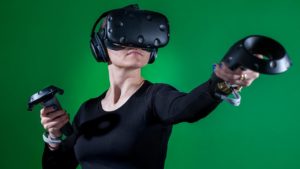 7. Oculus Rift S
Oculus Rift S headset, a PC-Powered VR gaming, has entered the market with improved optics following next-generation lenses and a sharper display delivering bright, vivid colors and reduced "screen-door" effect. The advanced hardware works with Oculus software innovations to keep the gameplay smooth on several PCs.
It keeps your mind in the game, thanks to a halo headband, which has been specifically redesigned with the speed in mind. Oculus Insight translates your movements into VR no matter which way you're facing, providing a room-scale track without external sensors. Your slashes, throws, and grabs appear in VR with intuitive and realistic precision.
It gives brilliant graphics and heart-pounding gameplay with an easy setup.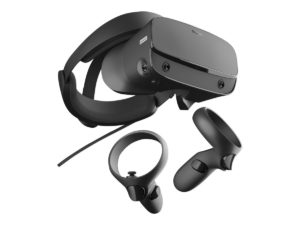 8. Nintendo Switch Lite
The difference between the Switch Lite and the Switch is that the Switch Lite only has the handheld mode. You cannot connect it with the TV. Resulting in it to be lighter and more compact than the Switch. It comes with a smaller screen, at 5.5 inches having a 720p display.
Nintendo Switch Lite is more comfortable as a handheld than the Switch. The controllers are fixed, resulting in no Joy-Cons with this device.
In place of the directional buttons is a D-Pad, which feels more natural to operate.
It allows Bluetooth and wireless connectivity, unfortunately you still cannot connect wireless headphones to it. It accepts external storage via MicroSD, thus making 32GB internal storage easily extendable.
9. Sony PlayStation Vita Slim
Sony PlayStation Vita Slim feels much thinner and lighter than the original PlayStation Vita, making it more convenient and long-lasting. The crisp and vibrant LCD screen with a Micro USB port also makes it a much more reasonable competitor against the 3DS XL than the Vita was against the 3DS. You will still have to deal with Vita's not-so-interesting game library, but a powerful backward-compatible catalog will attract classic game fans and lovers.
The micro-USB port helps in connecting to a charger or computer with the regular micro-USB cable. It is comfortable to hold. It has a pinched-oval 3.3-by-7.2-inch (HW) and measures just 0.6-inch profile. But the curved and rounded edges instead of nearly flat sides make the PCH-2000 feel like it's half as thick as its predecessor. It's the weight of 7.6 ounces makes it feel even more pocket friendly.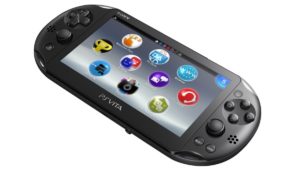 10. Samsung Gear VR
Samsung Gear VR features a new controller and lots of improvements that create a more believable, "you-are-there" experience. This third-generation device can work with the Samsung Galaxy S6, S7, and S8 smartphones, as well as the Note 5. It gives an improved resolution, faster load times, and longer battery life than all the previous versions. It is well designed and has responsive controls and offers a more immersive experience in mobile VR. It is designed for the young, old, advanced, and novice users alike to use easily. It also includes a broad range of gaming, entertainment, and educational apps for teenagers as well as adults. If you have a modern Samsung Galaxy cellphone, this is the VR gear for you.