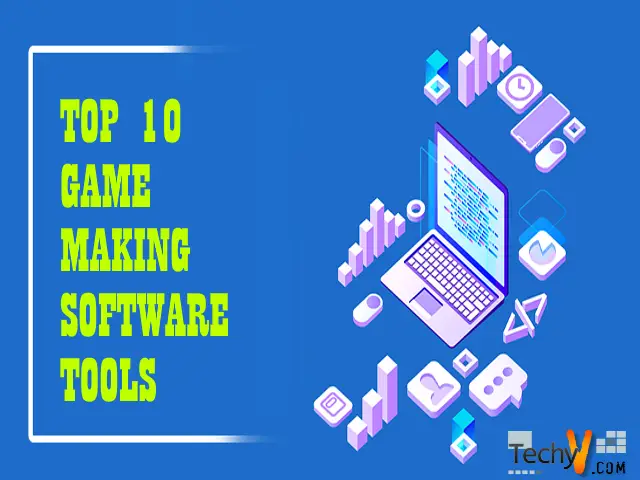 A game making software is a specialized software tool available with all facilities to design good quality and high visualization video games. The most crucial part of any game is a game engine. A game engine implies an architecture or design of the game, which is also referred to as a game framework. Game designing software tools assist people to develop and design games for various platforms like mobile phones, tablets, PCs, etc. Video games have attracted many youngsters, and they spend most of their leisure time playing video games. There are various software tools available to develop video games. Let us see the top 10 software for designing games and their features.
Adobe Creative Cloud:

Adobe Creative Cloud is one of the most popular game making software used widely. It incorporates a wide range of features that are required to develop a high-quality video game. As its name indicates, this tool used cloud technology. Additionally, this tool enables users to develop 3D as well as 2D video games for mobile phones, PCs, and tablets. This tool has more than 20 applications, thousands of fonts, creative cloud libraries, 100GB of cloud storage, and cross-app integration for sharing and collaboration. Additionally, this software tool creates and edits amazing video, audio, visual effects, and animations.
Indie Game Maker:


Indie Game Maker is easy to use and a user-friendly software tool to develop high-resolution video games. This tool provides a development kit with multiple features in it. Users can create games in three phases. Each phase of the game will be creative as well as complex. Indie Game Maker software tool consists of thousands of 3D characters, fonts, a huge set of themes that will make it easier for users to design visualized game. This software provides a free trial version for the new users. Once the free trial version finishes, users ha to pay a subscription amount to access its features.
Construct 2:

Construct 2 application is very easy to use and offers a comfortable interface for users. This software tool is best suited for people who have zero coding experience. It provides drag and drops options, which makes it very easier for non-coding users. This application has a wide range of features. The design and the logic of the game can be directly applied by using design features. Additionally, this tool allows users to export or share their projects into various distinct formats. Construct 2 application offers a free version that includes 100 events, two simultaneous special effects, flour layers, and access to some of the assets. But, the paid version includes more features and flexibility.
Quest


Another one of the top 10 game making software tools is Quest. This application offers a wide variety of HD graphics, more storage space, and many more features. Quest software offers a comfortable interface without clutter. The UI of this application is very attractive and offers a provision of making high-quality and high-resolution video games for all devices. Additionally, it includes features like a huge set of characters, fonts, themes, etc. Users can create real stories in the form of games and entertain people.
Adventure Game Studio:

Adventure Game Studio application for game designing and development is the best application for beginners. This software tool enables users to create and develop 2D video games. It includes a wide range of tools like an image-editing tool, a huge set of characters, rooms, objects, fonts, etc. This application is integrated with the Integrated Development Environment (IDE) to provide better environmental features. Users can use this software for non-commercial as well as commercial use. The most advantageous feature is it offers all features to everyone without any subscription plan. But, users should have the knowledge of scripting language for developing the logic.
RPG Maker VX Ace:


RPG Maker VX Ace is one of the latest and most-used software tool for developing video games. The VX Ace version of RPG Maker has incorporated incredible and extraordinary features in it that make users design the game with ease. The features include a map editor to build the world, a system that develops powerful characters, enemies, skills & equipment, new event options, Ogg Thero Video, expanded resources, built-in character generator, customizable shapes & faces of characters, fonts, themes, etc. This software requires a 32-bit or a 64-bit Microsoft Windows operating system, 512 RAM, and 400 MB hard drive space.
Game Maker: Studio:

Game Maker: Studio is one of the most-used and popular applications for designing and developing video games. This software provides easy to use and a user-friendly environment for its users. The great benefit of this application is it has just launched its free version. Users can access features freely. Users need to learn a programming language called GML. Through this programming language, users have to develop the logic of the game. Features include drag and drop options, multiple characters, customizable faces, fonts, themes, etc. Also, beginners can watch the tutorials provided and develop the game accordingly.
Stencyl:

Stencyl is yet another top software tool used for game designing and development. It offers a portable platform for beginners. The best advantage of this application is it does not require coding skills. The drag and drop options have made it easier and a user-friendly software tool. A person will zero coding skills can also develop a high-quality video game. Additionally, if users desire to develop an advanced video game with programming logic, this provision is also offered by this application. There is a feature called Scene Design, where users can design the desired scenes required in the game. Also, flash games developed can be published on the website of the program.
Sploder:
Sploder is one of the top game making software tools in today's era. This application is known as an Internet player design tool. It includes a variety of toolsets for designing the game. Users having zero coding skills can perfectly design the game. The platform of games like retro arcade games, complex puzzle games, space adventure, or shooter games can be developed. Its features include graphics editor, which enables users to create pixelated characters, mathematics matches to develop mathematical puzzles, no monetization feature, etc. The most outstanding feature is the Physics Puzzle Maker.
GameFroot:
GameFroot application is specially designed to develop educational games. This application is best suited for teachers to develop educational lessons through games. It has incorporated a wide range of features in it. Its features include developing games for the social network, games for eLearning, games fro business, deliver on-time training, allows iPhone users to submit their game on the iPhone App store, a potential for millions of games, etc. Additionally, GameFroot can also be used for investors. It enables users to make games and share them from anywhere anytime to anybody.