The world is ever changing. New problems are arising every day, new challenges emerging in the world. The need to better our planet and to maintain it for our sustainable future has never been much greater. Companies around the world are spending billions in their Research and Development programs to make their product better and suitable for the future. The cars on this list are not your ordinary machines whose purpose is to deliver you from one place to another; these are more sophisticated, more advanced, more complexed, and better at adapting to their surroundings. From using electric or solar instead of gasoline to being totally driver-free, these concept cars of the future will blow your mind. Have a look.
1. Mercedes-Benz BIOME
Mercedes has always been at the helm of vehicle development and making cars and other vehicles more futuristic and smart. Their newest idea, the BIOME car is said to be made from natural products and is often described as something which can be grown. The car was first displayed at the Los Angeles Design Challenge and is making a statement since then. It is made up of BioFibre which is extremely light and super durable.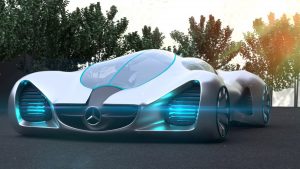 2. Kia Pop
Say anything about Elon Musk, but he has revolutionized the way we look at non-renewable energy now. The electric cars of his company Tesla are making headlines and in their follow, up is Kia Pop, Kia's eco-friendly answer to all the limited supply of fossil fuels talks and global warming scares. The car is so well made and futuristically designed that it looks more like a Sci-Fi movie prop rather than actual working concept. It can travel up to 100 miles before needing a charge again.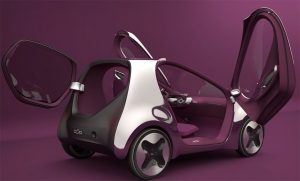 3. Toyota iRoad
Toyota iRoad is the type of car which shows how awesome the future is going to be. A mixture of car and motorcycle, iRoad is Toyota's version for the new trend of creating personal mobility vehicles. It can seat one or two persons in it, is very lightweight, and small. This car is suitable for tighter and busier traffic areas where commuting with big vehicles can be a tiresome job. iRoad is claimed to be safer than a motorcycle because of its robust outer shell and a warning system alerting the drivers of problems.
4. Cadillac Aera
Cadillac Aera looks like something out of the Tron universe. The bright light on the wheels and the window design oozes a strong style statement. Everything about Aera is cool. It is made up of an ultra-lightweight special material which makes it very tough for withstanding any impact. The design is aerodynamic making it very fuel efficient, and the best part is, it can seat four people. The drive system is very advanced with Pneumatic Drive System using compressed gas to power the engine for more than 1,000 miles.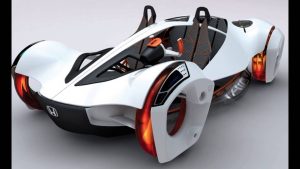 5. Toyota Nori
One more car from Toyota. They are working their way to create concept cars. Toyota Nori is the product of yet another Los Angeles Auto Show Design Challenge. This fine example of craftsmanship is eco-friendly as it has solar cells interwoven into the material to power the back-up motor. The whole car is made up of a single piece making it incredibly light and unbelievably strong. This technique also happens to make it cost efficient as less material is required.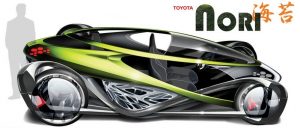 6. Terrafugia TF-X
Everyone has a fantasy of driving a flying car just like in GTA. Although the possibility of that happening anytime soon is quite less, the company Terrafugia have been in constant chase of that dream. After a host of failed prototypes and designs, they revealed that they are working on their next project, TF-X, which seems to be their best one yet. If made, the car will have a range of 500 miles and will allow vertical takeoffs thanks to the high-powered propellers. There's a rumor that the car could go up to 200 miles an hour.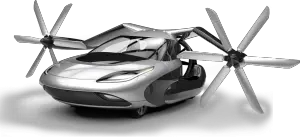 7. BMW GINA
BMW GINA- the car which looks like it is built from a cloth. It is the dream project of BMW, who have been working on this since 2001. The material of the car is a very sturdy fabric which can stretch over the whole chassis. The car is very customizable in the entire design. The outer fabric/structure can change shape creating spoilers from the car, the steering wheel can be positioned anywhere according to our preference, and the seats are self-moving.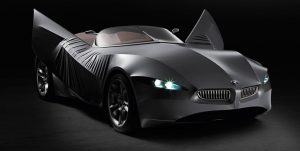 8. F 015 Luxury in Motion
This Mercedes Masterpiece is created keeping only one thing in mind, the luxury of the passenger. A car which does not even require a driver and looks like a hotel suite is said to be made using plastic reinforced with carbon-fiber and aluminum making it very light. The car is controlled with a touch screen and other control technologies. For safety, the doors are infused with inflatable structures which work like air bags when needed.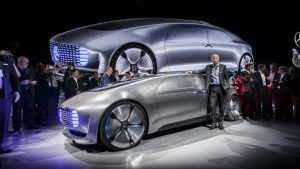 9. Chevrolet EN-V
It is proposed as the solution to overcrowding in traffic and the growth of population in growing cities. This concept car is being made by General Motors in incorporation with Segway and SAIC. The car has a very minimalist design and only has two wheels to drive on. Despite the shortage of wheels, the machine is balanced perfectly using technology developed by Segway. The car is also eco-friendly because it uses electricity instead of those depleting fossil fuels.
10. Google Self-Driving Car
Saving the best for the last is Google's Self-Driving Car. In a nutshell, it is what it reads it is. Just a car which does not require a driver. There is a host of sensors like LIDAR, which is on the top of the car, detailed pre-loaded maps, and the hand of Google on top of it. This car is being developed as the solution to many problems like reducing the number of traffic accidents, providing commute to people who are unable to drive and much more.