Have you ever wondered how the news-readers sound so professional while on a live session? Many must have been stunned to listen to the fluent news reading capability pf the news-readers. But this is the high time to let the cat out of the bag. They use special software called Teleprompter or Autocue that displays the script above the camera lens. Not only for the news-readers, Autocue is an essential tool for everyone who wishes to proceed with their reading session fluently. It is not an issue if you are not aware of the Teleprompter software available. This article discusses the best teleprompter software available for free.
10. OnCue

OnCue is an autocue software that is comfortable to use. It entitles the user to edit quickly with smart tools like combine, split, and exclude portions of designations. It includes customizable pages that can hold loose pages, documents, annotations, and full depo runs. It has also got beautifully designed decoration reports that enable easy reading. It enables you to edit the recorded video and rectify the errors.
9. Video Teleprompter

Video Teleprompter is software with a variety of characters. The script text is in such a way that is easy to read and maintain eye contact with the camera. The green screen, audio level monitor, Auto-exposure control, auto-focus control, and shutter speed control are all attributes that tempt us to use this application for teleprompting. Not only does it help you to script your video properly, but you can also record your video with the help of this tool. The professional set-up kit that the software has is highly appreciable.
8. Teleprompter Pro Lite

Teleprompter Pro Lite is an autocue tool that has features such as mirror mode, full-screen mode, font and background selection, script deletion, scroll speed adjustment, text size adjustment, brightness control, and script import service. Multiple scripts, improved font size, and custom text size control are all exciting attributes available. It gives you a smooth user experience.
7. BIGVU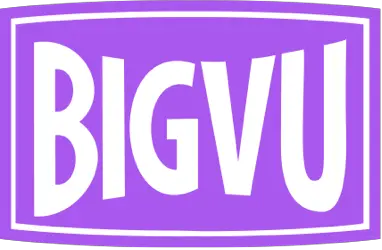 BIGVU is the teleprompting software that has a huge consumer base. You can incorporate images, edit them in a specific timeline on the storyboard. You will be able to add small scene cards, highlight important words, and position it in the right place. Through BIGVU, one can select the dimensions of the video too. It has a splendid toolkit that enables the user to apply transitions and amazing visuals to the video. At last, it is a free Teleprompter that allows you to apply catchy visuals to make teleprompting easy.
6. Oratory

It is a teleprompting software that enables you to adjust scroll speed and position the text wherever you want. The application displays the toolkit along with your camera, so setting up the software is not a difficult task. It aims at giving you support and confidence with its user-friendly interface. An add-on advantage to this application is that it provides an auto-scrolling option so that you could concentrate on your video appropriately. You can also adjust the transparency of the background using this tool.
5. Prompster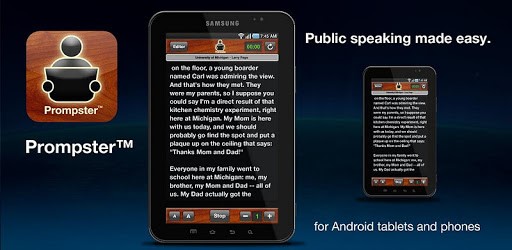 It is a software that runs on iOS and Android. It entitles you to create and edit documents, import documents of different formats, mirror and reverse the text, formatting text with styles, adjust scrolling speed, stop or pause scrolling texts, track elapsed time, choose a particular section of the text, auto-saving of text, exports files of all formats, and copy options from other sources. This Teleprompter allows you to carry yourself with grace and elegance while speaking. Thus, Prompster helps you to master the art of Public speaking without a doubt.
4. Selvi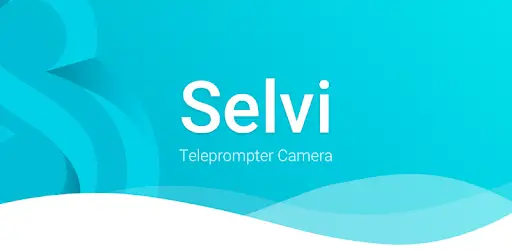 It is a free teleprompting software that is highly functional. You can import files of various formats, edit the size of the text, change the position of the text in your screen, adjust the text position with screen gestures, and allows you to share your video on social media platforms too. Other exciting features are exporting files from the application, adjusting video resolution, and changing the camera angle. Selvi is a handy software that helps you to record highly informative videos with perfection.
3. Promptsmart

Promptsmart is different software compared to the above-mentioned ones. It has an automatic voice recognition software that detects the position of the current text and controls scrolling speed accordingly. The voice recognition software is formulated based on algorithms to enhance the efficiency of the working of the application. You needn't feel nervous while using Promptsmart because it helps you to carry on your speech at a natural pace. It enables you to sound more natural and professional at the same time. It is available for free and is highly compatible.
2. Simple Teleprompter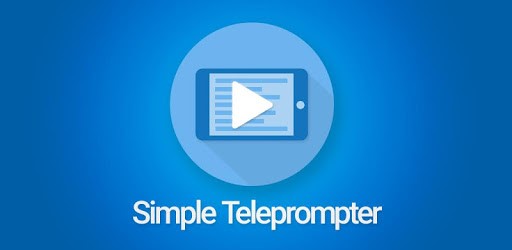 You can import or export text files in any format with Simple Teleprompter. It permits the user to adjust the scrolling speed, font, colors and enables you to perform auto-starting, mirroring, or locking the orientation of your device. It allows you to create your files and save them. It is available for free and has high functionality.
1. Parrot Teleprompter

It runs on Android and iOS. It is an ultra-compact smartphone prompter. When you record with this software, it filters out all the unwanted noises and focuses on your voice only. Other features like font and text size adjustment, scrolling mode of texts (vertical, horizontal, mirrored), background-color adjustment, transparency adjustment, and video dimension adjustment are also available. Parrot Teleprompter has the best of the features that teleprompting software should have. Ultimately, Parrot Teleprompter is the king of teleprompting applications.