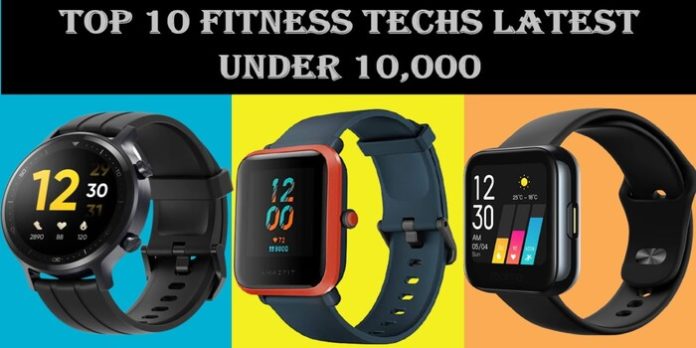 In our country, people have revived the health and fitness culture. The digital upheaval has brought many health gadgets to our shores including a fitness band. They help to monitor the heart rate, pulse, sleep patterns, oxygen levels and all-day activity tracking as well. The top 10 Fitness Techs under 10,000 are:
1. Amazfit Band 5 ( Rs. 8,492)
Its tagline is 'Stay Active, Stay Young'.
Its special features include:
Calculating your blood oxygen saturation.
Comprehending your physical state with Oxygen Beats
Measuring your heart rate 24/7.
Measuring your stress level and also helps to regulate it.
Monitoring your sleep quality.
Keeping track of the menstrual cycle.
15 days battery life.
2. Fitbit Flex(Rs.7999)
Fitbit Flex is the recent personal fitness tracker in the company's lineup.
Its special features include:
Water-resistant
Bluetooth syncing
Keep track of sleep.
Monitor heart rate and keep track of the steps.
Up to 14 days battery life.
3. Samsung Galaxy Fit (Rs. 8,990)
Samsung Galaxy Fit is the next era fitness tracker.
Its special features include:
Lightweight and durable.
Monitoring your heart rate.
Bluetooth syncing.
Tracking your steps.
Long-lasting battery
AMOLED display type.
4. Honor Watch Magic Smartwatch (Rs. 8,071)
The HONOR Watch is one of the sleekest smartwatches on the market which is carefully prepared using 316L stainless steel that is both accessible and comfortable.
Its special features include:
Receive better accurate and valid location information with a built-in GPS.
Estimates your heart rate and is vital to protect your health and fitness levels.
Inspects a variety of outdoor and indoor activities and workouts, including mountain climbing, swimming, etc.
TruSleep delivers sleep quality scores based on examination of your sleeping patterns and breathing quality.
5. Cogito Classic Smartwatch (Rs. 9,750)
It's designed perfectly to complement both formal and informal attires.
Its special features include:
Keeps track of messages, calls and notifications.
Fitted with a Button-cell battery that can last for months without recharging.
It has a 100m water-resistant capacity.
Keep track of your movements and activities.
6. Huawei Smartwatch GT 2e (Rs. 8,990)
This Huawei Watch GT 2e comes with a remarkable blend of technique and functionality that keeps you forward of time with its outstanding features.
Its special features include:
Customization of data to keep track of your heart rate, steps, weather and others.
Effective battery life to up to 14 days.
AMOLED display which gives you a comfortable viewing experience.
Lightweight and has a potent body made of stainless steel.
7. Realme Watch S Pro (Rs. 9,999)
The Realme Watch S Pro is fitted with a Pro Display, which is a large AMOLED touchscreen with high endurance and high illumination and provides fabulous visuals of all your knowledge.
Its special features include:
Maintain a track of your exercise and workout data.
The broad and visible 3.5 cm (1.39) AMOLED touchscreen.
Offers a spontaneous interface that makes it a pleasure to view your health data.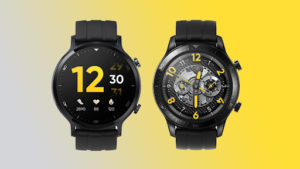 8. Fitbit Inspire 2 ( Rs. 7,999)
Its tagline is, A healthier you with an easy-to-use fitness tracker.
Its special features include:
Tracking steps.
Monitoring heart rate and sleep patterns.
Water-Resistant.
Bluetooth syncing is available.
Up to 10 days battery life.
9. Mi Smartband 5 (Rs. 2,499)
The Xiaomi Mi Band is a wearable health and fitness tracker developed by Xiaomi.
Its special features include:
24-hour sleep monitoring.
Stress monitoring and regulation.
Guiding you to do breathing exercises to relax.
Tracking heart rate and steps.
10. Noise ColorFit Pro 2 Smart Watch ( Rs. 2,799)
It is a great option for the one who is looking for an activity tracker with style at a budget-friendly rate.
Its special features include:
Offers full health and fitness activity tracking with 9 sports trends.
Call, text and social media notifications, control music playback and many more features are available.
10 days battery life.
Monitoring heart rate and sleep patterns.