Runtastic Series
There is nothing like cardio to keep you healthy and active. Running uses every muscle in your body and makes your heart beat faster, thus improves the blood circulation. This Runtastic series app helps you stick with your goal and transform yourself to fulfil your goals! It will walk you through different forms of cardio you can perform and instructs you to adjust the intensity of your workouts as per your goals. Pair it with your watch to get the maximum results.
Fitbit
Fitbit is one of the most popular fitness apps on the store. Other than the app, it uses sensors, GPS to track your activity and can also be paired with a watch. You choose from Yoga and a wide variety of workouts. It also enables you to compete with your friends and family!
Nike Training Club
Nike training club allows you to exercise choosing from hundreds of exercises designed to help you achieve your targets. Latest workouts are all available on the app. Trainers are extremely motivating, and you can customize your workouts! Win-win right?
Calorie Counter And Diet Tracker
To get and stay fit, just working out is never enough? One has to take care of the diet and stay hydrated. This app helps you with the most difficult part of staying fit that is, Diet control. You can set your preferences and let the app do all the work. It also allows you to keep an accurate track of your calorie intake. You can view the data for any period and measure your intake.
Women Fitness
This app is custom designed to cater to women's fitness needs. It has all the exercises and tips and tricks that you need to lose that extra weight and reach your targets.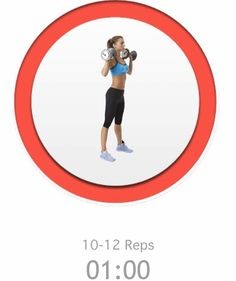 7- Minute Workouts
This app claims to be scientifically proven to assist in weight loss and to cause an improvement in the cardiovascular functions. It has over 3 million users and a variety of workouts. The app sports a great interface. It's also very easy to use. With this app, it gets really easy to regularly workout since the workouts are not lengthy. They cause more strain and less fatigue. We say, give it a go!
Daily Water- Free Water Reminder And Counter
We couldn't emphasize enough on the importance of staying hydrated! Water is one of the most important components of stay fit and healthy. It also helps you get rid of all those toxins your body creates while working out. This app reminds you to complete your set water intake target through the day. You can customize the settings as per your needs. Healthy living is just a tap away!
Sworkit- Custom Workouts
Sworkit comes with a much-needed feature where you can completely customize your workouts. Choose from whether you want to be leaner, stronger, fitter, etc. You can also set the preferred workout intervals. A coach walks you through the different exercises custom picked for you.
Daily Yoga- Workouts, Meditation And Fitness Plan
This app provides you a fitness regimen as per your needs and preferences. If you have trouble with high-intensity cardio workouts including running etc. you can opt for a yoga-based workout. It also has meditation features to take care of your mental well-being also. It's definitely one of our favorite must-have apps.
30-Day Fit Challenge Workout
This is a 30- day challenge based fitness app which teaches you exercises that can easily be performed by anybody at home! You c also increase/decrease the intensity as per your preference.