As technology advances, GPS tracking solutions become more tech-heavy. GPS providers worldwide are looking for a comprehensive software system that efficiently meets all of their customer's needs. Nowadays, GPS tracking systems are becoming increasingly popular among businesses and consumers who are looking to protect their businesses with new cost-saving solutions. Companies, investing in GPS are looking for alternatives to avoid high costs due to loss or theft. Companies want features like ease of use of the software, whether the system has a mobile app, and the benefits of geofencing capabilities. Here is a list of the top 10 features GPS tracking systems can achieve, which can act as the tip of the iceberg.
1. Video Telematics System
GPS tracking solution providers offering video telematics systems are in high demand. Video telematics is more than a technological fad, it provides complete security for drivers and cargo. Not only customers but also large companies are looking for such systems. Driver Management Systems (DMS) is a system that activates the interior of the vehicle along with the driver's activity, while Advanced Driver Assistance Systems (ADAS) offers the exterior of the vehicle. It not only warns the manager about reckless driving by the driver but also warns the driver about inappropriate driving behavior. Each record is accurately time-stamped to help resolve costly legal issues.
2. Route Planning Solution
Route Planning Solutions offer complete route management capabilities along with route optimization. This allows managers to plan and assign the most optimal routes to drivers by prioritizing their most important customers. Route deviation alerts notify managers whenever a deviation occurs from the designated route. Route management systems provide other important functions like estimated arrival time, proof of delivery, and automated operations. If you have customers in fast-moving goods, logistics, and similar sectors, route planning software is essential.
3. Analysis Of Driver Behavior
Driver negligence is one of the biggest causes of traffic accidents. Excessive speed alone is responsible for 49.5% of traffic accidents. Driver behavior analysis provides a comprehensive insight into the driving behavior of drivers. The software sends real-time alerts whenever events like overspeeding, idling, cornering, hard braking, hard acceleration, swerving, driving, etc. The software helps to offer event-by-event, trip-by-trip, and driver-by-driver reports on your system and driver ratings.
4. Last-mile Delivery System
As the name suggests, Last Mile Transportation Solutions provides a distributor solution. Meet your last-mile delivery needs, including route optimization, order allocation, and load management. Last Mile shipping software maintains a delicate balance between customers, shipping partners, and companies. It has key fleet monitoring features like live tracking, ETA (estimated time of arrival), and POD (proof of delivery).
5. Analytics Dashboard
Compared to traditional dashboards, the updated GPS provides new capabilities for more advanced analytical dashboards. While conventional dashboards provide an overview of the fleet, analytical dashboards provide a detailed analysis of fleet operations. It plays an important role in helping fleet managers make essential business decisions for their fleets.
Fleet management software along with analytics dashboards provide hidden and creative insights in the form of charts and graphs. An effective GPS provides real-time insight into fleet operations so companies can make informed decisions. To make this possible, GPS must have advanced analytics and reports that are always available.
6. Fuel Monitoring, Alerts, And Notifications
A fuel monitoring system that ensures complete accuracy is an essential feature of any fleet management software. This new feature calibrates the fuel level and closely monitors the readings during the test period. This is because small amounts here and there can cause problems. The system will warn you in case of a momentary increase or decrease in fuel.
Alerts and notifications make life much easier for fleet managers. Automated alerts are sent in case of violations like overspeeding, battery disconnection, and AC on/off. Receive automatic service and maintenance reminders like license renewals, service dates, and license expiration dates.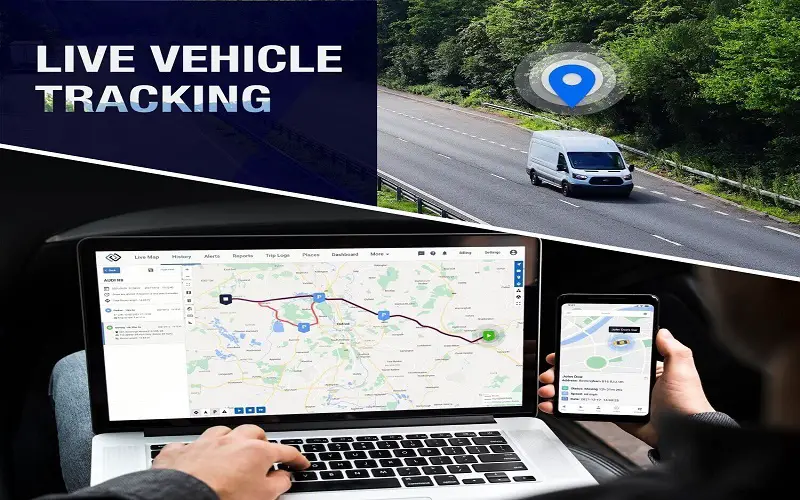 7. Car Troubleshooting
Businesses today look for software systems that are highly compatible with ODM (original design manufacturer) devices to help monitor real-time conditions inside the vehicle. This helps in checking the condition of the engine and the overall state of the vehicle. This helps predict problems that may turn into major problems later, reducing downtime. This helps save the huge cost for organizations to avoid any inefficiencies while on the road and go preplanned as per the system alerts.
8. At Least 6 Months Of Past Data And Reports
A very useful and popular feature that any good car tracking system demands now is trip history. This feature allows you to track all your vehicle journeys, so you can see if the driver is driving illegally or deviating from the optimal route for personal reasons. The trip history feature displays information like vehicle mileage, acceleration, idle speed, and stops. By using this software to track driver activity and plan more optimal trips, you can save cost on fuel. You can monitor your car's performance with weekly, monthly, or quarterly scans. In addition, the processed data is obtained through reports that can also be downloaded or shared with other users.
9. Compatibility With Sensors
It is essential to check the compatibility of the software with all types of hardware. This is because assets and vehicles require different sensors depending on the business or requirement they serve. Various solutions like TPMS, video telematics, and fuel monitoring require hardware installation to acquire data. There are several doors, tire removal, and a temperature sensor which helps to make the system more compatible.
10. Geofencing
Geofencing is another important and new feature of GPS vehicle tracking systems. Using it, you can track and monitor your vehicle whenever it enters or exits a specific and roughly defined area. A geofence is a virtual area with boundaries defined in the system. Authorized personnel receives alerts whenever vehicles approach, enter, or exit the geofence. Geofences can be configured in the system which helps to record and store all past data related to vehicle entry and exit. This is why it is prevalent today among businesses.