Emails are sent in a massive number and create an enormous amount of problems for individuals and businesses that depend on email for communication friends, families, business partners, and so on: need to archive emails safely and securely that are important and need to distinguish from spam. The solution for this problem is email archive software that filters emails based upon specified criteria and safely and securely from unwanted emails. It helps business people and individuals whenever they need to retrieve old messages and make them organized. It has several objectives, like long term preservation, regulatory compliance, legal protection, etc. to meets these needs different have developed. These products may perform compression, de-duplication, and encryption, indexing, and advanced searching.
1. Dell EMC SourceOne

Dell EMC SourceOne Archiving is advanced software that archives emails. It has the ability to archive information from file servers and social media. Reduce storage costs using this software. This software provides you with unlimited mailboxes. Improve the performance of the server by eliminating duplicates. Dell SourceOne allows one to minimize the chance of data loss with the help of this archiving feature. Web archiving is possible as Elastic search technology allows you to search for relevant data easily. This software uses cloud-based communication. Manage business data and dispose of it if unwanted.
2. MailMeter

MailMeter email archiving solution is easy to use and affordable at a reasonable price. Use this secure email archiving software for compliance and mailbox management. Search and receive email records quickly. Import messages from the email server and store it as history capture. You can import messages from PST and archive it. Shrink message size and capture messages. Protect the information about your company from getting damaged. Schedule reports and sends them automatically to managers. Email storage management is possible using this software.
3. Barracuda Message Archiver

Barracuda Message Archiver is an effective solution for retention and compliance. Try it for free or watch the demo video for the features of this software. This software offers cloud services like Office 365 and supports email servers like Exchange. Capture an accurate copy of each message using the SMTP journal. Message Archiver retrieves messages directly from email servers using IMAP protocol. You can archive non-email content and instant messages, using this software. Export archived details if you need to use them.
4. Jatheon Archiving Suite

Want an email archiving software for industries? Jatheon Archiving Suite is an email archiving software that adapts to your organization easily. Migrate from the current archiving solution to Jatheon easily. Long term data protection capabilities are available to customize your level of access to the data. Search thoroughly, and multiple deployment options are available. Customize your queries to find precise information, and get support for 24 hours to monitor your data all time. Get a demo of this software or watch a video of its features.
5. MailStore Server

MailStore Server is a reliable email archiving software that is easy to install. It needs low maintenance and is easy to set-up. Get a free 30-day-trial for using this software and get its paid version for low costs. This software supports many email systems. Meet compliance requirements as a business owner by using this software and gain profits. Protect data from loss and reduce IT workload for your employees. This software saves 70% storage space. Simplify backup and restore processes using this software as an IT administrator and get benefitted.
6. Quest Archive Manager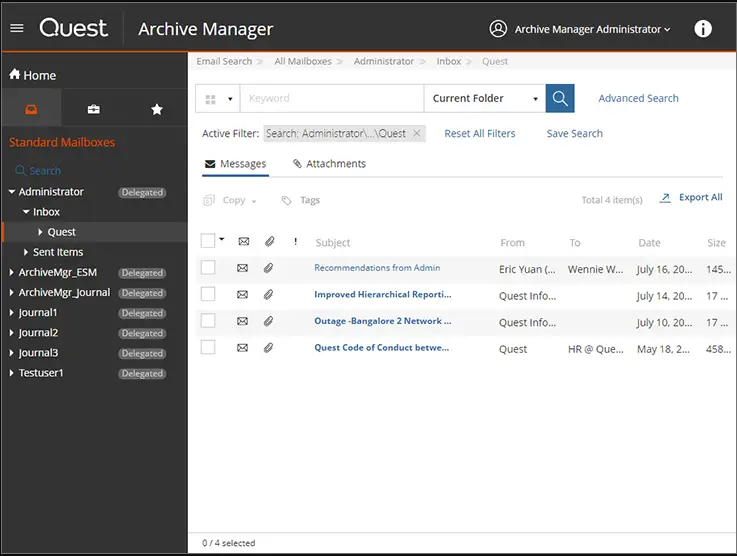 Quest Archive Manager helps to archive emails easily. Capture your emails and retain them easily using this software. Explore your email system using advanced search capabilities. Disposition policies are applied to ensure that emails are archived effectively. Reduce storage volume using this email archiver. The efficient discovery of archived emails is possible as data is tagged to categorize it. Access the messages you have archived from anywhere using a mobile device. Get support for many email servers through this software such that multiple archiving systems are not required.
7. SecurenceMail

SecurenceMail is a web-based solution used in business for archiving email. Customize your content filter options and encrypt your emails. Data encryption is maintained using this software. Backup management is done correctly in this software. This software costs $1.50 per user per month. Install this software in Windows or MAC operating system. You can view it in Android and iOS mobile applications. Export archived data using this software, as threat protection is available in this software. Get live training on how to use this software and documentation on the features of this software.
8. GFI Archiver

Use GFI Archiver software to archive your emails. Download free trial of GFI Archiver for 30 days. Secure your email and file details. Advanced search features are available to help you search for the data you require. Get business intelligence reports on the performance of your business using this email archive software. Save storage space that your email server takes us for storing emails. Legal risk is minimal using this software as you archive emails in the original state. Validate stored emails using message-auditing functionality. Messages are indexed before they are archived.
9. EveryCloud Email Archiving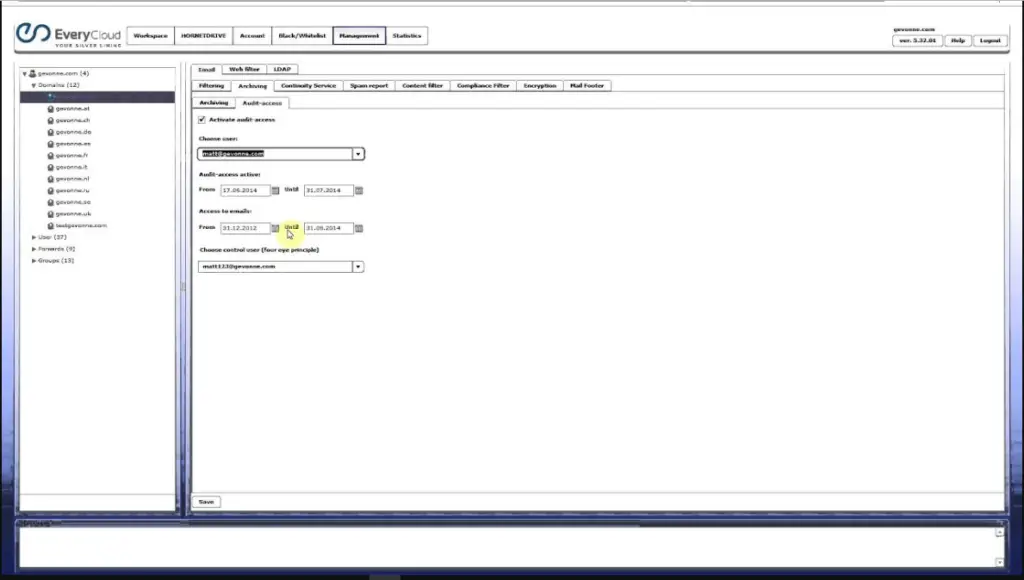 EveryCloud Email Archiving software archives emails in the cloud. Reduce workload on your mail server by using this software. Quickly access archived emails whenever you need them. Get an overview of your email archiving service. Store your emails in the cloud for up to 30 years using this software, and store your data safely in certified data centers by encrypting them by tracking your emails daily. Refine your search results using many parameters and retrieve the emails you require. Start the free trial of this software to know more about it.
10. LeanMail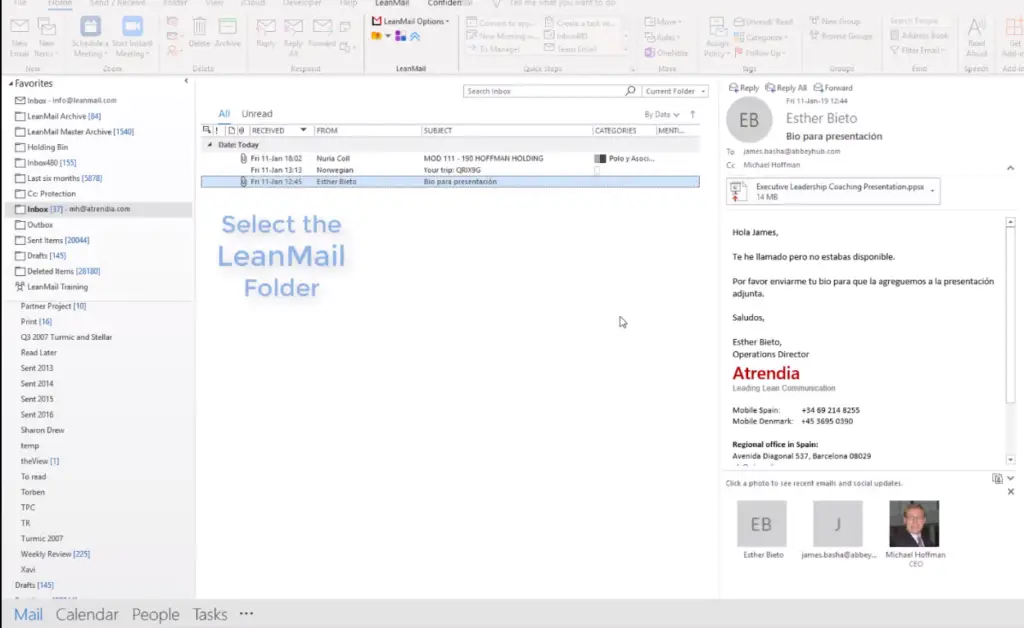 LeanMail helps to file and find emails easily. This software helps to archive emails easily for Outlook users. Add notes to the emails you register in this software. Never lose an email as this software protects all your data securely without any loss of data. Categorize your emails automatically using this software. Store all emails in one folder instead of many different folders. Try this software for free and buy it if you like it. You can also book a training session with customer support to learn how to use the features of this software.