As technology grows, there are updating opportunities for oneself through the use of online modes of communication and networking. One can effectively build a website if they have the right skills and platform. One of the most significant characteristics of getting a website done is accessibility and hence let us look at the top ten easy site building options.
1. WIX:

Wix is a free website builder developed by Artificial Design Intelligence (ADI). Wix gave its entry after supporting for the event Super Bowl 2017 Campaign. Now Wix is one of the biggest web designing platforms which is handling more than 90 million websites. The easy to use site has both free and paid plans. It has online booking widgets, chat software, and newsletter tools. The in-house editor is present with latest tools like adding images, and graphics to your websites. There are more than 500 themes with adding social media and contact forms. Wix comes with cloud support for unlimited storage and automatic data backup functions. Our Wix review proposed that Wix with its hundreds of templates and tools makes it easy to create a pro website and lets you build & sell through your site.
2. WEBNODE:

Webnode is a free and easy to use site builder that has 27 million customers worldwide. Webnode supports many e-commerce pages, online ventures, and digital stores. Webnode is compatible with Android, Mac, and Windows. It is an international platform that has multiple languages option. Its main page is divided into many segments where that has individual elements. You can customize the page as per your choice. It has both free and paid plans. One even creates a checkbox, date box, and contact forms.
3. WEBS:

'Webs' is a free website builder for entrepreneurs and designers. Even beginners can operate comfortably. The multipurpose platform supports website building to e-commerce and blogging. There are big collections of templates, customizable themes, and graphics. The free package has 500 MB bandwidth and with 40 MB storage limit.
4. WEBSTART:

Webstart is a free website builder, and it is easy to use even by beginners. Webstart is systematic, and an organized one. The Blank Canvas editor of Webstart allows the user to add and delete the elements in the way they want. It also supports blogging. With this site, you can easily create portfolios and contact forms within a minute. The MailChimp in Webstart offers e-mail marketing support.
5. WEBSITE BUILDER: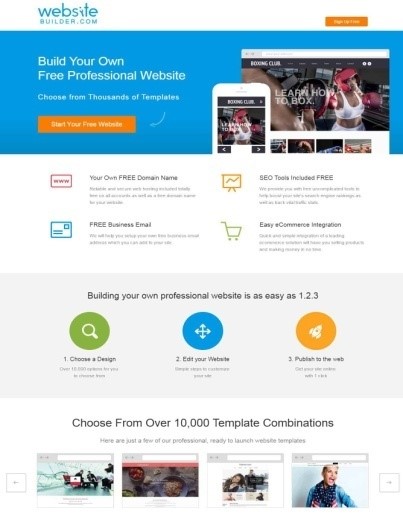 The Website Builder is a free website, and it has no hidden cost or trial version. You can easily access the service free of price. The advanced functions can operate when taken as premium and paid packages are also available here. The user can build multiple web pages that are compatible with Android, Mac, and Windows. The website builder also has the option to update your websites even after publishing it.
6. IM CREATOR: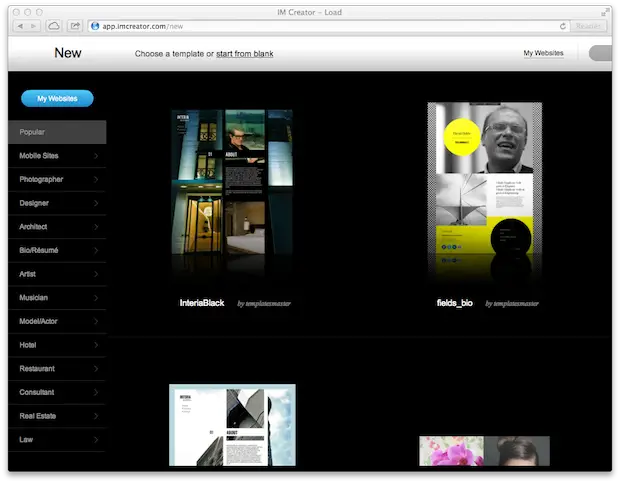 IM Creator is suitable for artists, and designers. The IM has more than 11,240, 766 websites worldwide. IM creator comes with SEO tools, CMS integrations, e-commerce solutions, and other editing options. One can use IM creator to start portfolios and blogs with no complicated coding or technical stuff.
7. JIMDO: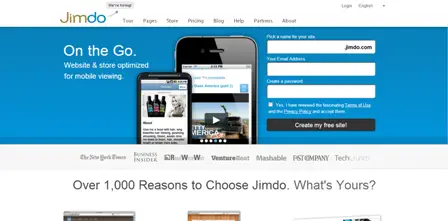 Jimdo is a free and easy to use website building platform for beginners and professionals. Jimdo launches 20 million websites with the latest technology and unique creativity. It offers unlimited storage, cloud backup, and bandwidth. Whatever you post in Jimdo is already protected by SSL encryption.
8. WEEBLY: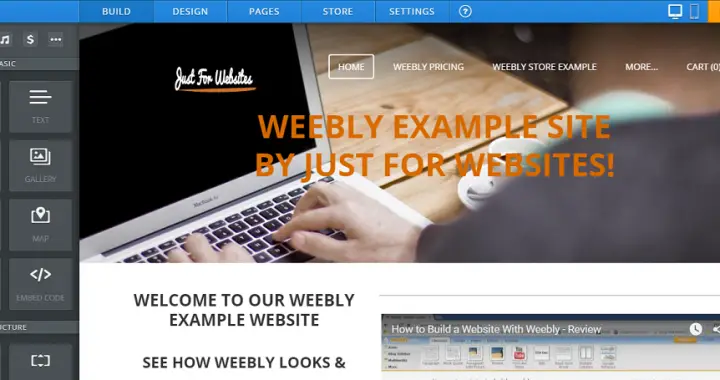 Weebly is a free website builder for beginners, professionals, and entrepreneurs. It gives 500 MB storage with unlimited bandwidth. The website you create supports all the devices and includes the features of Paypal integration, digital gift cards, and automatic tax collector. The in-built editor comes with all essential tools and customization features.
9. DUDA:

Duda is a free website builder with clear interface and social media integration. The user can sell products online. It is compatible with all the devices. Duda even supports e-commerce and has decent SEO tools.
10. HOSTGATOR:

Hostgator is a well-designed and attractive website builder. It has yearly plans that include domain name and SSL certificate. It has only limited apps. The only con is the inability to post blogs. There are massive collections of modern site templates and themes.