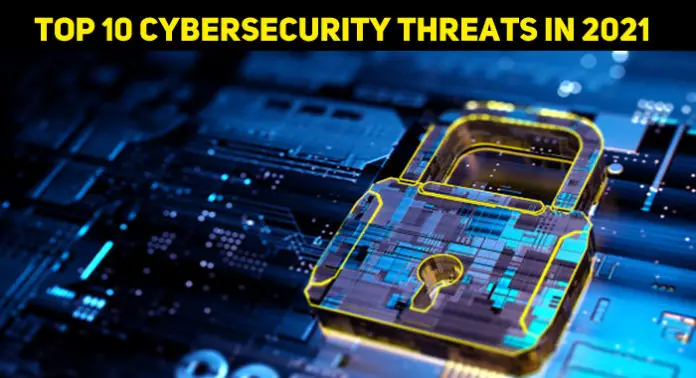 The number of cyberattacks increased tremendously in 2020, and experts claim that 2021 won't be any better. People are spending more time online than ever before. Unfortunately, this opens up a world of possibilities for cybercriminals.
Here is a list of cybersecurity threats you should be aware of:
1.      Ransomware
Ransomware attacks are becoming more and more frequent. Some of the biggest companies have been targeted by cybercriminals, but smaller businesses are not safe either. Hackers usually gain access to a network, lock it up, and ask for a ransom to give back the information.
This type of cyber threat revealed how vulnerable most corporations are and prompted security changes. Major ransomware attacks and data loss could've been prevented if companies had backups or used Multi-Factor Authentication.
2.      Remote Work
Working from home kept many people afloat during the pandemic. But it also created various new opportunities for hackers. The reason behind this is the unsecured Wi-Fi networks many of us use at home.
Not everyone has an encrypted connection, even though many IT teams suggested the use of VPNs. There are many benefits of VPN, but encryption can come in handy when working remotely.
3.      Phishing
Phishing attacks involve links, often shared in emails or direct messages that aim to steal your login information. These messages are used for distributing malware too. So, downloading any unverified attachments is a bad idea.
Even though this is an old cybersecurity problem, users might still open these messages. Cybercriminals sometimes do such a great job creating fake emails or websites that it's hard to spot a difference.
4.      Weak Passwords
Weak passwords are always on the top of every cybersecurity threat list. While many users know about the issue, keep in mind that hackers are better at guessing passwords or breaking into accounts.
A cybercriminal can hijack and infiltrate your accounts if you use only one password. Be smart, use a password manager, and completely randomize your login information.
5.      Cloud Threats
More and more businesses are using cloud-based services. We've seen an explosion of this trend in 2020 when companies switched to remote work. Cloud services might look secure, but hackers know their popularity and see them as a treasure trove of valuable information.
Cloud services can be a part of a ransomware attack. Cybercriminals might prevent companies from accessing the data with the help of Denial of Service. Additionally, several cloud services store deleted files, and these could be of interest to hackers too.
6.      Man in the Middle
The Man in the Middle attack is pretty common on public Wi-Fi networks. Just like the name suggests, a hacker inserts himself in the middle of communication between two parties. Once they gain access to the traffic, a hacker may access the data and steal information.
A VPN can come in handy if you tend to use public hotspots. These Wi-Fi networks have almost non-existent security measures, and VPN encryption can help out. It might be one of the top benefits of VPN, especially for travelers.
7.      Internet of Things
The Internet of Things (IoT) is becoming popular among businesses as well as individual users. This technology uses the internet to connect multiple devices. IoT also allows hackers easy access to data and personal information.
All it takes is a single vulnerable device within the same network, and that's it. One of the many benefits of VPN is that it can increase the overall security of your network by encrypting the connection. If you use the Internet of Things, a VPN might be a great idea.
8.      Outdated Software
I bet most of us canceled a software update at least once because you were busy doing something else, and restarting your computer wasn't an option. But outdated apps and operating systems could lead to a serious cybersecurity breach.
For instance, hackers attacked Windows users in 2017, targeting the computers that didn't have the latest patch. They found a vulnerability in the operating system and used it to spread the infamous WannaCry ransomware. Windows did know about it and patched the problem two weeks before the attacks. However, not everyone installed the update. The lesson of the story is, don't ignore the software updates!
9.      Hardware That Doesn't Keep Up
New software and regular updates require more powerful hardware. Not everyone can afford to upgrade their rigs regularly, and this can create an opening for hackers. An old computer might not allow new updates and could be at risk.
The only thing to do in this situation is to try to keep up. You will get a notification if your computer is unable to install a patch or an update.
10. Denial of Service
Denial of Service (DoS) attacks have been around since the 1990s, and they are still a common way for hackers to take down servers and websites. DoS can even prevent users from accessing the web. Targets are usually large corporations, media websites, banks, and so on.
Individual users struggle with DoS too. This type of cyberattack doesn't result in any data loss. However, companies and businesses affected by it can still lose a great deal of money.