Safety is the topmost priority for everyone. We sometimes have to leave our home alone, especially when we go out for weddings or vacations. Then we have to ask our neighbors or others to keep a watch, but if we have CCTV installed in our homes, we can easily keep an eye on our homes and don't need to worry. Also, if we have CCTV installed, then we parents can work worry-free and in between keep a check on their kids and ensure their privacy. The article will contain the most convenient CCTV cameras.
1. Reolink Argus 3 Pro
It is an outdoor, waterproof, and wireless camera that includes 2K video, intelligent motion detection, and dual-band Wi-Fi. It supports smart devices like Alexa and Google Assistant, which means you can easily give voice commands. It delivers excellent daytime and nighttime video quality and gives free cloud storage for recorded videos, which you can watch at any time. It contains two LED spotlights, which indicate the camera is online or offline. Also, you can put a micro SD card for storing video locally, and the Reolink app will control the camera.
2. Wyze Cam V3
It's an affordable camera that is suitable for both indoors and outdoors. It comes with free cloud storage, so you don't have to take any subscription and support IFTTT. It is compatible with Amazon Alexa and Google Assistant voice commands, supports color night vision, intelligent motion detection, a faster frame rate, and has a weatherproof rating. There are speakers at the back of the camera, and at the bottom a SD card slot. The front of the camera has a microphone, lens, and LED indicator. You can watch 24/7 continuous recording and images with time-lapse.
3. Arlo Pro 4
The camera got the Editor's Choice award for outdoor security cameras. It's an excellent outdoor camera that produces video with HDR, delivers 2K video with color night vision, and is waterproof. The camera has an outstanding quality- it casts a bright light on every moving object around your property. Arlo Pro 4 is completely wireless and installs in minutes. Other features are 160-degree field of view and 12x digital zoom, and an 80dB siren to scare strangers. The camera works with Alexa and Google assistant and has a motion sensor with a 130-degree range.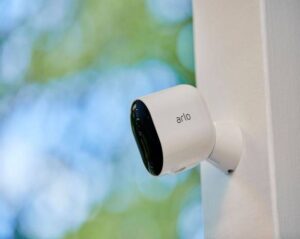 4. Abode Iota
It is an all-in-one security camera that captures video at 1080p. For night vision, the camera uses an infrared LED and can give a 157-degree field view. The front of the camera contains ambient and motion light sensors and a microphone for two-way audio. It also includes a siren for warning. Abode Iota has an LED status system, which indicates different modes- white for standby mode, amber for away mode, blue for home mode, and red when an alarm is triggered.
5. Canary Pro
Canary Pro is one of the best wireless security cameras and an all-in-one indoor camera. It doesn't look like a camera, so for a person to identify that it is a camera would be difficult. The camera contains embedded AI technology, a 1080p HD camera, and a microphone. It has LEDs in its bottom which turns green when the camera is recording with warnings, and yellow when the camera is recording without alerts. It also has a privacy mode, causing the camera and microphone to shut off.
6. Blink Indoor
Blink Indoor has a Sync Module Wi-Fi hub and a white case, but it's not water-resistant. It has two AA batteries with a life of two years. You can replace the battery yourself by just opening the screw on the backside of the camera. The camera has a quality of 1080p at 30fps and a view of 110-degree. The LED lights on the front tell if the camera is active or night vision is enabled.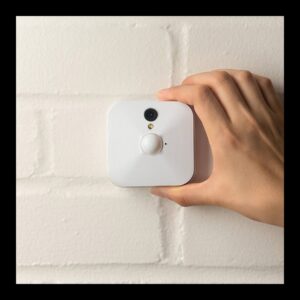 7. D-Link DCS-4602EV
The camera is easy to install and available at an affordable price. It's made with tough materials to survive in harsh environments. It records with a 60ft night vision so that you won't miss out on any suspicious activity happening around you. It comes with a wide dynamic range that quickly identifies subjects irrespective of the lightning. It also has a motion detector service.
8. AXIS M3024-LVE Outdoor-Ready HDTV Network Camera
The camera is compact and vandal-resistant, making it suitable for outdoor use. It has 1 MP and HDTV 720p, giving a fine video quality. It includes day and night functionality and has built-in IR illumination, which makes it perfect for surveillance even in darkness. The installation of the camera is easy and flexible, thanks to its 3-axis camera angle.
9. AXIS P3228-LVE 4K Network Camera
If you're looking for an affordable network camera that gives high-quality video surveillance even in darkness, the Axis P3228-LVE is for you. You can afford it at a reasonable price and easily install it. It gives a clear quality even if zoomed and focused on a particular area. It has a 4K video frame rate camera that captures even the minor details of the scene.
10. Blurams Home Pro Security Camera
It is an indoor home security camera with a video quality of 1080p. It features facial recognition, clear night vision, cloud/local storage, 2-Way talk, connectivity technology USB, and smart alert. It can also collaborate with Alexa, IFTTT, and Google Assistant. You can install it in your kitchen, living room, classroom, hallway, etc., and keep a check on your premises.