The automotive industry is moving forward from mechanical to the software-intensive sector in which most of the innovation and competition rely on software engineering competence. Car design software allows you to work efficiently and access all the necessary tools to simplify the task. It gives you a large number of variants and configurations. The designer can make a basic sketch using CAD, which provides more detailed 3-D images of a car. All the designing software depends on computer-aided software(CAD), which includes creating, analyzing, optimizing, and drafting to achieve the product goal.
1. ZBrush

Zbrush is a car design software used in the windows operating system. Improve speed and performance much using this software. Use new tools to boost your design. It is fast and creates a model for you with full capabilities. Surfacing and texturing are possible in high-quality through this software. Use the huge library of sculpting brushes to provide many options for creating the design. Sculpt and paint your design. Use details from one model into other models using XTractor brushes. Undo a portion of your sculpting without losing anything using the history recall feature. Move infinite depth in your car design by adding volume to your design.
2. LightWave 3D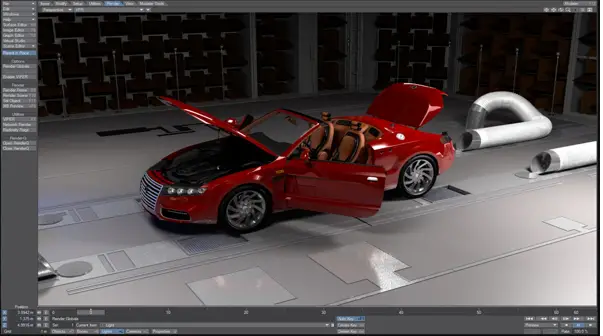 Get accurate models of cars designed through LightWave 3D. Use its global illumination rendering engine to produce real-world results from your design. A new set of production tools is available, including partial node, visual visualize node, and many more. Change rotation order per item using its redesigned motion system. Select particular parts on the model to work on using the local action center. Use tone mapping to get the actual appearance of the image. Manage large and complex scenes with scene editor. Flexible enough to work with other tools using FBX interchangeability. OpenGL allows visualization of design to appear like the final output. Available in Android and IOS.
3. MODO

MODO allows flexible modeling of car designs. Explore various ideas without facing technical faults. Use its fastest modeling toolset to get your car design quickly. Create creative designs using MODO. Visualize your model and develop them quickly through this software. Engineers to visualize products using power translators accurately. Combine different operations to produce your set o special tools. Get industry-standard design with MODO as it can be used with python and C++ to create a customizable user interface. Some unique features of this software include auto welding with polygon and XRay view. V-ray is available in this software to provide you with lightning and shading effects.
4. Autodesk SketchBook Pro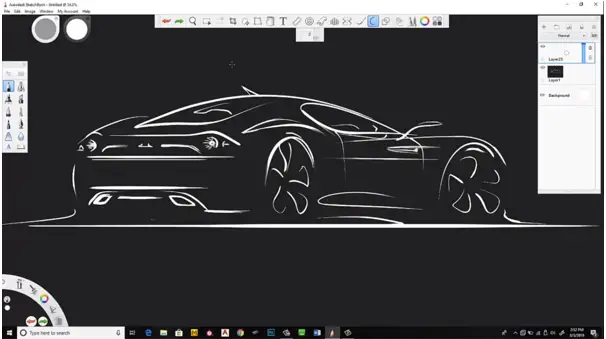 Create your car designs using Autodesk SketchBook Pro. Use its enhanced drawing workflow and brush section to create better designs. It has many customizable presets and an enhanced layer palette. The Colour pluck tool allows you to access the color wheel. Vary the color luminosity and saturation. Its drawing engine enables you to draw designs with precision and speed. Draw in paper and scan it to import your drawing into SketchBook. It's available on mobile phones, allowing you to complete tasks from anywhere at any time. Export your picture in many formats. Communicate your ideas quickly by creating designs using this software.
5. Lumiscaphe Patchwork 3D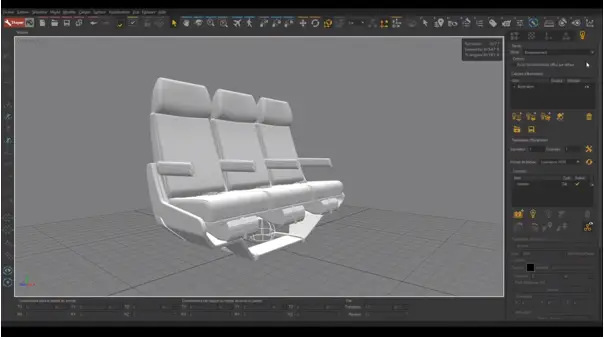 Make your models realistic through Lumiscaphe. Add texture to your material using the material interface editor. Use the non-destructive method for creating your design, which will save all properties of each surface. The user interface has improvements to provide a new display mode with interaction. Measure angles and distances using controllers. Exchange models and comment on them by annotating your remarks. It contains a unique feature called surface unfolding that is useful for industries. It provides lighting layers to bring variations in the lighting environment. Create smooth and complex animations using animation stimulants and multi-track timelines.
6. Blender

Create stunning designs using Blender. Modeling and animation are possible using this software to create your car designs. Design flexibly at different stages of your design using digital sculpting tools. Use the extended set of tools to sculpt your plan and do retopology. The grease pencil feature makes 2D designing easy. Integrate it with different pipelines at a time. Its fully customizable interface will make it user friendly. Use an already existing car image as a reference image. Add curvature to your car to make it lightweight so that it provides more mileage. Use creativity in designing your car wheels by using radial symmetry.
7. Creo Parametric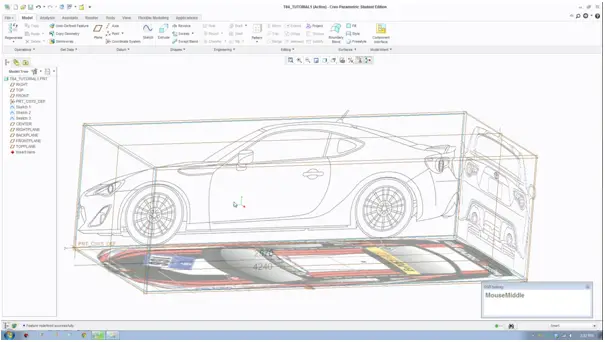 3D modeling is more natural through Creo Parametric. Create a structural framework and optimize your design. Identify the best design based on the parameters required. Open CAD files in this software platform easily. Get higher productivity by lowering material costs. A detailed guide for building 2D and 3D design is available. Visualize the 3D models done in this software from any location using any device. A data exchange facility is available. View the map, in reality, using augmented reality. Expand the functionality of each component deeper using Creo. Accelerate the design of parts of a car and assemble them.
8. Alias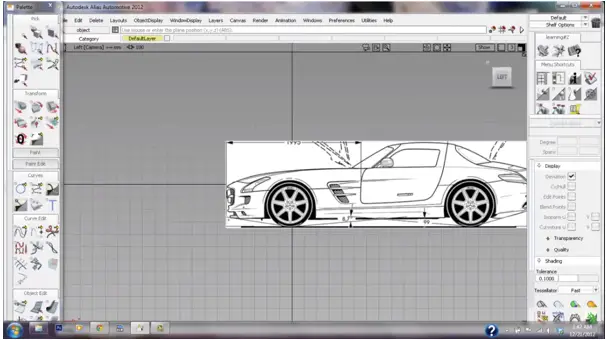 Sketching and illustration of design are more comfortable through Alias. Draw and edit with the integrated tools. A curve-based modeling tool allows you to edit and sculpt your 3D models of the car directly. Get an overview of your concept modeling quickly from a sketch to the final design. Link photos from Photoshop straight to Alias. Update changes to the plan here. Manipulate your object and explore the variation in shapes. Adjust surface control vertexes to sculpt your 3D surface using this software, use a light tunnel tool to study your lighting effects. Generate intricate patterns to form a computational design. Make a smooth transition between surfaces.
9. 3Ds Max

Create stunning car designs using 3D Max software. Enhanced Spline tools in this software allow you to animate the geometry in several ways. Use Open shading language support with any supporter, create procedural edge modeling details with precise tools, and morph textures into your project if needed. Edit the material, feel, and color of your design using the editor. Automate complex modeling operations to update changes as you make them. Use the right animations tools available and adjust motions paths in the viewport. Access many third-party plug-ins from their community—model architectural designs with artistic control to transform your design view. Create your customized workspaces with a responsive user interface.
10. HDR Light Studio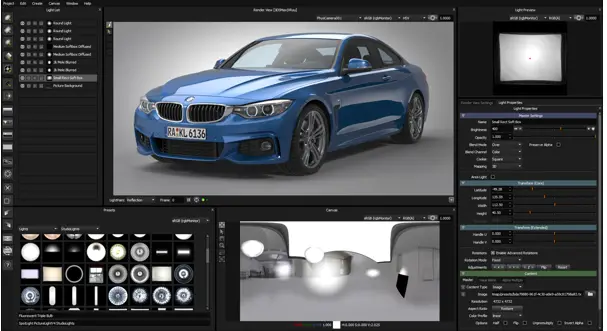 HDR Light Studio generators HDR images, it provides virtual lighting set which minimizes the real studio techniques. It gives you a studio photography style of computer renderings of the car and new products. Lighting is one of the most creative options for a 3D artist; it can transform your product's look. It gives perfect and standard light for the render. The fast and straightforward interface makes it spontaneous, which is all-important for an artist. With its render view, one can able to tweak the smallest highlights in real-time. It has a composite feature that allows users to group lights, mask, and add effects to individual view. It stores multiple designs in a single studio project, and studio lighting is blended with an HDRI map where users can mix regions of different HDRI plans.