In this modern world, robbery is increasing day by day. Security is required in many places, like shops, roads, and business places. It is not possible for a human being to monitor anytime. Surveillance cameras play a vital role in providing security. It is placed in public places to capture the visuals and give some clues about the heist. Initially, surveillance cameras are connecting to a computer through cables.
Now the advanced wireless technology is used, which does not include any cables for connection. The installation of wireless cameras needs less time. It is easy to access from anywhere you want. These cameras are portable and offer better image quality. The ten best wireless surveillance cameras are given below.
1. Arlo Pro 3:
Arlo Pro 3 is a wireless camera that gives a 2K video. The bottom of the camera has an integrated spotlight, smart motion detector, color night vision, and an ultra-wide field of view. It requires a sensible hub for installation. It has infrared LEDs for black and white night vision. A 4-megapixel sensor and High Dynamic Range (HDR) technology are employed to capture videos at high-resolution. It includes a 12X digital zoom and a 160-degree field of view. There's also a microphone and speaker for audio and sound detection.
2. Ring Stick Up Cam Battery: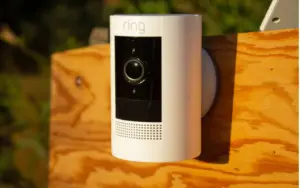 This camera works on battery power. There are two models available, namely indoor and outdoor. The size of the outdoor model is 3.82 inches tall, and 2.36 inches in diameter without the stand, whereas the size of the indoor model is 2.95 inches tall and 1.81 inches in diameter. Both models provide the same 1080p resolution. The field of view for the outdoor model is 110-degrees horizontal and 57-degrees vertical, while for the indoor model, it is 115-degrees horizontal and 60-degrees vertical. This camera needs a subscription to view the recorded video.
3. Wyze Cam Pan:
It is an indoor security camera and introduced with a six-foot USB cable, adapter, and a quick start guide. The features of Wyze Cam Pan include smart motion tracking, event recording, detection settings, and night vision, etc.; it comprises of a 120-degree wide angles lens having a 3.5 mm focal length, F2.3 aperture, 8X digital zoom. It uses six infrared LEDs for night vision. The rotation speed is 110-degrees per second, and so the camera turns 360-degrees in just three seconds. This camera records the video at 1080p resolution.
4. Canary Pro: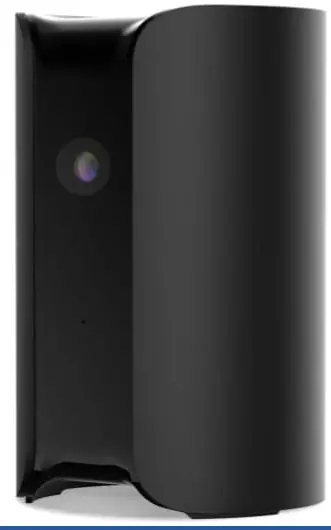 Canary Pro is the best smart home camera. Initially, it is known as Canary All-In-One. It provides environmental monitoring with a 1080p resolution and 147-degree field of view. It uses 12 infrared LEDs for night vision. It'll use the 90-decibel siren in case of an emergency. It doesn't need any installation process. These cameras are usually placed in a table or shelf and connected to the internet. The recorded videos are accessed using a mobile app from anywhere. The temperature and air quality sensors are available in this camera. The dimension of the camera is 6 inches tall and 3 inches in diameter.
5. Reolink Argus 2: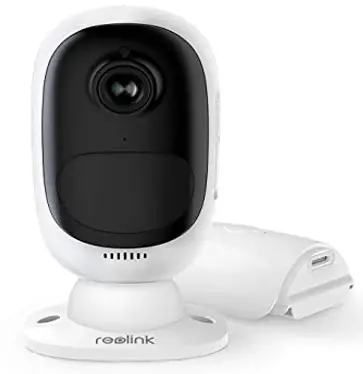 Reolink Argus 2 comes with a rechargeable battery. It uses a battery for charging via an outlet or a solar panel. The features include 1080p resolution, smart motion detection, and two-way audio. The field of view is 130-degree, and it provides night-sight up to 33 feet. It is completely wireless and has lots of customization options. It has an IP65 weatherproof rating.
6. Amcrest 4MP Ultra HD Indoor: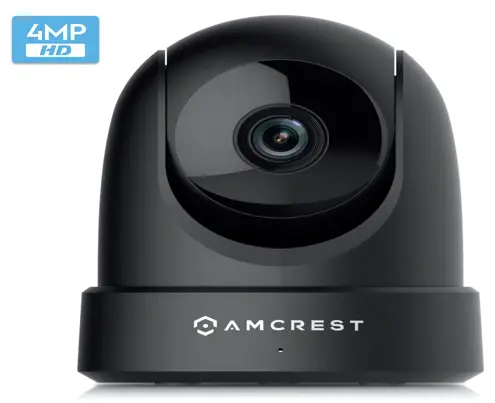 Amcrest 4MP Ultra HD is an indoor Wi-Fi camera that gives two-way communication through the Amcrest view app. It gives a 120-degree field of view and infrared night-sight up to 32 feet. It works with the Blue Iris software. It has ports for 3.5 mm audio input/output jacks and network activity LED indicators. It also has a 360-degree pan or tilt for clear vision.
7. Google Nest Cam IQ Indoor:
It is the best high-tech indoor camera. It offers familiar face recognition and high-quality audio. It has a built-in Google Assistant. The features include a 130-degree field of view, night-sight, automatic zoom option, and more. It records the videos at 1080p resolution with 4K image sensor support. It consists of three microphone arrays and a built-in speaker for two-way communication. The camera alerts through an app notification on the phone and sends emails whenever it detects motion.
8. YI Dome Camera:
YI Dome Camera is placed at any flat surface or mounted on the ceiling. The dimension of the camera is 4.3 inches height, 3.6 inches in diameter at the base, and 2.5 inches in diameter at the top. It has a 4X zoom with the field of view 112-degree and captures the videos at 1080p resolution. When it detects any motion, it will record video. It offers a mechanical pan, tilt, and panoramic photo capabilities. The videos can be stored online via the YI home app and offline via Micro SD card.
9. Adobe Iota: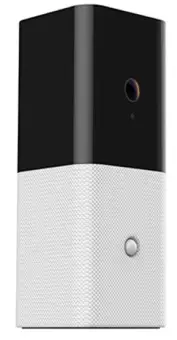 Adobe Iota is easy to install and gives support for third-party devices. It measures 7.1 inches tall, 3.0 inches wide, and 3.0 inches deep. It weighs 1.25lbs. The front side of the camera has an LED that emits white light when the system is in standby mode, amber when it is far away, and blue when it is at home. It has a 157-degree field of view and captures video at 1080p resolution. It also has motion sensors and a built-in siren. It utilizes an infrared LED for night-sight and a microphone for two-way audio.
10. Blink Mini:
Blink Mini is an indoor camera that is easy to mount to a wall. It comes with a power adapter and a 6-foot USB cable. It is compact, accurate, and portable. It has a customizable motion detection zone. It captures the videos at 1080p resolution and has a 110-degree field of view. It offers two-way audio communication and infrared night-sight. It measures 5 cm tall, 4.9 cm wide, and 3.6 cm deep. It weighs 48g. It works with Alexa and doesn't work with Google Assistants.