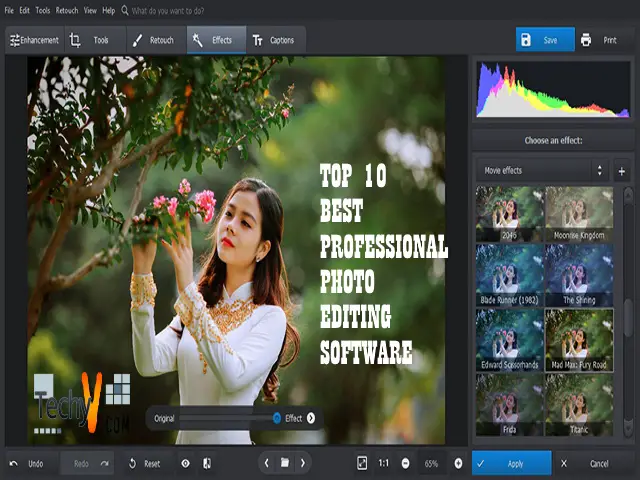 Photo Editing Software is a tool used to make new images and helps to edit them with its advanced features. The application allows you to enhance the properties of your pictures. The software helps to delete the unwanted parts from the photos. These apps include a few features that make your photo editing easy and comfortable.
Best Photo Editing Software:
1. Adobe Photoshop CC

"Adobe Photoshop CC" is one of the professional editing tools. This application helps you to create, edit, crop, and even combine your photos. It has all the features that require for making posters, logos, and designing your websites. The application is available for Windows and Mac users. When you access this application, it has already added filters and colors to your collection that makes your photo editing more efficient. The software works on all file formats. Its photography plan costs $9.99. Its new feature object selection tool helps to select any part of the pictures.
2. Luminar 4
The photo editing tool helps you to enhance the beauty of your pictures. The reason for its perfect photo editing is that Luminar supports AI technological tools. For example, AI Augmented Sky tool allows you to add new things to your photos. The application is accessible in eleven languages. There is a free collection of video tutorials. The app is available for Windows and Mac OS. It also supports the Plug-in version and raw conversion. Its AI structure slider helps to make your pictures more beautiful. The customer service is excellent. It also offers adjustment and image layers.
3. Capture One Pro
While using this application, you will have a great experience. Its latest version with advanced tools makes it more accurate and efficient. This app can run on Windows and Mac OS. The new features include Heal Brush, Clone Brush, Lightroom Importer, and many more. These tools help in deleting unwanted parts, creating a clone layer, and making copies of your images. You can do color editing with special features include basic or advanced color editor, color balance tool, and skin tone editing.
4. Affinity Photo
The editor tool helps in photo editing and graphic design. The photography experts love this application because of its speed and accuracy. Affinity supports Windows, Mac OS, and iOS. The software provides so many features include batch processing, PSD editing, 360 image editing, digital painting, and many more. You will experience real-time editing. It has integrated with Nik collection 2.5 through DxO. The app allows you to do color correction and image retouching with accuracy. It has a 32-bit workflow used for editing textures and HD photos. It offers the best tools for altering your pictures include a magic wand, lasso tools, paint to select, and pen tool.
5. Movavi
Movavi is one of the best tools for beginners and experts. You can access this software for your personal use as well as for business use. The software is available in 12 languages. Windows and Mac OS users can use this app. Now, you can remove unwanted parts, reduce noise, and even add colors to your photos. Its new features include AI adjustment, selection tool, and frames are like an asset to this app. It allows you to add beautiful frames to enhance the beauty of your pictures. Please note that a feature "Photo Restoration is only available in a 64-bit Movavi update for Windows.
6. Google Photos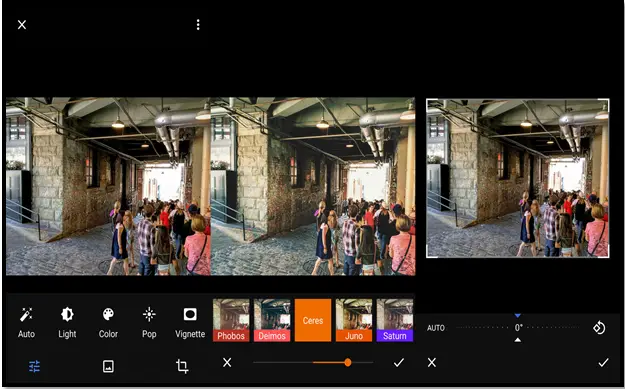 Google Photos is a collection of your pictures and videos. The software supports Windows and Mac OS. Now, you can balance your videos and photos by using this app. It allows you to store 15GB of data in it. It can make stories, collages, and many more. There is a backup available in this application, so don't worry about the deletion of photos. You can share many pictures at a single time. The software is safe and secure. It has already included a face recognition tool. It also works with other apps to provide a better editing experience.
7. Polarr

The editing application is available for Mac, Windows, and Linux, Android, and iOS platforms. Polarr is creating AI devices for supporting the unique experience of imaginative networks. The app provides so many editing tools from basic to advance. You can even work on .gif files. There is a backup available for editing history. It offers color correction. It is not usable for professional image editing. You can edit RAW images also. The tools include color enhancer, text tool, facial retouch, crop function, and overlayers.
8. GIMP
GIMP is a cross-platform tool accessible for all major platforms. GIMP stands for GNU Image Manipulation Program. GIMP gives the features to excellent picture control. GIMP utilized for creating symbols, graphical structure components, and craftsmanship for UI segments and mockups. It has all the tools from basic to advance. It is easy to learn and use. The application offers photo retouching, image composition, and image authoring. It is free and easy downloadable software.
9. ACDSee Photo Studio
The photo editor helps to edit and manage digital pictures. The software runs on Windows, Mac OS, and Linux. The best editing features include color correction, face recognition, and detection tools. You can erase the duplicates from your collection. You can access its layer effects, and auto-align or auto-blend layers. It offers a blended Clone device to duplicate pixels from a source zone to a target zone. It can convert your files in your desired formats. The photography software helps to find, organize, and share your pictures. You can use its visual tags or customizable color labels to enrich your photos.
10. DxO PhotoLab
The editing software supports raw conversion and preset effects. Windows and Mac users can access this powerful tool. Its feature DxO ClearView optimizes your dull images. The software can work on RAW files. In its latest updates, you can use Local Adjustment masks, brushes, graduated filters, and automatic repair tool. The app also includes a multi-setting equalizer. The repair tool replaces the unwanted things from the pictures. You can experience its supported features include batch processing, Full-screen viewing, red-eye correction, color correction, and DxO PhotoLab.