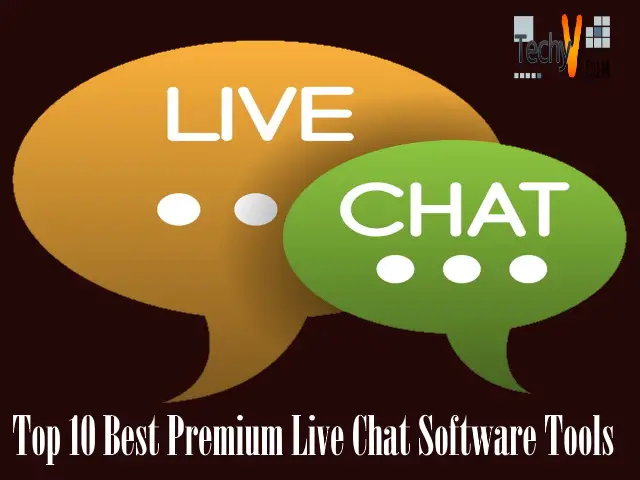 In today's era, technologies are emerging day by day. These technologies have made human life easier and comfortable. Earlier, it was very difficult to contact a person living in remote areas. But, nowadays, it has become possible to contact anyone despite the person who may live abroad. The technology of live chat software has made it possible. Chat Software allows users to communicate with each other quickly and easily. There are various communication tools available today. These chat software have also made communication easier for businesses and companies. The following are the top ten live chat software tools with their features.
LiveChat

LiveChat is one of the top chat software tools used widely. The features of the LiveChat software are commendable. This software tool involves multiple chat tools, like message sneak-peek, canned responses, chat tags, rich messages, file sharing, chat archives, notifications, chat transfer, and chat ratings. This chat software tool is best suited for businesses because it helps the customers to interact live with a particular company. Additionally, this tool is highly secure. The security features include encryption, credit card masking, data storage, access restriction, visitor banning, logging in with Google, compliance, and single sign-on. This tool offers a free trial period of 14 days.
ChatBot
ChatBot, nowadays, has become a great application for live chat. This software tool has multiple advanced features that enable users to interact instantly with each other. The features of ChatBot include conversational maturity, Omni-capable, integrates with CRM, emotionally intelligent, free to explore, autonomous reasoning, pre-trained, etc. The chatBot tool is pre-trained. This is the best feature of the ChatBot. This means the ChatBot tool is trained with industry and brand-specific knowledge. So, this is best suited for many businesses and companies. There is an advanced technology called Artificial Intelligence, which is incorporated in the ChatBot software.
Sendinblue
Sendinblue is yet another live chat software that is mostly used in businesses. This tool is specially designed for business purpose to interact with customers lively. There are various communication tools available, like email, SMS, landing pages, ads, and many more. The other features of the Sendinblue software include email marketing, SMS marketing, chat, CRM, marketing automation, transactional email, segmentation, sign-up forms, Facebook ads, etc. Also, this tool is highly secure, and the data is stored privately. There is a free trial period for some specific days. Later, users need to pay to access its advanced features.
Olark
Olark is again the top live chat software used widely for business and marketing purposes. This, too, is easy to use and has a user-friendly interface. Additionally, it is easy to use for beginners as well. The Olark tool enables users to engage their customers and increase their productivity and workflow. The company owner or manager can greet customers, send a custom message, show and hide chatbox, and more. Also, there is a report section that gives a detailed report of live chats. So, users can regulate chat volume, can satisfy customers by meeting their needs, and can perform agent activity. This tool has a subscription plan of $17.00 per month.
LiveAgent
LiveAgent chat software has multiple advanced features that enable any business to engage its customers more efficiently. The main features of this application are it resolves, transfers, and responds to tickets, enables users to chat with customers directly from the application, users can use preset filters to organize tickets, get push notifications of new tickets and chats, and users can see tags, notes, and departments for every ticket. Users can create their account for free. For each ticket, users need to pay $15 per month. And for each ticket and chat, it charges $29 per month.
Chaport
Chaport is one of the best live chat software tools with auto-messages, integration with Facebook, Viber, Telegram, group chats, offline messaging, etc. This tool is compatible to work with Microsoft Windows, macOS, Web-based operating systems. Additionally, it also works on Android and iOS mobile devices. There is an advanced feature called Zapier that enables users to integrate with more than 1,500 applications. The interface of this tool is very easy to use and user-friendly. The other major feature of this tool is it has a WordPress plugin. Through this plugin, users can install Chaport on WordPress Website as well. However, the price of this starts from $ 14 per month.
Intercom
Intercom is one of the top live chat software tools used extensively in today's businesses ad any companies. This chat software tool enables users to drive revenue, boost their sales, and scale support wit personal customer messaging. This tool has got a commendable live chat feature that enables users to grow and boost their business and engage customers by targeting with tailored messages. Also, customers will get full real-time support from vendors by using collaborative inbox, automation, and proactive self-service. The basic live chat and outbound message features are available at $39 per month, and targeted emails and self-service are available at $99 per month.
Freshchat
Freshchat live chat software tool has multiple advanced features incorporated in it. The features have made it possible for many businesses to grow rapidly by engaging customers with live chat. The live chat feature enables users to get in touch with customers and can provide information about order updates, delivery status, support queries, and satisfying customers. There is also a feature of push notification that ensures customers do not miss any conversation. This tool is also compatible to work on Android and iOS mobile devices. The other features include campaigns, self-service, team productivity, integration, and many more.
LivePerson

LivePerson, as its name suggests, is the live chat software tool that enables users to collaborate instantly. Like all other applications, this software is also used for business purposes. Many businesses use this software to keep their customers engage and collaborate with them lively. There are specific channels through which vendors can communicate with their customers. These channels are web messaging, app messaging, voice to messaging, email messaging, SMS, Apple business chat, Facebook, Twitter, etc. The best feature of this tool is it has a two-way text messaging marketing tool to make customers aware of products through the campaign, offers, etc.
Smartsupp

Smartsupp is an affordable live chat software tool with all chatting features. There are free, standard, and pro packages. The features of the free version of this tool include a 14-day chat history, basic chatbox customization, E-commerce platform integration, etc. Additionally, Smartsupp software tool is compatible to work on Android and iOS mobile devices. The standard version offers more advanced features, and it charges $10 per month for three agents. The pro version offers more additional features than free and standard versions. The price of the pro version is $19 per month for a single agent.