File shredding implies deleting files permanently when they are not needed. In other words, file shredding implies destroying documents. By deleting files, there will be more additional space available for future use. There are several file shredding applications available today. Why should files be shredded? There are several reasons, like documents may be vulnerable to third-party, a system could be environmentally hazardous, accidental destruction of required files, etc. Today, many shredding software tools are available in the market that saves time and has higher security. The following are the top ten file shredder software tools with their features.
1. Eraser:

Eraser, as its name suggests, is one of the popular file deleting or shredding software tools. This application also offers an advanced security tool for Windows operating systems. Users can remove sensitive data from hard drives using this application. The Eraser software supports Microsoft Windows XP, Vista, 7, 8, 10 operating systems, and Microsoft Windows Server 2008, 2012, and 2016. It is an open-source software tool licensed under the GNU Public License. This tool erases files and folders permanently. The features of Eraser include erasing residue from deleted files, erasing MFT and MFT-resident files, and it is a powerful & flexible tool.
2. Securely File Shredder:

Securely File Shredder is one of the most secure and most used file shredding software tools. This software tool is an open-source and provides high-level security to users. The features of this application include removing sensitive information permanently, incorporates military-grade shredding, prevents errors, freezes, and crashes, easy to use, has a drag and drop interface, etc. Securely File Shredder software is licensed under the Freeware. It is compatible to work with Microsoft Windows operating systems. There are four different delete algorithms used in it. So, users can surely use this software to wipe data permanently from the hard drive.
3. WipeFile:

WipeFile is yet another one of the most used file shredding software tools. This application can permanently delete files and folders from the computer and the hard drive. The WipeFile supports multiple deleting methods, like the US Department of Defense, the US Airforce and NATO, etc. This application is very easy to use and has a user-friendly interface. Also, it is an open-source tool. It includes many advanced features, like adding file masks, seamless integration with Windows Explorer, etc. This software supports Microsoft Windows 2000, XP, Vista, and 2003 operating systems.
4. HardWipe:

HardWipe is another file shredding little application that is more secure and simple. When a user deletes any file or folder using this application, it deletes permanently and can not be found again. The HardWipe software incorporates three main functions, wipe specific files, wipe a whole drive, and clean free hard drive space. It is easy to use and has a user-friendly interface. The HardWipe application is compatible to work with Microsoft Windows XP to Windows 10. There are multiple data sanitization methods incorporated in it. It is free only for non-commercial use.
5. Secure Eraser:

Secure Eraser is the most secure application for deleting sensitive files, folders, and also hard drives. It is easy to use software that overwrites sensitive data for up to 35 times. It is compatible to work with Microsoft Windows XP, Vista, 10, 7, 8, and Windows Server 2012, 2008, and 2003. It incorporates a simple drag and drops options to delete files and folders. Multiple options are incorporated in this application, like exiting the program, rebooting the computer, or shutting down the computer after the file is shredded or deleted permanently. It is an open-source software tool.
6. TweakNow SecureDelete: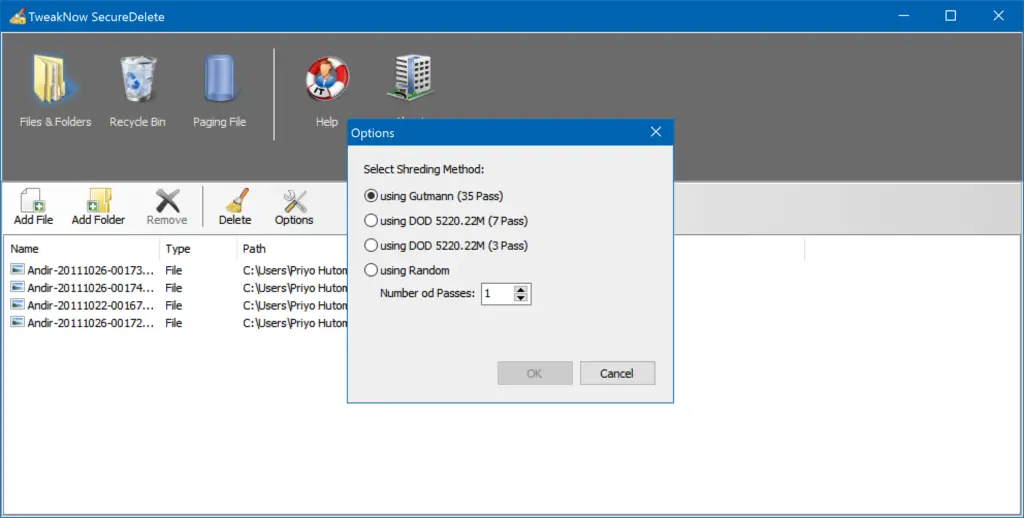 Another best and secure file shredding application is TweakNow SecureDelete. This application is also compatible with all versions of Microsoft Windows XP to Windows 10. This application is also very simple, easy to use, and has a user-friendly interface. To delete files and folders faster, the disk wipe is necessary. This application is the best disk wipe to delete files or folder faster. It deletes all programs that are difficult to delete, stubborn, or corrupted. TweakNow SecureDelete is especially known as an HDD wipe application. To install this application, it requires 512 MB RAM and 20 MB of disk space.
7. Hard Disk Scrubber:

Hard Disk Scrubber is another free and secure file shredding program that enables users to delete files and folders permanently from the computer system. Users can use this application to overwrite free space on the computer system. Hard Disk Scrubber application is compatible to install on Microsoft Windows 2000 operating systems and all other new versions. It uses multiple disk sanitization methods, like AFSSI-5020, DoD 5220,22-M, and Random data. It offers an easy to use and user-friendly interface. Additionally, users can create the desired scrub types to delete files permanently.
8. Bitkiller: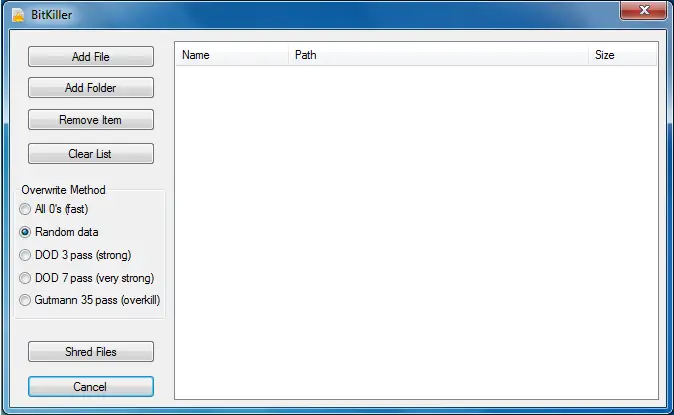 The file shredding software tool that is highly secure and faster is the Bitkiller. This application is easy to use and provides high security to users. It incorporates a drag and drops option in it to make it simpler and easier. There is nor need for any setup, and users can choose from multiple overwriting options from the existing ones. Not only it shreds files, but it also changes the name of the file so that any other person cannot find the file. The Bitkiller software supports all versions of the Microsoft Windows operating systems. The data sanitization methods incorporated are Gutmann, Random data, and Writer Zer.
9. XT File Shredder Lizard: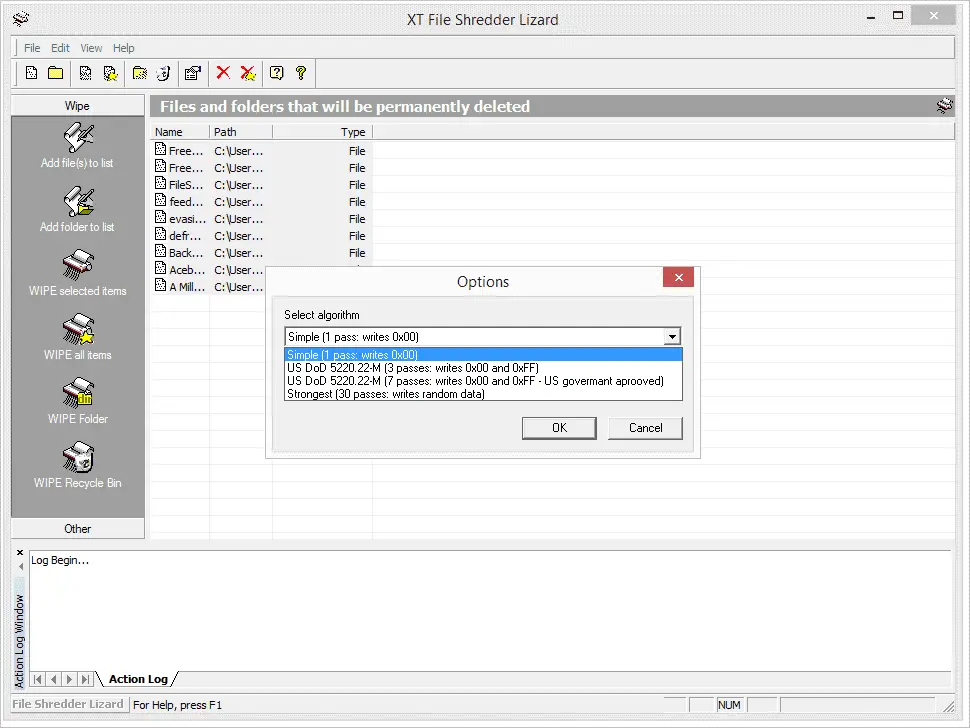 XT File Shredder Lizard is another most trusted and popular file shredding software tool. This application is used and trusted by many organizations for deleting files and folders securely from the system as well as the hard drive. When the user deletes any file using this application, there are no chances of getting back the deleted file on the system. It also offers a provision for users to use distinct deleting algorithms. There are four options incorporated in it. They are a one-pass option, three or seven passes option, and 30 passes option. Another feature is it enables users to set files in a queue for shredding.
10. PrivaZer:

PrivaZer is an All-in-One cleaning, and privacy application used widely. It has all basic file shredding features and also acts as a privacy application. There is a large set of data sanitization methods that make file shredding and cleaning more simple and easy. As this software tool includes cleaning features, it also removes all internet activity history. It is compatible to install on Microsoft Windows XP to Windows 10 operating systems. This is the best application for cleaning and deleting files from PC and hard drives. Users can securely clean their computer systems from unwanted data and junk.